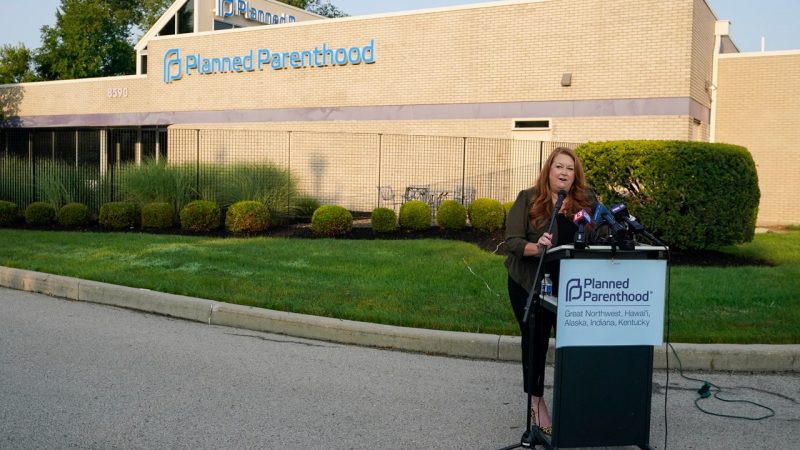 Indiana Planned Parenthood clinics suspend abortions as new law takes effect
Indiana's six remaining abortion clinics ceased performing the procedure as a law heavily restricting it went into effect Tuesday.The law bans all abortions, but leaves a 10-week window for rape and incest cases, and a 20-week window for threats to maternal health and grave fetal anomalies.One of the clinics called Tuesday 'a dark day for Indiana,' and regional Planned Parenthood CEO Rebecca Gibron castigated the outlined exceptions for being 'really very, very limited.'
Indiana's six abortion clinics have stopped providing abortions ahead of the state's near-total abortion ban officially taking effect and as a petition is pending before the state's high court asking it to keep the ban on hold while legal action continues, clinic officials said Tuesday.
Planned Parenthood's four Indiana abortion clinics stopped performing abortions Monday in accordance with state guidance that providers received in July alerting them that on or around Tuesday abortion would become illegal in Indiana in clinic settings 'with really very, very limited exceptions,' said Rebecca Gibron, CEO of the Planned Parenthood division that includes Indiana.
Indiana's two other abortion clinics have also stopped providing abortions, with one calling it 'a dark day for Indiana.'
Indiana's Republican-backed ban will end most abortions in the state, even in the earliest stages of a pregnancy. Indiana became the first state to enact tighter abortion restrictions after the U.S. Supreme Court ended nearly a half-century of federal abortion protections by overturning Roe v. Wade in June 2022.
Although Planned Parenthood's four Indiana abortion clinics have stopped providing abortions, Gibron said its 11 health centers across the state continue offering a wide range of services, including emergency contraception and birth control, even as the group works to help Hoosiers obtain out-of-state abortions.
'Planned Parenthood will not be intimidated and bullied and we will not be silenced,' she said at a news conference outside one of the group's clinics that provided abortions in Indianapolis.
Indiana's ban will eliminate the licenses for all seven abortion clinics in the state — one of which closed in June — and ban most abortions, even in the earliest stages of a pregnancy. It includes exceptions allowing abortions at hospitals in cases of rape or incest before 10 weeks post-fertilization. It also allows abortions up to 20 weeks to protect the life and physical health of the mother or if a fetus is diagnosed with a lethal anomaly.
Before Indiana's ban was passed, the state's laws generally prohibited abortions after the 20th week of pregnancy and tightly restricted them after the 13th week.
The American Civil Liberties Union of Indiana, representing Planned Parenthood and other abortion clinic operators, challenged the ban's constitutionality. But in a June 30 ruling, the Indiana Supreme Court found that the ban doesn't violate the state constitution. Its ruling struck down a preliminary injunction that had kept the ban on hold, although that ruling has yet to be certified to officially take effect.
On Monday — the last day for it to do so — the ACLU of Indiana filed a petition for a rehearing with the high court asking it to keep the ban on hold while it pursues a narrower preliminary injunction in a trial court to address the scope of the ban's exemption allowing women facing serious health risks to obtain abortions.
That filing delays the certification of the court's ruling while it considers whether to grant or deny that petition, said court spokesperson Kathryn Dolan. It's unclear how long it may take the high court to decide the matter, but after rehearing petitions are filed, the opposing party — in this case the state's attorneys — have 15 days to file a response.
Gibron said Planned Parenthood ended abortion services Monday in light of the state's guidance and the uncertainty over when the court will certify its abortion ban ruling.
'The reality is that it can happen at any point. The Supreme Court could certify it this afternoon,' she said.
Gibron said Indiana's abortion ban will 'target Hoosiers of color, indigenous communities and those already marginalized by our health care system.'
Indiana's two other abortion clinics, which are not operated by Planned Parenthood and are both located in Indianapolis, have also stopped providing abortion care.
In a statement, Clinic for Women owner LaDonna Prince said the clinic ended abortions on Monday, calling it 'a dark day for Indiana and for the country.'
Spokeswoman Katlyn Milligan of the Indiana Attorney Generals' Office issued a statement Tuesday saying, 'On the eve of Indiana's pro-life law going into effect, the ACLU and Planned Parenthood made a desperate attempt to prevent Indiana from enforcing our own law.'
'We responded to this filing immediately and are now waiting for the Court to rule. The ACLU and Planned Parenthood have made their intentions clear — this is just another grab for fundraising dollars,' Milligan's statement said.
The state's other abortion clinic, Women's Med, stopped providing abortions on Friday, a representative said Tuesday.
Although Planned Parenthood's Indiana abortion clinics are no longer performing abortions, Gibron said a 'patient navigation team' is working to help patients get out-of-state abortions. That includes helping schedule appointments and finding ways to help them pay the costs of traveling out of state.
Adjacent Illinois and Michigan — states where abortion remains legal — will most likely become the destinations for many Indiana residents seeking out-of-state abortion care, said Gibron, who is CEO for Planned Parenthood Great Northwest, Hawaii, Alaska, Indiana, Kentucky.
Planned Parenthood of Illinois had prepared for years for the possibility of Roe v. Wade falling, and it opened clinics near the Indiana and Wisconsin borders in 2018 and 2020 in anticipation of those states restricting access to abortion, said Kristen Schultz, the affiliate's chief strategy and operations officer.
She said patients from Indiana nearly doubled after the state's ban briefly went into effect last September and that traffic is expected to rise again starting this week. Schultz said more doctors, advanced nurse practitioners and medical assistants have been hired to accommodate the expected surge.
'The demand has increased, the challenges have increased when patients show up at our doors having traveled eight or ten or 12 hours. That's an increased burden on the patient. And our staff really feel that,' she said.
<!–>
This post appeared first on FOX NEWS
–>