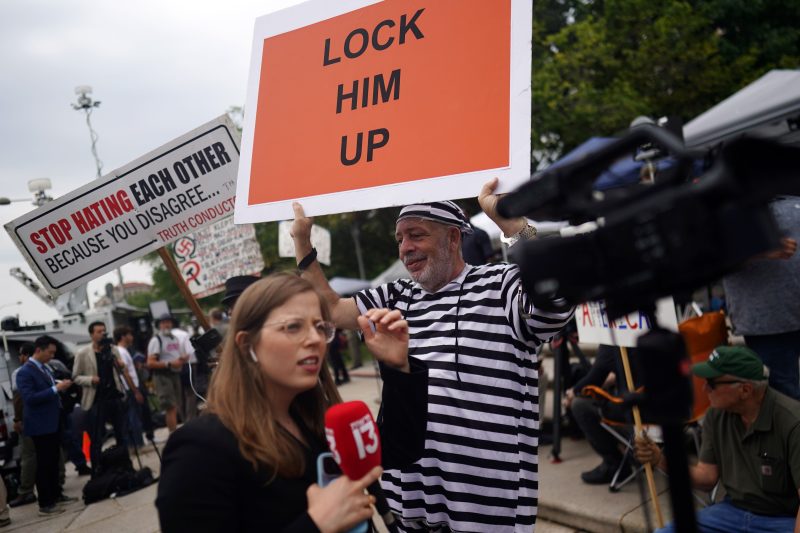 Is Trump going to jail? Here's how much prison time he could face.
Donald Trump's primary occupation these days is in the lemonade manufacturing industry. Overstocked with lemons provided to him by special counsel Jack Smith, Trump is energetically squeezing and sweetening what he's got and offering it for sale to his base of political support.
So on Wednesday some potential donors received a fundraising solicitation centered on the indictments against Trump that Smith has obtained.
Skip to end of carousel
Trump Jan. 6 indictment
Trump has been indicted for a raft of alleged crimes stemming from his efforts to overturn the results of the 2020 election. Follow live updates.
End of carousel
"With Crooked Joe's corrupt DOJ having unlawfully INDICTED yours truly yet again," the email began, "reports indicate that I could now face a combined 561 YEARS in prison from the Left's witch hunts."
An impartial observer would take this assertion with a grain of salt given, for example, that there is no sense in which the indictment made public this week was somehow unlawful. But I was also curious about that part that the email bolded: Did Trump really face 561 years in prison?
The answer is no. My calculations put the total north of 640. But it's also a no because, for a variety of reasons, such a sentence would never come to pass.
Let's first discuss the math. Trump has been indicted three times, twice by grand juries that heard testimony from witnesses as part of the special counsel's investigation and once by a grand jury in Manhattan.
The Manhattan charges center on Trump's efforts to bury an allegation that he'd had an affair with an adult-film actress before the 2016 election. There are 34 counts of the same thing, falsifying business records in the first degree. Each carries a maximum sentence of four years.The charges handed down by the Smith grand jury in Florida center on his possession of material at his Mar-a-Lago property. There are 32 counts of willful retention of national defense information, each tied to a specific document that Trump had in his possession. Those max out at 10 years. Then there are eight other charges: conspiracy to obstruct justice, withholding a document or record, corruptly concealing a document or record, concealing a document in a federal investigation, scheme to conceal, false statements and representations, altering, destroying, mutilating or concealing an object and corruptly altering, destroying, mutilating or concealing a document, record or other object. Combined, their maximum penalties add up to 130 years.The charges in D.C., also from the special counsel's probe, center on Trump's effort to retain power despite his loss in the 2020 presidential election. There are four charges: conspiracy to defraud the United States, conspiracy to obstruct an official proceeding, obstruction of and attempt to obstruct an official proceeding, and conspiracy against rights. Another 55 years, should each maximum penalty be applied.
(The maximum penalties for the special counsel charges are identified in the statutes cited in each indictment. Most of the obstruction-related charges, for example, stem from 18 U.S.C. § 1512, which has a variety of prohibitions against hiding evidence.)
Illustrated visually, the galaxy of charges looks like this. The grand total comes in at 641 years.
But, of course, Trump is not going to be sentenced to 641 years in prison.
First of all, that figure depends upon his being convicted of each and every one of the 78 counts he has been charged with — meaning that prosecutors would have to bat a thousand in each venue. Outside observers generally agree the Mar-a-Lago case is the strongest and the case in Manhattan much weaker. Should District Attorney Alvin Bragg be unable to convict on his 34 counts, there's a century-plus sliced off the total right there.
Second, the total assumes that Trump would receive the maximum sentence for each guilty verdict. That, too, is unlikely. People convicted of crimes often receive lighter sentences. What's more, judges in some cases can decide that sentences should be served concurrently — so conviction of 10 years on each of 32 counts might mean that one 10-year stint could fulfill each count's requirement.
So why is Trump suggesting he'll be in prison for more than 500 years? Because it's dramatic, that's why. Because his audience, already primed to view the indictments as illegitimate, will see that number and think that the government is being intentionally punitive. It reinforces the idea that this is about making Trump pay for being Trump instead of being a response to his actions.
It also heightens the perceived urgency of Trump's bid for the Republican presidential nomination. Trump needs to win, the email suggests, to combat the left.
"Please make a contribution of any amount — truly, even just $1 — to show that our movement will NEVER SURRENDER our country to the Left's tyranny," the email shouts, "even as Crooked Joe and his Deep State thugs try to JAIL me for 561 YEARS."
Give or take.
This post appeared first on The Washington Post