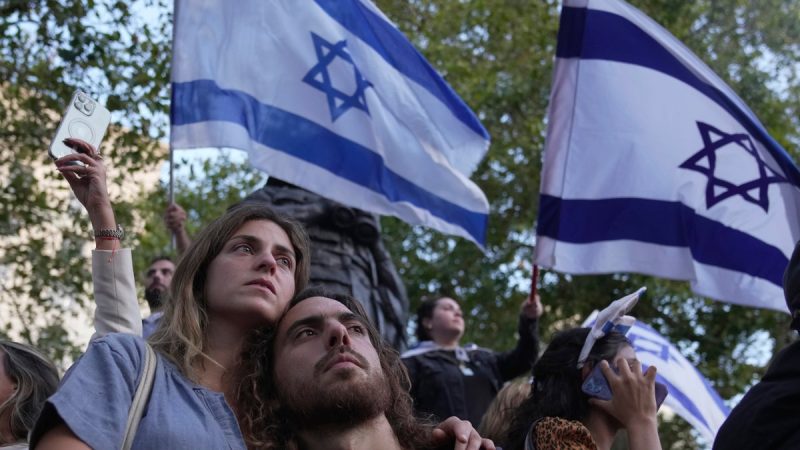 Jewish schools in UK increasing security measures as Israel-Gaza war escalates
Jewish schools in the United Kingdom have stepped up security over fears of antisemitism that could be directed at children amid Israel's war with Hamas. 
Police patrols around some schools have increased in and around London and Manchester, the BBC reported. Parents have said they fear for their children's safety. 
'History has shown us that Jews in the UK are targeted in response to actions in the Middle East, completely inappropriately so,' Foreign Secretary James Cleverly told the BBC.
Students at the Jewish Free School in Kenton, north London, were told there would be no after-school detentions and that wearing a blazer with the school's logo is now optional.
'The most important thing is to ensure the safe passage of students between home and school and to make sure that this school is set up to care for our children during the school day,' headteacher David Moody said in an email to parents, according to the news outlet. 
Added a person identified only as Suzi, whose 14-year-old son attends the school: 'The waves that are rippling through go beyond the school to the community.'
In Manchester, attendance at a Jewish school has dropped. 
'They have put extra security in place, canceled school trips, and they're making sure all doors are locked during the day,' one unidentified parent told the BBC. 'The most terrifying thing about it is there are people on the streets of Manchester who are actively celebrating the death of Jewish people.'
British Prime Minister Rishi Sunak said the government was doing everything it could to keep the UK's Jewish community safe.
Home Secretary Suella Braverman wrote to police chiefs in England and Wales urging them to use the 'full force of the law' against shows of support for Hamas or attempts to intimidate the UK's Jewish community, the BBC said. 
'Behaviors that are legitimate in some circumstances, for example the waving of a Palestinian flag, may not be legitimate such as when intended to glorify acts of terrorism,' Braverman wrote. 'Nor is it acceptable to drive through Jewish neighborhoods, or single out Jewish members of the public, to aggressively chant or wave pro-Palestinian symbols at.'
Like the United States, the UK has seen protests in support of the Palestinian people since Hamas attacked Israel in an unprecedented incursion, killing and kidnapping civilians Saturday morning. In one Israeli community, at least 40 babies were found dead, some decapitated, according to local media. 
More than 700 Israelis, including men, women, children and the elderly, were indiscriminately killed in one day — the largest terror attack in a single day in Israel's history.
On Monday night, pro-Palestinian supporters gathered outside the boarded-up Israeli embassy in Kensington, chanting 'Israel is a terrorist state' and 'free Palestine' while letting off flares and fireworks, the Guardian reported. 
In the U.S., Jewish institutions were on high alert and increasing measures. The Jewish Federations of North America, which represents over 350 Jewish institutions in the U.S., said that while there are no known 'credible threats' to the U.S. Jewish community, the group recommends that Jewish facilities 'review and enforce' security protocols.
'Hamas has launched an aggressive assault on Israel in the last hours. SCN (Secure Community Network) is coordinating with law enforcement and key partners,' the Jewish Federation said in a statement to Fox News Digital. 'At this time, there are no known credible threats to the U.S. Jewish community. SCN recommends Jewish facilities review and enforce security protocols, and maintain coordination with law enforcement.'
This post appeared first on FOX NEWS