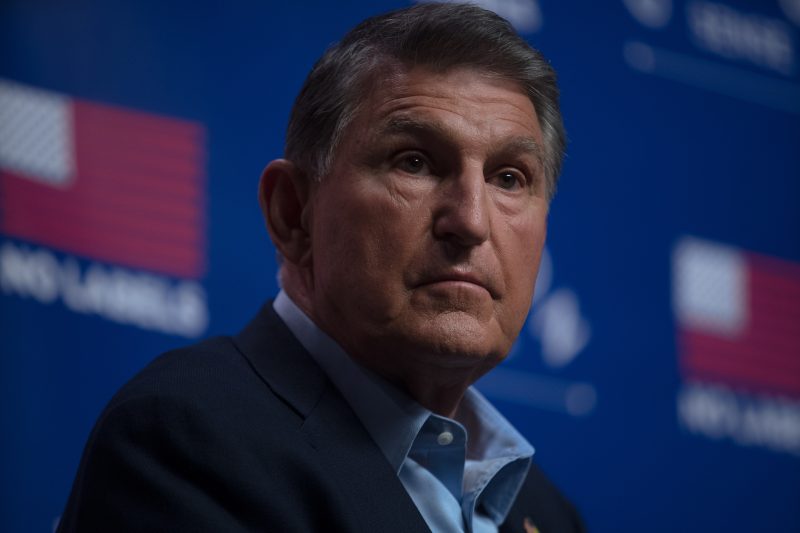 Joe Manchin says he's thinking 'seriously' about becoming an independent
Sen. Joe Manchin III, a centrist West Virginia Democrat who has at times sparred with his party, said Thursday that he has "seriously" considered leaving the Democratic Party ahead of the 2024 election.
In a Thursday interview with West Virginia MetroNews host Hoppy Kercheval, Manchin said he would "think very seriously" about leaving his party to become an independent. His comments come amid speculation that he could mount an independent bid for president in the 2024 election, challenging President Biden.
Manchin told Kercheval that he's been thinking about becoming an independent "for quite some time."
Manchin said he thinks that, because of partisanship, the Republican and Democratic "brands" have become "so bad."
"It's not the Democrats in West Virginia; it's the Democrats in Washington," he explained. "… You've heard me say a million times, I'm not a Washington Democrat."
Manchin then said he has "absolutely" thought about becoming an independent.
He said he thinks that "the business of politics has gotten so, so absolutely toxic" and that Biden and other politicians should take "a balanced approach to how we govern and the policies that we make."
"It shouldn't be catering to an extreme left or an extreme right," he said. "And we see both of that happening. It's not normal, what's happening. You and I never experienced this growing up, this toxic atmosphere where you have to be mortal enemies with the other side."
Manchin's statements came weeks after he headlined an event held by No Labels, a bipartisan group that has said it would consider offering a third-party presidential ticket if the 2024 race becomes a rematch between President Biden and former president Donald Trump. Manchin's participation in the event stoked speculation that he is considering a third-party bid in the next presidential race.
No Labels has said it will only offer a third-party option "under the proper environmental conditions," and that the ticket would probably feature a Democrat and a Republican in presidential and vice-presidential slots.
Manchin, meanwhile, has not ruled out a presidential bid. The three-term senator, who is up for reelection in 2024, told NBC News's "Meet the Press" that he won't make any final decision on whether he will run for reelection, or the White House, "until the end of the year."
Manchin has repeatedly argued that both parties have gone to the extremes, putting him at odds with one of the Biden reelection campaign's key messages — that the GOP is radically different from the Democratic Party and even from the traditional version of the party.
Manchin also has played foil to the Biden administration, at times winning policy concessions from the president because of Democrats' slim hold of the Senate.
In the Thursday interview with Kercheval, Manchin criticized Biden and his administration's implementation of the Inflation Reduction Act, which Manchin helped write. The White House, he argued, is using the legislation to "cater" to more liberal Democrats by depicting the bill as being all "green and clean."
"This bill that I wrote was done about energy security, truly producing more gas, more oil, more coal than we have in the past consistently. And we're doing that today," he said.
Manchin said helping pass the bill — which was the result of a last-minute deal between him and Senate Majority Leader Charles E. Schumer (D-N.Y.) and which angered many Republicans in Congress — wasn't the smart thing to do if what he did was "strictly about politics." But he said he doesn't regret supporting it because it was what the country needed.
"I wouldn't want to work for a senator or anyone representing me in West Virginia if it was all about my politics and not about what's good for the country," he said.
This post appeared first on The Washington Post