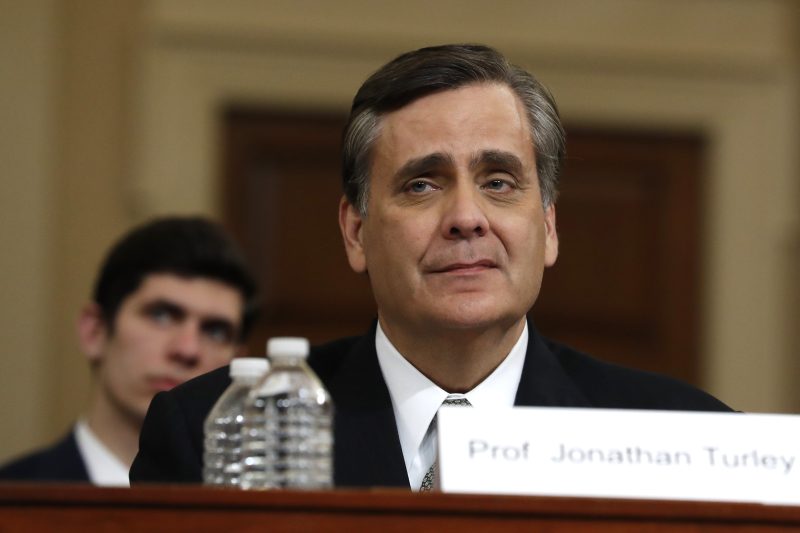 Jonathan Turley's deceptive Trump defense
George Washington University professor Jonathan Turley occupies an unusual spot in the cloud of lawyers and legal experts that has orbited around Donald Trump over the past eight years. He never worked for the former president, sparing him from being exiled by Trump into the ever-growing universe of declared Trump opponents. That also spared him from having to file court documents explaining why his discussions with Trump aren't subject to the crime-fraud exception or from having to go after his former client for unpaid bills.
Turley also retained a relatively low profile, declining to follow Alan Dershowitz into the blinding, disorienting, revealing spotlight. He writes columns and appears on Fox News, offering his credentials and authority to bolster Trump's legal defenses. Intentionally or not, he generally keeps his head down in the trenches.
But Fox News is a publicly available cable news channel, so the rest of the world sometimes gets a peek at what he's arguing. As it did this week when Turley defended Trump against the racketeering and other charges for which the former president was arrested on Thursday.
At one point, Turley took issue with the way Fulton County, Ga., District Attorney Fani T. Willis characterized an infamous phone call that Trump placed to Georgia Secretary of State Brad Raffensperger on Jan. 2, 2021.
"The way she portrayed that phone call to Raffensperger I think is really evidence of the bias and unfairness of aspects of this indictment," Turley argued. "You know, it makes perfect sense when you're challenging an election to say, you know, I only need around 11,000 votes. So if you do a statewide review, that's not a lot in a state like Georgia. That's not criminal. That's making a case for a recount."
He has made a similar argument before. Earlier this month, he asserted that the "more obvious explanation" for Trump's comments in that call, rather than that he wanted Raffensperger et al. to simply reverse the state's 2020 election results, was that he was advocating for a recount.
"The Georgia officials were saying that further state recounts might not be necessary. It would be natural for Trump to say, look, you only need to find 11,000 to turn the outcome of this election," he said. "So I don't need that many votes. Thus, a state recount is justified."
Before digging into the legal or rhetorical question, we can consider a political one. In fact, 11,000 votes is a lot when it comes to a recount. Recounts in federal or statewide races might dig up a few hundred votes that were miscounted or uncounted the first time around. But those random errors tend to benefit candidates randomly, meaning that the shifts in results are far smaller than the votes uncovered. It's only in the closest races that a recount can make a difference — and 11,000-plus votes is not a particularly close race in that sense.
By Jan. 2, 2021, Trump's team should have known this. On Nov. 4, former Wisconsin governor Scott Walker was publicly pouring cold water on the idea that a recount might swing the results in Wisconsin; the margin there was about 20,000 votes. Indeed, the state's recount yielded an 87-vote swing … for Joe Biden.
But Trump wasn't asking Raffensperger for a recount. There was no reason to do so, as Raffensperger pointed out to Trump in that call.
"We did a hand re-tally, a 100 percent re-tally of all the ballots, and compared them to what the machines said and came up with virtually the same result," Raffensperger told the then-president. "Then we did the recount, and we got virtually the same result. So I guess we can probably take that off the table."
This is true, of course. The state had already completed multiple reviews of the cast ballots, finding small shifts in the margin between Trump and Biden. Trump's infamous plea that Raffensperger "find 11,780 votes, which is one more than we have" was using the final vote tally determined after those counts and recounts.
At no point in the conversation does Trump ask for a recount, mind you. He begins by detailing a litany of suppositions about where there might have been errors or flaws in the votes cast, like arguing that there were thousands of dead people in whose names votes were cast.
"So dead people voted," Trump told Raffensperger, "and I think the number is close to 5,000 people."
Raffensperger later rebutted that claim, pointing to allegations made at a hearing held by Trump-loyal Republican legislators in the state.
"I guess there was a person named Mr. Braynard who came to these meetings and presented data, and he said that there was dead people, I believe it was upward of 5,000," Raffensperger said. "The actual number were two. Two. Two people that were dead that voted. So that's wrong."
Trump refused to believe it, as did others on the call.
"You say they were only two dead people who would vote," Trump White House Chief of Staff Mark Meadows insisted. "I can promise you there are more than that. And that may be what your investigation shows, but I can promise you there are more than that."
Bear in mind that, along with reviewing voting mechanisms in the state and conducting multiple recounts, Raffensperger's team had spent two months batting away conspiracy theories about rampant voter fraud of the kind elevated by Trump. The president insisted that election workers in Fulton County had pulled illegal votes out and counted them as seen in a viral video clip promoted by Trump allies — a clip that was quickly rebutted by state officials, weeks before the Jan. 2 call. But Trump, Meadows and the rest simply didn't want to acknowledge that they were wrong — because the point was victory, not accuracy.
"We believe that we do have an accurate election," Raffensperger said at one point.
"No, no you don't. No, no you don't. You don't have. Not even close," Trump replied angrily. "You're off by hundreds of thousands of votes." He went on to complain that Raffensperger was using "rank amateurs who will never find anything and don't want to find anything" to review the vote count. Ironic, given that Trump's debunked and baseless claims of dubious votes were uniformly the work of amateurs without access to the resources and information Raffensperger had at his disposal.
All of which is to say that Turley's argument is obviously weak. A candidate simply hoping to ensure that all avenues were closed — even after months of scrutiny and multiple recounts — would receive information that those avenues had already been demonstrably closed with resignation and acceptance. That was not the way Trump received Raffensperger's pushback.
It's worth noting that the central charge in Georgia — racketeering — doesn't depend on Trump's intent in the Raffensperger call. The call is one of scores of events that are used to demonstrate the alleged criminal scheme to subvert the election results. There is an individual charge that identifies Trump's entreaties to Raffensperger as criminal: Trump is charged with "false statements and writings" for claims he made in the call. The indictment identifies 13 such claims, noting that conviction requires that only one be shown to have been made "knowingly" and "willfully" despite being false.
When The Washington Post first reported the call between Trump and Raffensperger, one legal expert declared that the egregiousness of Trump's demand was "breathtaking." That expert was Jonathan Turley.
Telling Raffensperger to 'find' the votes on the Saturday before the certification is breathtaking. https://t.co/RAFqu6A41L I am as mystified by the request as I am the logic. Such an opportunistic move to secure the 16 electoral votes would not work to change the outcome.
— Jonathan Turley (@JonathanTurley) January 3, 2021
In a statement to Mediaite two weeks ago, Turley tried to argue that he was somehow misinformed when he offered that assessment.
"The tweet cited in the article was from Jan. 3, 2021 based on The Washington Post account, which indicated that Trump told the officials to just 'find' the votes. The transcript presented a sharply different context and meaning," he said in part. "The next day, I gave interviews on those differences and I then ran a column stating that the transcript shows a clear alternative meaning. I later wrote on the errors in The Post account of the calls. To its credit, The Post admitted the errors in its original story. I stated, as I have continued to state, that reasonable people can disagree on that meaning."
This is also misleading. The Post did correct an article about a different call in which Trump similarly tried to pressure Georgia officials. But the article linked in his tweet remains accurate. Notice how he conflates the two, describing them as the "Post account of the calls" and suggesting that it was our error that misled him.
In reality, the error was — and continues to be — his own.
This post appeared first on The Washington Post