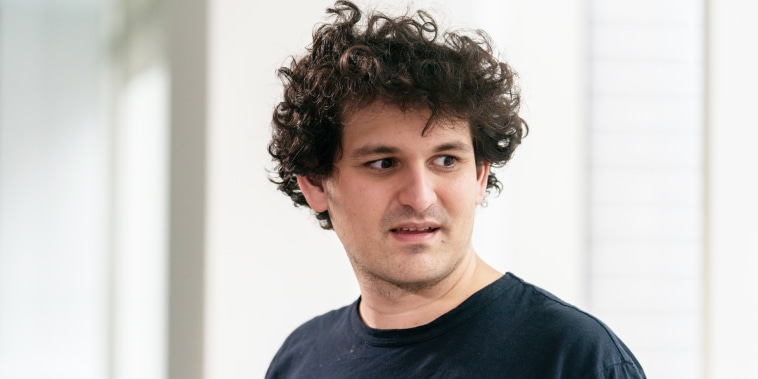 Judge sends Sam Bankman-Fried to jail over alleged witness tampering
Sam Bankman-Fried will head to jail on Friday after a judge sided with a request by federal prosecutors to revoke the FTX co-founder's bail over alleged witness tampering. Bankman-Fried will be remanded to custody directly from a court hearing in New York, where he will remain ahead of his criminal trial — which is due to begin on Oct. 2. 
Judge Lewis Kaplan denied Bankman-Fried's request for delayed detention pending an appeal.
Since his arrest in December, Bankman-Fried had been out on a $250 million bail package which requires him to remain at his parents' Palo Alto, California house.
Bankman-Fried's court appearance on Friday is the latest in a series of pre-trial hearings related to the ex-billionaire's continued dealings with the press — exchanges which the Justice Department characterizes as a "pattern of witness tampering and evading his bail conditions." 
Judge Kaplan previously issued a direct and stern warning to Bankman-Fried in July over his conversations with the media.
Members of the press, including counsel for The New York Times and the Reporters Committee for Freedom of the Press, had filed letters objecting to Bankman-Fried's detention, citing free speech concerns. Defense attorneys had similarly argued that Bankman-Fried was asserting his first amendment right and did not violate any terms of his bail conditions by speaking with journalists.
The defense had also been hoping that the discovery process would help Bankman-Fried's case.
Lawyers representing the former FTX chief stipulated that with Bankman-Fried jailed, he would not be able to properly prepare for his trial due to the mountainous amounts of discovery documents only accessible via a computer with internet access.
In the motion requesting Bankman-Fried's detention, the government said that, over the last several months, the defendant had sent over 100 emails to the media and had made over 1,000 phone calls to members of the press. The final straw, according to prosecutors, was Bankman-Fried leaking private diary entries of his ex-girlfriend, Caroline Ellison, to the New York Times. Ellison pleaded guilty to federal charges in Dec. 2022.
Ellison, who is also the former chief executive of Bankman-Fried's failed crypto hedge fund, Alameda Research, has been cooperating with the government since December and is expected to be a star witness for the prosecution. 
"Faced with a series of conditions meant to limit the defendant's use of the internet and the phone, the defendant pivoted to in-person machinations," the prosecution said of Bankman-Fried, whose revised bail conditions include restricted internet access and a ban from smartphone use. 
The government added that Bankman-Fried had over 100 phone calls with one of the authors of the Times story prior to publication — many of which lasted for approximately 20 minutes. 
The prosecution described the effort by Bankman-Fried — who faces several wire and securities fraud charges related to the alleged multibillion-dollar FTX fraud — as an attempt to discredit Ellison, characterizing it as a "means of indirect witness intimidation through the press." 
It is an argument that proved sufficient to convince Judge Kaplan to send Bankman-Fried to jail ahead of his trial.
The prosecution has had to cull charges twice to comply with an extradition agreement inked with The Bahamas — where Bankman-Fried was previously held in custody. The government told the Judge in a letter that next week it plans to file a new superseding indictment.
More from CNBC:
PayPal's stablecoin is first dollar-backed digital currency from a major U.S. financial institutionRetailers are shaping a wave of laws to crack down on organized theft — here's how they do itAt 101 years old, I'm the 'world's oldest practicing doctor': My No. 1 rule for keeping your brain sharp
This post appeared first on NBC NEWS