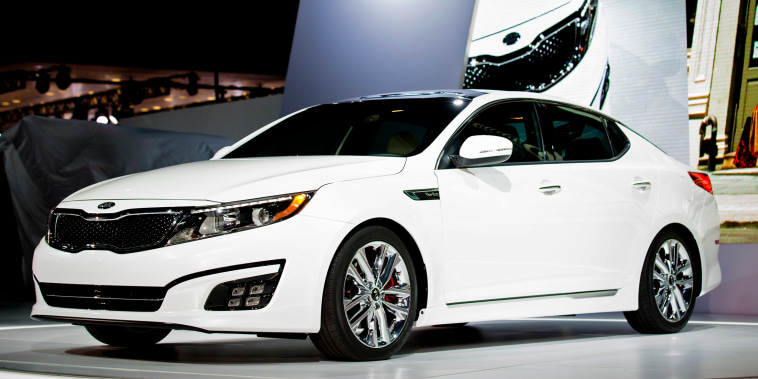 Kia and Hyundai recall 3.37 million vehicles in the U.S. over fire risks
Hyundai and Kia are recalling a combined 3.37 million vehicles in the United States due to the risk of engine fires, telling owners to park outside and away from structures until repairs are complete.
The automakers say internal brake fluid leaks can cause an electrical short that could lead to a fire. The National Highway Traffic Safety Administration (NHTSA) said owners should follow the advice of automakers and park vehicles outside until repairs are made.
Hyundai said it has reports of 21 fires and 21 other thermal incidents since 2017 related to the recall, while Kia has reports of at least 10 confirmed fires and melting incidents. Neither automaker has reports of any crashes, injuries or fatalities or crashes tied to the recalls, NHTSA said.
Kia America's recall covers 1.73 million Borrego, Cadenza, Forte, Sportage, K900, Optima, Soul Rio, Sorento, and Rondo vehicles. The recall covers various model years for each vehicle from 2010 through 2017, according to a filing with NHTSA.
The Hydraulic Electronic Control Unit (HECU) in the vehicles may experience an electrical short as a result of brake fluid leaks, which can result in an engine compartment fire while parked or driving, the automaker said.
Hyundai is recalling 1.64 million Elantra, Genesis Coupe, Sonata Hybrid, Accent, Azera, Veloster, Santa Fe, Equus, Veracruz, Tucson, Tucson Fuel Cell, and Santa Fe Sport vehicles from model years covering 2011 through 2015.
The Anti-Lock Brake System (ABS) module may leak brake fluid internally and cause an electrical short, which can result in an engine compartment fire while parked or driving, the carmaker said in the filing.
Hyundai plans to notify owners to bring vehicles to a dealer to replace the ABS module fuse. Kia is still working on a remedy, NHTSA said. The automakers plan to notify owners of the recall in November.
This post appeared first on NBC NEWS