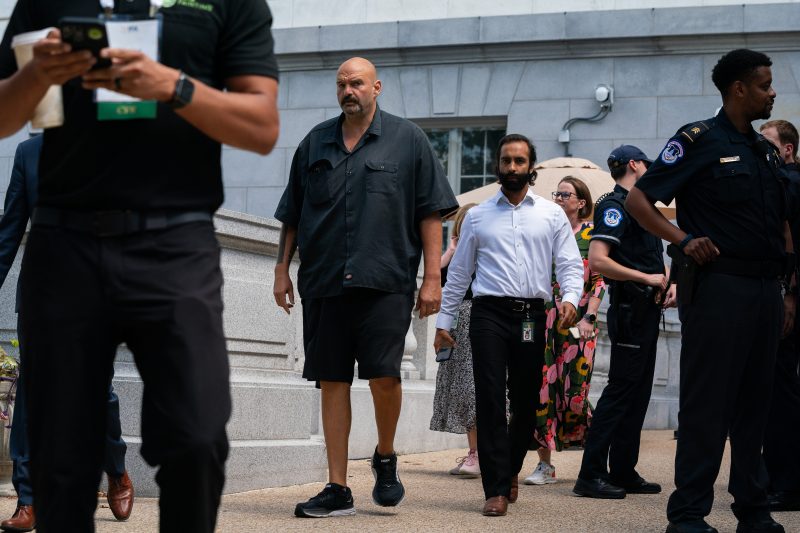 Letter from Republican senators slams change in dress code enforcement
All but three Republican senators published a letter to Senate Majority Leader Charles E. Schumer (D-N.Y.) on Tuesday, blasting his decision to stop enforcing the requirement of business attire on the Senate floor as disrespectful.
The policy change means the nation's 100 senators have free rein to choose how they dress while they conduct some of the nation's most important business. The Senate previously followed an unwritten and unevenly enforced policy that encouraged men to wear suits and ties and women to cover their arms.
The 46 Republican senators who objected to stopping enforcement of that rule argued that a dress code upholds the sanctity of the institution. They implored Schumer to reverse his decision.
"Allowing casual clothing on the Senate floor disrespects the institution we serve and the American families we represent," wrote the Republican senators, led by Sen. Rick Scott of Florida.
Announcing the missive, Scott called the Senate floor "a special place."
"It's not hard to show it some respect and dress like a grown up," he wrote on X, the social media site formerly known as Twitter.
Sens. Mike Braun (Ind.), Katie Boyd Britt (Ala.) and Josh Hawley (Mo.) were the only Republican senators who did not sign the letter.
Schumer's office did not immediately respond to a request for comment.
At the center of much of the Republican ire is Sen. John Fetterman (D-Pa.), who frequently dons hooded sweatshirts and basketball shorts while working — although not while on the Senate floor.
On Tuesday, Fetterman declined to walk onto the Senate floor to vote while wearing a shirt and shorts, according to HuffPost.
"I just don't want the world to burn down," he said to a reporter when asked why the senator didn't enter the chamber. "The Republicans think I'm going to burst in through the doors and start break dancing on the floor."
This isn't the first time in recent history that the dress code at the U.S. Capitol changed. In 2017, several female members of Congress posed for a group photo baring their arms to celebrate a change in the dress code that allowed sleeveless tops and open-toed shoes. Two years later, the House voted to allow religious headwear for the first time since 1837, after the first Muslim women were elected to Congress.
Aaron Schaffer, Herb Scribner and Ashley Fetters Maloy contributed to this report.
This post appeared first on The Washington Post