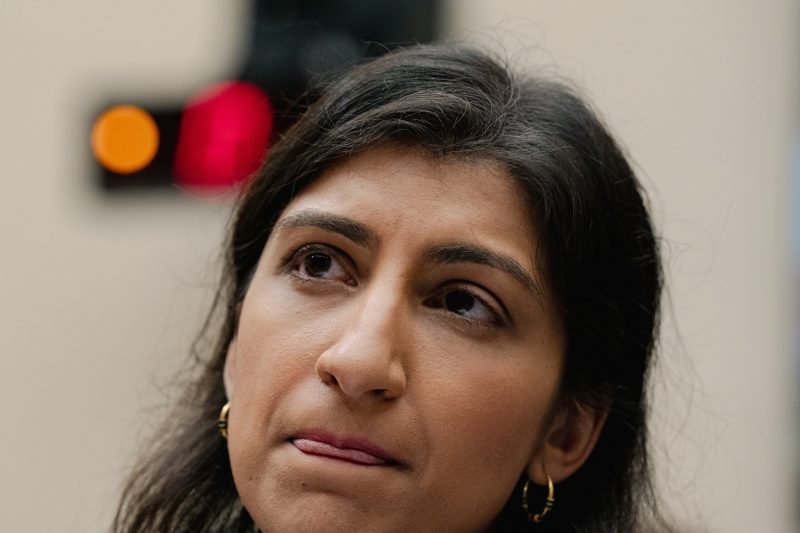 Lina Khan's Amazon lawsuit is nothing like her famous law article
Six years ago, a law student named Lina Khan wrote a Yale Law Journal article that held up Amazon as an example of how U.S. antitrust law was broken.
Decades of narrow focus on high prices as the main indicator of monopoly power, she argued, had left the legal and policy world blind to the ways that online platforms were gaining chokeholds on the digital economy. For Amazon, low prices were actually a weapon with which to strangle rivals and small retailers while it gained a chokehold on the e-commerce industry. The paper made Khan the face of a movement to take on Big Tech by radically rethinking competition policy.
On Tuesday, Khan's Federal Trade Commission filed a landmark antitrust lawsuit against Amazon, alleging that it has abused its power to stifle competition in e-commerce. But the lawsuit, signed onto by 17 state attorneys general, follows a very different logic from her now-famous paper.
Its embrace of conventional antitrust concerns, including high prices for shoppers, and its avoidance of rhetoric about breaking up the company show how the 34-year-old Khan has evolved as a regulator — trading in her academic idealism for a more pragmatic approach as she embarks on what could be the signature case of her career.
In her 2017 law review article, titled "Amazon's antitrust paradox," Khan's target wasn't just Amazon. It was the "consumer welfare standard," which holds that big, powerful corporations aren't a problem as long as they don't jack up their prices. That laissez-faire approach had dominated antitrust jurisprudence since at least the 1970s, allowing waves of corporate consolidation. Khan argued it was outdated in the digital age.
"We cannot cognize the potential harms to competition posed by Amazon's dominance if we measure competition primarily through price and output," she wrote. Instead, regulators should look at how companies like Amazon used low prices to undercut rivals on their way to controlling the critical infrastructure of the digital economy — a position from which they could fend off competitors and give their own products an unfair advantage over everyone else's.
Amazon founder and former CEO Jeff Bezos owns The Washington Post. The Post's interim CEO Patty Stonesifer sits on Amazon's board.
Once out of law school, Khan set to work trying to turn her vision of an antitrust revolution into reality.
In 2019, she joined the staff of the House antitrust subcommittee to help draft legislation that would overhaul the country's antitrust laws, potentially forcing some of the largest tech companies to split off parts of their business. But the tech giants mounted a lobbying blitz against the package, and it petered out in Congress.
Meanwhile, President Biden tapped Khan in 2021 to chair the FTC, with an implicit mandate to rein in Big Tech. She jumped right in, refiling a lawsuit that aimed to break up Facebook parent company Meta and suing to block acquisitions by Meta and Microsoft. But judges overruled the FTC's objections to both mergers, smacking down some of Khan's legal theories in the process. Elsewhere, an antitrust suit against Apple lodged by Epic Games that drew on similar ideas ended up going mostly Apple's way.
Now comes the Amazon lawsuit, years in the making — the case Khan was born to make. And the way she's making it suggests she's willing to make concessions to the status quo to avoid another defeat.
The 172-page lawsuit repeatedly seeks to tie Amazon's aggressive business practices to higher prices and a degraded experience for customers, putting it largely within the "consumer welfare" tradition Khan once critiqued. Khan's rhetoric Tuesday was even more explicitly consumer-focused, portraying the fees that Amazon charges sellers as an "Amazon tax" that is ultimately passed on to the buyer.
The suit spends relatively little time exploring Khan's theories about "two-sided markets," in which a company like Amazon (or Google, Apple or Meta) acts as an intermediary connecting sellers with consumers. Instead, it targets a set of specific business practices by Amazon that it argues are anticompetitive, such as discouraging sellers from offering lower prices on other sites and punishing sellers who don't use Amazon's own fulfillment services to deliver their products.
Notably, the lawsuit does not explicitly call for Amazon to be broken up, instead seeking a "permanent injunction" to bar it from those particular business practices. And Khan's stated goals for the case had nothing to do with dismembering Amazon, let alone reimagining the antitrust paradigm.
"If we succeed," Khan told reporters, "competition will be restored, and people will benefit from lower prices, greater quality, greater selection as a result." Radical stuff indeed.
While there are some unconventional aspects to the case, the general categories of violations it alleges "would have been cognizable for the last 40 years of antitrust," said Joseph Coniglio, director of antitrust policy for the Information Technology & Innovation Foundation, which receives funding from tech companies including Amazon. (Still, he said he believes the FTC will face "an uphill battle" in the courts, because the fact remains, "It's hard to show consumer harm when there are low prices.")
The difference between Khan's paper and the FTC's lawsuit, he said, is "the difference between the academic theory and what she actually needs to put before a court."
Barry Lynn, Khan's onetime boss at the anti-monopoly Open Markets Institute, probably doesn't agree with Coniglio on much. But he also saw pragmatism at work in the case's reliance on some established categories of antitrust allegations, alongside some more envelope-pushing arguments, particularly around the alleged harms to sellers and suppliers.
"I think they're hedging their bets, which is wise," Lynn said. Focusing on harms to consumers rather than novel legal theories "helps them sell the case to the public," he added. And by arguing that Amazon is failing its customers, "They're going at the heart of Amazon's defense."
Lynn said he doesn't think Khan has abandoned her ideals. She's just learning that you can't pursue them all at once if you want to win cases.
"You're also protecting yourself," he said. "You don't know what kind of judge you're going to get."
This post appeared first on The Washington Post