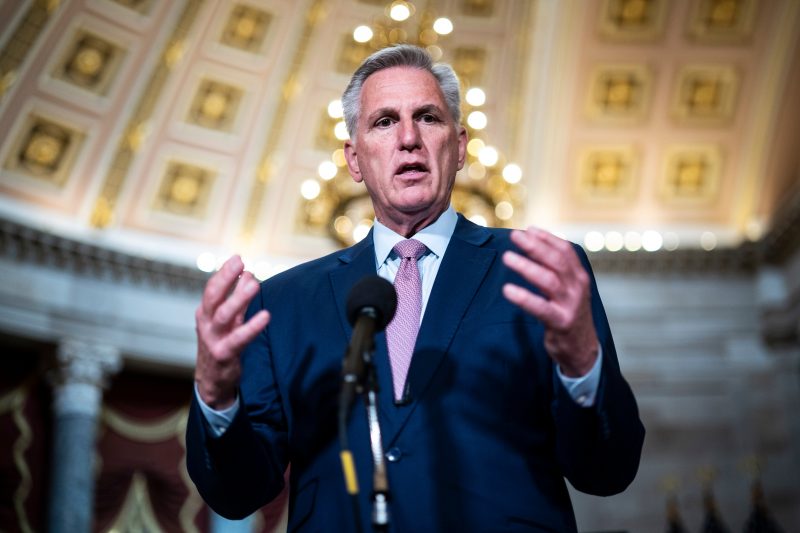 McCarthy floats the idea of an 'impeachment inquiry' against Biden
House Speaker Kevin McCarthy (R-Calif.) said Monday night that unsubstantiated investigations launched by Republican lawmakers into the business dealings of President Biden's family members are "rising to the level of impeachment inquiry."
McCarthy's comments to host Sean Hannity on Fox News mark the furthest he has gone in suggesting that House Republicans might seek to impeach Biden, which some far-right members in his narrow majority have advocated. But during the interview, McCarthy offered no specific potential charges or a timeline.
Asked by reporters to clarify a timeline for a potential impeachment inquiry, McCarthy said Tuesday that the investigations the House committees have undertaken continue to go forward, and that he doesn't see the outlook as any different than before his Fox News appearance.
"What the committees are doing and what we are doing is following wherever the information takes us," McCarthy said.
"We are no different than where we were yesterday," he added, after more back-and-forth with reporters.
The White House pushed back earlier Tuesday, accusing House Republicans of a zeal to taint Biden based on inquiries with unproven and discredited allegations. "Instead of focusing on the real issues Americans want us to address like continuing to lower inflation or create jobs, this is what" House Republicans want "to prioritize," White House spokesman Ian Sams said in a tweet. "Their eagerness to go after" the president "regardless of the truth is seemingly bottomless."
House Republicans have sought to build a case, based on testimony from IRS whistleblowers, that the Justice Department improperly interfered in a criminal investigation into Hunter Biden's financial dealings. They also alleged, based on an uncorroborated FBI document, that President Biden's family members received payments from foreign companies. That investigation has gained little traction.
"If you are sitting in our position today, we would know none of this if Republicans had not taken the majority," McCarthy told Hannity in the Monday night interview. "We only followed where the information has taken us," he said. "This is rising to the level of impeachment inquiry, which provides Congress the strongest power to get the rest of the knowledge and information needed." McCarthy also accused Biden of "something we have not seen since" former president Richard M. Nixon, "the weaponization of government to benefit his family and deny Congress the ability to have the oversight."
In a statement Tuesday, Democratic National Committee Chair Jaime Harrison said McCarthy's comments amounted to "a political stunt" that showed how far he is willing to go to help former president Donald Trump return to the White House.
Last week, McCarthy said he would support an effort in the House to expunge the two impeachments of Trump when Democrats led the chamber. McCarthy denied a Politico report that he promised a vote on such a measure to remain in Trump's good graces. Trump "has made sure the House majority is little more than an arm of his 2024 campaign, and Kevin McCarthy is happy to do his bidding," Harrison said.
House Democrats have strongly opposed the investigations led by House Republicans. At an Oversight Committee hearing last week where two IRS whistleblowers claimed that the Justice Department politicized the Hunter Biden probe, Rep. Jamie Raskin (Md.), the top Democrat on the panel, said Republicans had proved nothing. "Like every other try by my colleagues to concoct a scandal about President Biden, this one is a complete and total bust," Raskin said.
In a letter Monday, a top official at the Justice Department said it would make available for testimony David Weiss, the U.S. attorney in Delaware who led the investigation into Hunter Biden. "We are deeply concerned by any misrepresentations of our work" that could "unduly harm public confidence in the evenhanded administration of justice," the official wrote. Hunter Biden reached a tentative agreement with federal prosecutors last month to plead guilty to two minor tax crimes and admit to the facts of a gun charge.
Formally declaring an impeachment inquiry would given House Republicans additional investigative powers. To this point, McCarthy has hardly seemed eager to take that route. Last month, for instance, McCarthy defused an effort by Rep. Lauren Boebert (R-Colo.) to impeach Biden for his alleged mishandling of the southern border with Mexico. Instead of voting on her measure in the full House, as Boebert had initially advocated, McCarthy orchestrated a move to send the measure to a pair of committees.
At a news conference Tuesday hosted by the conservative House Freedom Caucus, Rep. Andy Biggs (R-Ariz.) argued that establishing an impeachment inquiry would help House Republicans "to actually get more teeth into our investigations," which he called "a very interesting and perhaps even necessary step." Biggs, who did not reference any specific impeachable charges against Biden, was among several Republicans referred last year to the House Ethics Committee for failing to comply with subpoenas issued by the House select committee that investigated the Jan. 6, 2021, attack on the Capitol.
While some in the House Republican conference have been eager to bring Biden up on impeachment charges, others in swing districts believe the politics would not work in their favor. Impeaching Biden would require a simple majority vote in the House. Conviction in the Senate would require a two-thirds majority.
Leigh Ann Caldwell contributed to this report.
This post appeared first on The Washington Post