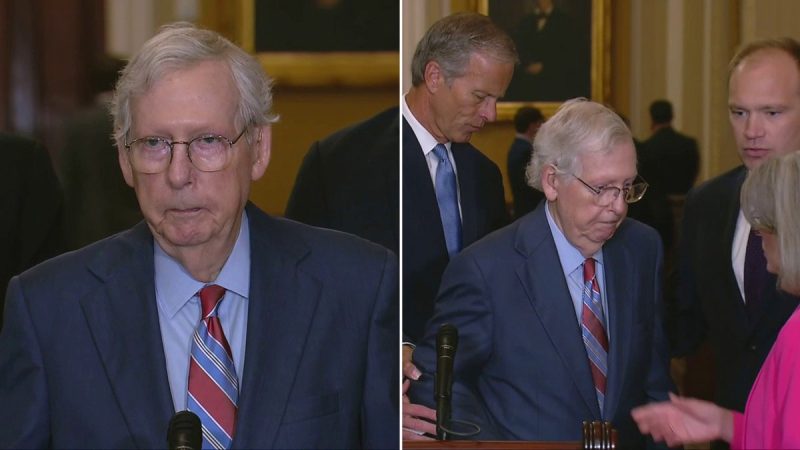 McConnell intends to finish Senate and leadership term following health episodes
Senate Minority Leader Mitch McConnell, R-Ky., told reporters Wednesday he intends to finish his time as leader and complete his Senate term, which sunsets at the end of 2026.
'I'm going to finish my term as leader, and I'm going to finish my Senate term,' McConnell, 81, said when asked to respond to those who are calling on him to step down over his recent health concerns.
His term as Senate minority leader concludes at the end of 2024.
McConnell's appearance is the first in the Capitol following the GOP conference's weekly luncheon since his first freeze up at the end of July, prior to the Senate's 40-day recess. McConnell froze up again while answering reporters' questions in his home state of Kentucky last week.
Some GOP leaders are renewing calls to introduce term-limits legislation while others remain supportive of the longtime Republican lawmaker.
'Mitch talked about his health history,' Sen. John Kennedy, R-La., told reporters after the luncheon. 'He went over the tests he's had, said he's been given a clean bill of health, indicating he's had two of these episodes. And both of them happen at press conferences.'
'And otherwise, he worked hard in August and raised about $49 million,' Kennedy added.
Sen. Lindsey Graham, R-S.C., told reporters, 'I feel really good behind Mitch.'
'Let's move forward,' he said. 
Meanwhile, Sen. Josh Hawley, R-Mo., told reporters before the luncheon that he was concerned about McConnell.
'I'm concerned about his health. I mean, I'm concerned about the president's health. I'm concerned about his health,' Hawley told reporters. 'I don't think you can have it both ways.'
Hawley also doesn't think McConnell is the right person to restore the GOP majority in the Senate: 'That's why I voted against him in December.'
In January, South Carolina GOP Rep. Ralph Norman introduced an amendment to the U.S. Constitution that would limit House members to three terms, for a total of six years, and those serving in the Senate to two terms, for a total of 12 years. Rep. Jared Golden, D-Maine, co-introduced the amendment.
McConnell's physician medically cleared him to continue with business as usual and did not find any evidence of a stroke or a seizure after several tests, per an announcement Tuesday.
'My examination of you following your August 30, 2023 brief episode included several medical evaluations: brain MRI imaging, EEG study and consultations with several neurologists for a comprehensive neurology assessment,' Dr. Brian Monahan wrote.
'There is no evidence that you have a seizure disorder or that you experienced a stroke, TIA or movement disorder such as Parkinson's disease,' the letter reads.
Earlier this year, McConnell suffered a concussion and fractured rib from a fall in a Washington hotel and spent time in recovery in an inpatient rehabilitation facility before returning to the Senate.
Fox News' Kyle Morris contributed to this report.
This post appeared first on FOX NEWS