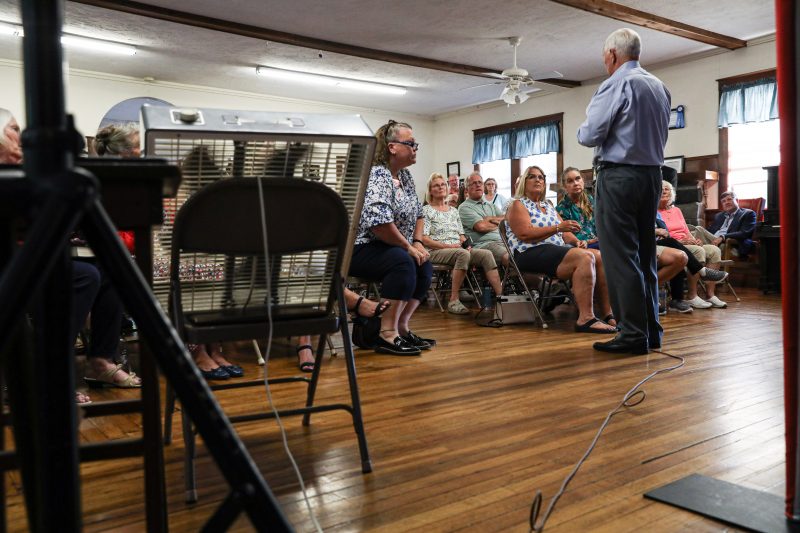 Mike Pence struggles to gain attention and traction in longshot bid
HUDSON, N.H. — As he finished up his remarks at an outdoor garden party hosted by a former state senator, Mike Pence made one final request to prospective voters.
"Even one dollar, although I want to emphasize you can give a lot more, would be a help tonight, even before you go to bed tonight, go online, send us a buck or whatever," the former vice president said, dressed in a crisp light-blue button-down and navy slacks on a hot summer day in the Granite State. "We're working around-the-clock to make sure we get enough donors to be up on that debate stage and I'll see you all at the inauguration."
One day later, nearly 80 miles away at the Wicwas Lake Grange in Meredith, state Sen. Timothy Lang Sr. stood alongside Pence at an evening town hall with a similar plea, encouraging attendees to grab a "Mike Pence for President" card with a QR code: "If you want to donate just a dollar, it counts towards the 40,000."
It's a remarkable request from a longtime and prominent Republican figure who, just 2 1/2 years ago, was the second-highest official in America under Donald Trump. But now, Pence is soliciting supporters for small dollar donations in hopes of crossing the 40,000-donor threshold for participation in the first GOP debate in Milwaukee on Aug. 23.
While Pence's advisers are emphatic that he will make the debate stage, the mere uncertainty is emblematic of the early challenges the Indiana Republican is confronting in his nascent campaign. Pence has struggled to gain attention or traction by running a traditional and low-key conservative campaign in a race dominated by firebrands like Trump and Florida Gov. Ron DeSantis.
Vice presidents typically enter their party's nominating contest as strong contenders if not front-runners. Yet Pence is registering well behind Trump and DeSantis and much closer to tech entrepreneur Vivek Ramaswamy, while also being far outraised by his rivals.
His predicament was summed up during a contentious interview with former Fox News host Tucker Carlson at a Christian conservative event in Iowa earlier this month: After expressing support for Ukraine in defending itself against Russia, he was met with boos from the crowd.
Pence's current standing in the race is in part due to the rare circumstance of competing against a former president, whom he served loyally for four years before publicly refusing Trump's demands that he attempt to overturn the 2020 election results, according to interviews with Republican strategists, pollsters and early state voters. Pence's decision to certify the 2020 election results on Jan. 6, 2021, makes him unpalatable to many in the former president's base.
Now, as he touts his conservative credentials and his experience as a former governor, he faces the tricky dynamic of highlighting the Trump-Pence administration's accomplishments while simultaneously arguing that it's time to move on from Trump. His candidacy is also a test for whether there is any appetite left in the Republican primary electorate for the traditional, Ronald Reagan-esque principles that influenced Pence's career.
"Mike Pence is caught between a rock and a hard place. He's too Trumpy for the non-Trumpies and not Trumpy enough for the Trumpies," said GOP pollster Whit Ayres. "If you say that Donald Trump is unfit for office, that puts people who voted for Trump in an uncomfortable position psychologically where they have to admit to themselves that they made a mistake. I suppose you could thread that needle by saying he was fit for office until Jan. 6, and after that he wasn't. But that's really threading a needle with those folks."
Pence's advisers argue that it's still early in the race — noting that the former vice president officially announced his candidacy three weeks before the deadline for second quarter fundraising numbers — and dismissed the importance of national polls. One adviser highlighted that rival presidential campaigns have spent far more on ad buys but have yet to see substantial movement. The adviser also noted that Ross Perot Jr., Joe and Kelly Craft, Warren Stephens, Haley Barbour, Andy Puzder and Pete Coors are among Pence's financial backers.
The Pence team is also betting heavily on Iowa, where evangelical voters are a crucial voting bloc and where Pence kicked off his presidential campaign. Chip Saltsman, national campaign chairman for Pence, managed Mike Huckabee's presidential campaign in 2008, when Huckabee won the state.
Pence is running as a hardcore conservative and has touted the GOP tax cuts under Trump as well as the confirmation of three conservative Supreme Court justices on his record as vice president. "Committed to America," a super PAC backing Pence, has also sought to draw contrasts with Trump, not only on Jan. 6, but also on foreign policy, with a recent ad citing Trump's statements praising Russian President Vladimir Putin and North Korean leader Kim Jong Un. Pence on the campaign trail has highlighted his support for Ukraine in the ongoing war with Russia, his backing of a national 15-week abortion ban and a push for changes to entitlement programs as key differences from Trump and some of his other rivals.
Marc Short, a longtime Pence adviser, said he was confident that Pence would make the debate stage and that the campaign offers Pence the opportunity to "reintroduce himself to the American people."
"Everyone in Washington wants to be the pundit to predict the way it's going to turn out … They were wrong in 2016, they were wrong in 2012," Short said, adding that comparing Pence's candidacy with that of previous vice presidents is "not apples to apples" given the dynamic of a former president running.
Pence is the latest candidate in a long line of vice presidents or former vice presidents to seek the White House, including President Biden. Vice presidents or former vice presidents Al Gore, George H.W. Bush, Walter F. Mondale and Richard M. Nixon all went on to win their party's nominations.
Joel Goldstein, an emeritus law professor at the St. Louis University School of Law who specializes in the vice presidency, said Pence's candidacy is "unique in modern times." Of the vice presidents who have sought the presidency, Goldstein said Pence's situation comes closest to that of former vice president and fellow Indiana native Dan Quayle, who served under President George H.W. Bush and then competed and lost the GOP nomination to Bush's son, George W. Bush, in the 2000 election.
"Vice presidents who run for president have certain challenges, but one of the things they generally can count on is the support of the administration based on their loyalty," Goldstein said. "He doesn't inherit the support, but then moreover it's just the dramatic break between the two of them on Jan. 6 … For a vice president to be running third or fourth in single digits in national polls is not where one would expect to be."
When Pence launched his White House bid last month, he made the Jan. 6 attack on the U.S. Capitol by a pro-Trump mob a key theme in his speech, emphasizing that Trump's actions were "reckless" and that "anyone who asks someone else to put them over the Constitution should never be president of the United States again."
But now more than a month into his campaign, Pence doesn't typically mention Jan. 6 in his town halls or stump speeches unless he's asked about it, instead focusing on the Biden administration. He told reporters Thursday that it doesn't come up often on the trail but that he'll "never hesitate to tell people the reasons why I took the stand that I took."
Pence has also taken a similar position to his GOP primary rivals when it comes to the existing and potential charges facing Trump for a variety of alleged crimes, including a possible indictment related to Jan. 6, arguing that "the Department of Justice has lost credibility."
Even if it's not a focus, Jan. 6 does inevitably come up. When former New Hampshire GOP state senator Bob Clegg introduced Pence at the Wednesday garden party at his home in Hudson, Clegg mentioned Jan. 6 first — calling Pence's certification of the 2020 election results amid pressure to overturn them the "most courageous thing anybody's ever done" and later citing it as a key reason for his decision to back Pence.
And during a town hall in Meredith, a young attendee praised Pence's character, citing Jan. 6 and asking whether Christians should vote for Trump. Pence thanked the attendee and said he wouldn't tell voters in New Hampshire how to handle elections. Several other voters at his events this past week cited Jan. 6 as a positive consideration when evaluating his candidacy.
Pence also received questions about Jan. 6 during a meeting with pastors in New Hampshire, according to Josh Barnes, a pastor in Weare, N.H., who attended. One of the pastors asked Pence what would have happened had he refused to certify the election, Barnes recalled. Pence replied that he hadn't thought about that, but reiterated that it wasn't a factor in his reading of the Constitution.
While Barnes described Pence as "worthy of being supported," he expressed concern about Pence's electability and predicted an "uphill battle." Pence is polling at 1 percent among likely GOP primary voters in New Hampshire, according to a recent survey from the University of New Hampshire Survey Center.
"The evangelical Christians that I talk to, man, electability is really important to them," Barnes said. "They're kind of hesitant. There are some who think, 'Yeah, he's a great guy, but so is DeSantis, and it looks like DeSantis might be better to win the general election.' I think a lot of us are waiting for debates."
Pence will also need to overcome his favorability ratings with GOP primary voters, which drastically declined after Jan. 6. A recent Quinnipiac University poll found 39 percent favorable ratings among Republican registered voters, compared with 44 percent unfavorable ratings, his worst since the 2020 election. A July Economist/YouGov poll found that Pence's rating stood at 56 percent favorable vs. 38 percent unfavorable among Republican voting-age citizens since launching his campaign.
"The reality is Mike had very high favorables until the president started misrepresenting the events of Jan. 6," Short said. "I think you see a direct correlation."
Pence's White House bid has the traditional trappings of a presidential campaign. He's trekking across both Iowa and New Hampshire, visiting small towns and shaking hands with voters alongside his wife Karen, often thanking them for saying hi. He maintains a dry sense of humor on the trail when he talks about his family, including his "unworthy son-in-laws" or being the grandfather of "three of the most beautiful granddaughters ever born." He often likes to say that he joined the Reagan revolution and never looked back.
"We have such big personalities in there already and yes we know who Vice President Pence is," said Starlyn Perdue, chair of the Pottawattamie County Republican Party, which recently hosted a social hour with Pence and is neutral in the race. "He has that reputation of being that nice quiet conservative man … We know he's strong, he's accomplished and is well-qualified, but not having that very attention-grabby personality does not get you on the news as much."
During his recent swing in New Hampshire, Pence made a stop at a shop called "Elfmade Home Decor Company" in Barrington with his wife. Bob and Jeanne Huffman, the store's owners, both Republicans, said they're undecided in the GOP but don't plan to vote for Pence. When asked about Pence's actions on Jan. 6, Bob replied: "We're not too keen on that."
"We won't support Mike Pence," Bob Huffman said. "We'll shake his hand and be friendly and smile. They were nice."
Scott Clement contributed to this report.
This post appeared first on The Washington Post