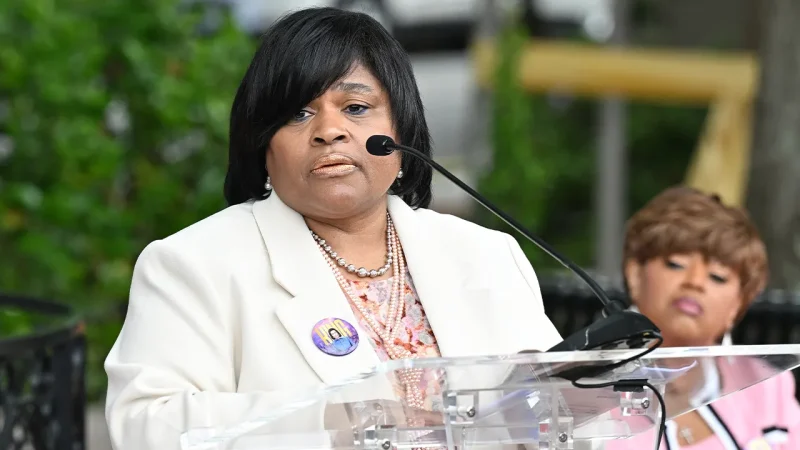 Minyon Moore, former Black Lives Matter board member, announced as DNC convention chair
Minyon Moore, the former Biden adviser who served on the board of directors of the Black Lives Matter Global Network Foundation last year, will chair the 2024 Democratic National Convention in Chicago, the party announced Tuesday.
Moore, a Chicago native who currently serves as a co-chair of the DNC's Rules and Bylaws Committee, previously served on Hillary Clinton's presidential campaign and as assistant to the president and director of White House Political Affairs under President Bill Clinton.
'I am thrilled for the opportunity to serve as Chair to the 2024 Democratic National Convention in my hometown of Chicago, Illinois,' Moore said in a DNC press release. 
'I am grateful to the team members who have already been working hard, and know that through their work, and the strong team we continue to build, that this convention will be a success,' she said.
The press release made no mention of Moore briefly serving on the board of the Black Lives Matter Global Network Foundation in 2022. 
While Moore was listed as a board member during the group's February 2022 tax filings, she was absent from the registration forms submitted in Florida and Oklahoma on behalf of the group on April 28, 2022, signaling she had stepped down, the Washington Examiner reported at the time.
The DNC did not respond to Fox News Digital's inquiry seeking clarification.
Moore, who has been described by media outlets as an informal adviser to Vice President Kamala Harris, was tapped in February 2022 to advise President Biden during his nomination of Ketanji Brown Jackson to the Supreme Court, Fox News Digital reported at the time. 
In 2020, Moore served as a member of the advisory council of the Biden-Harris transition team. She is also a former CEO of the DNC and currently leads the public affairs firm Dewey Square Group.
The convention is slated for Aug. 19-22, 2024, in Chicago.
Moore's involvement with the BLM movement followed painstaking efforts by Biden and mainstream Democrats to distance themselves from the anti-police rhetoric of the defund the police movement embraced by the party's progressive wing.
This post appeared first on FOX NEWS