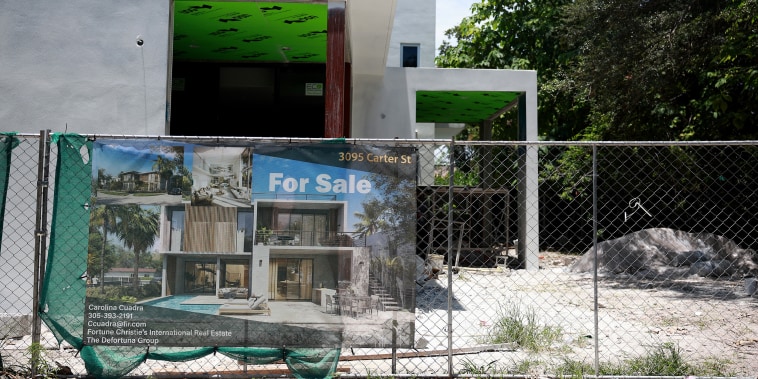 Mortgage rates hit a 22-year high as demand drops
Mortgage rates rose for the third straight week last week, matching a 22-year high. As a result, mortgage demand dropped as well.
Total mortgage application volume was 29% lower than the same week one year ago, according to the Mortgage Banker's Association's seasonally adjusted index.
The average contract interest rate for 30-year fixed-rate mortgages with conforming loan balances ($726,200 or less) increased to 7.16% from 7.09%, with points decreasing to 0.68 from 0.70 (including the origination fee) for loans with a 20% down payment. That was the third straight weekly increase and the highest level since October 2022, which also matches a high level seen in 2001.
"Treasury rates were elevated again last week following mixed data on inflation and more indication of resiliency in the economy, which may pose a challenge to the Federal Reserve's efforts to lower inflation," said Joel Kan, an MBA economist, in a release.
As a result, mortgage demand from homebuyers was essentially flat week to week and 26% lower than the same week one year ago. The adjustable-rate share of these applications did rise slightly, as ARM loans offer slightly lower rates, and buyers are looking for a break where they can find it.
Applications to refinance a home loan fell 2% for the week and were 35% lower than the same week one year ago. Last year the 30-year fixed was 5.45%, but the year before it was in the 3% range, so there are very few borrowers who can now benefit from a refinance.
While overall mortgage demand is dropping, applications for a mortgage to purchase a newly built home are rising, up 35.5% in July year over year, according to a separate MBA report released Tuesday. The Federal Housing Administration share of those applications hit the highest level since May 2020 and has increased in four of the last five months. FHA loans offer low down payment options and are thus popular with first-time homebuyers.
"This increasing trend in the FHA share is indicative of more first-time buyers looking to new homes as an option, given the lack of for-sale inventory among existing homes and challenging affordability conditions," added Kan.
Mortgage rates continued to climb this week. On Tuesday, the average rate on the 30-year fixed hit 7.26%, according to Mortgage News Daily, the highest since last November.
More from CNBC:
Look inside the $44.5 million Tuscan-style mega villa perched 2,000 feet above MalibuHomebuilder sentiment drops sharply, as mortgage rates surge over 7%Airlines can't add high-end seats fast enough as travelers treat themselves to first class
This post appeared first on NBC NEWS