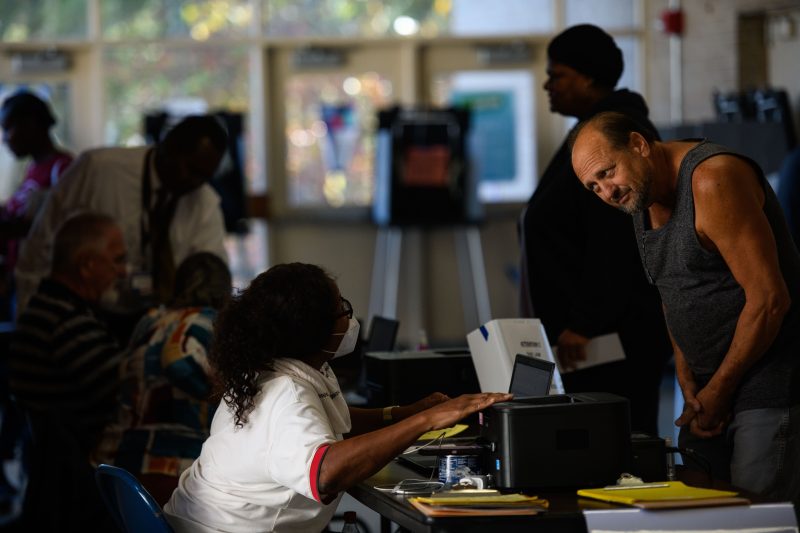 N.C. Republican bill limits mail voting, private election funding
Republicans in North Carolina passed election administration legislation on Wednesday night that curtails absentee voting, empowers partisan poll watchers and restricts private funding for elections.
Voting rights advocates and Democrats have warned that the measure, which passed both chambers in the state's legislature along party lines, erodes access to the ballot in the battleground state.
Gov. Roy Cooper (D) is expected to veto the legislation, but Republicans can overturn his decision because they have veto-proof majorities in both legislative chambers.
In a statement Thursday, Cooper said the measure is one of many "harmful bills also currently being pushed by extreme MAGA Republican legislators."
"The North Carolina local and state elections boards conducted secure and accurate elections that resulted in a Republican supermajority and a Trump win in NC," Cooper noted. "But now, using the "big lie" of election fraud, this same legislature wants to block voters they think won't vote Republican, legitimize conspiracy theorists to intimidate election workers and anoint themselves to decide contested elections."
Notably, the law ends a three-day, post-Election Day grace period for mailed absentee ballots. Under existing law, absentee ballots in North Carolina must be postmarked by Election Day in order to be accepted, but they can arrive at election offices up to three days after the election.
The GOP legislation changes the deadline for receipt of mail ballots to the close of polls at 7:30 p.m. on Election Day.
The new legislation requires that individuals who participate in same-day registration — which is only allowed during early voting — vote on a "retrievable" ballot that can be disqualified if the U.S. Postal Service is unable to deliver the voter registration card to the individual's listed address after one attempt before the county officially counts the votes. Under current law, the Postal Service attempts to deliver the registration card twice before the board throws out a voter's ballot.
The measure would also prohibit the North Carolina State Board of Elections, as well as county boards of election, from accepting private funding for the purpose of administering elections or employing individuals on a temporary basis. The legislation also requires that the State Board report violations of election laws and voting irregularities to the North Carolina State Bureau of Investigations.
Republicans in a number of states have sought to ban funding from private groups after Facebook founder Mark Zuckerberg and his wife, Priscilla Chan, provided more than $400 million to organizations that gave grants to election departments in the last presidential election.
Additionally, the bill bans the pre-processing of ballots, meaning election workers cannot start counting ballots until Election Day.
Megan Bellamy, vice president for law and policy at Voting Rights Lab, said the measure is "among the most sweeping restrictive election bills to get legislative approval in any presidential battleground this year."
"While it has been watered down some from some of the most dangerous proposals that we were keeping an eye on … in earlier versions of the bill, it's still going to have a big impact on voters as soon as 2024, and will create some significant harm around voter access," she said.
The North Carolina measure also allows for more opportunities for individuals to challenge others' voter registrations. Under existing law, voters may only challenge the registrations of individuals in their precinct. But, under the new legislation, voters will be able to challenge the registration of anyone in their county.
"We've already seen the harmful effects of these challenges in Georgia, Florida, Texas, so this is a troubling trend that we're seeing, and the effects are that it really bogs down election administration and fuels conspiracy theory," Bellamy said.
And the legislation would also allow partisan poll observers on Election Day to take notes, listen to conversations between voters and poll workers and move freely around the polling place. Under the measure, these workers can't look at a voter's ballot, impede the voting process, or interfere or communicate with any voter casting a ballot.
"We're really mindful of this because it opens the door for attempts to intimidate or influence the voters themselves," Bellamy said.
Ahead of the bill's passing in the North Carolina House on Wednesday, N.C. House Democratic Leader Robert Reives and N.C. Senate Democratic Leader Dan Blue issued a statement saying the measure is "yet another example of Republican leadership making it harder for North Carolinians to vote.
"It opens the door for voter intimidation at polling places, completely undermines same-day registration during early voting and makes it easier to toss out valid ballots," they said. "These changes do not improve the integrity of our elections — if anything, they erode the trust of voters."
Anderson Clayton, chair of the North Carolina Democratic Party said the bill "is simply and basically voter suppression — and it's trying to make it harder for people to vote rather than easier.
"Voter intimidation is now theoretically legal inside of a polling location," she said, citing aspects of the bill that would expand the scope of poll observers, allowing them to take photos and listen in on conversations in polling sites.
Democrats, she said, are exploring legal options to fight the bill and are going to work to educate voters on the bill's impact.
Online, however, North Carolina Republicans defended the bill as a measure that pushes "election integrity."
"Today, the House approved common sense reforms to make our election process more secure," state Rep. Erin Paré (R) posted on X, the platform formerly known as Twitter. "I was proud to vote for the bill."
"Fantastic news for election integrity," echoed state Rep. Matthew Winslow in another post. "Today, the NC House approved common-sense reforms to make our election process more secure."
Spokespeople for Republican leaders of the North Carolina legislature did not immediately respond to requests for comment on the bill's passing.
The measure comes as North Carolina election officials begin grappling with a new law that requires individuals to present one of a few specific forms of photo identification when voting either in-person or via mail.
While that bill was first struck down by the North Carolina Supreme Court — which ruled in December that Republican lawmakers acted unconstitutionally to minimize Democratic voters' power with a law that intentionally discriminated against Black voters — it was ultimately implemented this spring, when a new conservative majority on the court reversed the decision.
Bellamy, of the Voting Rights Lab, noted that changes pushed by this type of election legislation are inspired "by some harmful narratives around the 2020 election" — namely, false claims pushed by former president Donald Trump and his allies that the election was fraudulent.
"Ultimately, these bills serve to reinforce this idea that there was something wrong with the 2020 election," she said.
Sabrina Rodriguez and Patrick Marley contributed to this report.
This post appeared first on The Washington Post