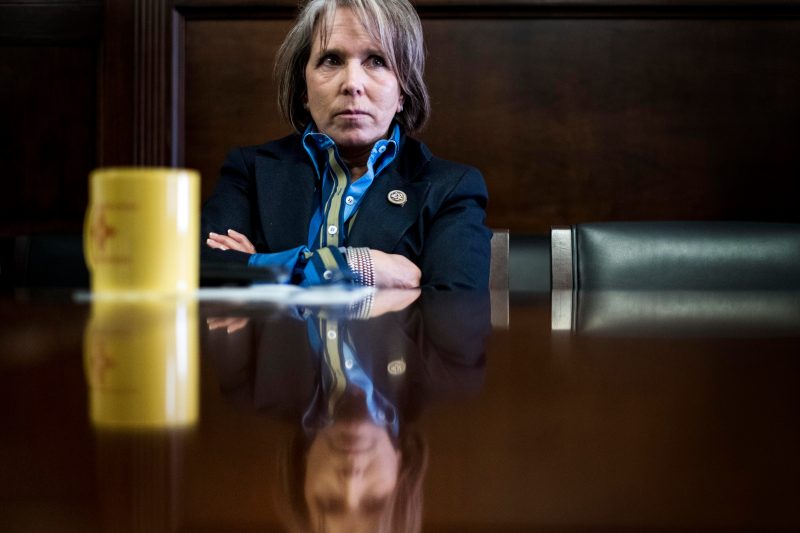 New Mexico's dicey gun restriction draws detractors even from the left
If there was a telling moment in the Democratic Party's long struggle with gun restrictions, it came at the tail end of Barack Obama's presidency. Amid a spate of mass shootings and failed attempts to pass new gun laws, Obama grew somewhat resigned, but also more angry and forceful. Suddenly, the immediate aftermath of those mass shootings wasn't a time to focus just on the victims; it was also a time to seize the moment before the news cycle moved on and memories faded.
"This is something we should politicize," Obama said mere hours after a shooting in Oregon that killed nine.
"Thoughts and prayers" were out. "Do something" was in.
This weekend brought one of the most significant moments in the fight over gun rights since then, as New Mexico Gov. Michelle Lujan Grisham (D) sought to "do something." But that something is of dubious constitutionality — so much so that some of her fellow Democrats and even a prominent gun-control activist quickly spoke out.
Grisham on Friday announced an emergency executive order temporarily suspending the open and concealed carrying of firearms in Albuquerque and the surrounding county for 30 days. The governor cited recent killings of children to justify her move.
The order comes just a year after the Supreme Court landed a major blow to efforts to restrict gun rights — and in a case specifically involving carrying firearms in public. In New York State Rifle & Pistol Association Inc. v. Bruen, the court struck down New York's strict rules for obtaining a concealed carry permit.
But the ruling also created roadblocks to gun control more broadly, effectively finding that the only restrictions that can stand must have historical precedents. It allowed for restricting gun rights in "sensitive places" but allowed little guidance on what qualifies as sensitive.
The decision has already led to more than a dozen state and federal restrictions being struck down or invalidated in part. Grisham's move could be a major test case — and not just legally, but also politically.
Some on her side of the aisle quickly said her order goes too far. They said that while the motivation was commendable, Grisham is at the very least flouting the Constitution, as the Supreme Court very recently interpreted it.
John Allen, the Democratic sheriff of Bernalillo County, which includes Albuquerque and favored President Biden by 24 points in 2020, said he had "reservations."
"While I understand and appreciate the urgency, the temporary ban challenges the foundation of the Constitution, which I swore an oath to uphold," Allen said in a statement this weekend.
Allen spoke out even more forcefully on Monday, saying flatly that Grisham's order was unconstitutional and that his department would not enforce it.
"This order will not do anything to curb gun violence other than punish law-abiding citizens from their constitutional right to self-defense," Allen said.
Rep. Ted Lieu (D-Calif.) agreed on the constitutionality question.
"I support gun safety laws," Lieu posted Saturday on X, formerly known as Twitter. "However, this order from the Governor of New Mexico violates the U.S. Constitution. No state in the union can suspend the federal Constitution. There is no such thing as a state public health emergency exception to the U.S. Constitution."
Lieu pointed to the Bruen decision, adding, "Whether or not we agree with the decision, it is the law of the land. A governor cannot suspend the U.S. Constitution for any reason."
Gun-control activist David Hogg, a survivor of a 2018 Florida school shooting, echoed Lieu's comments, saying on X, "I support gun safety but there is no such thing as a state public health emergency exception to the U.S. Constitution."
Grisham responded directly to Lieu, claiming that as governor she has jurisdiction over state firearm carry laws.
"If you're really interested in helping curb gun violence," Grisham added, "I'd welcome you to join our next police academy class."
The move builds upon a growing tendency in American politics for governors to test the limits of their authority and effectively dare the courts to stop them. Democrats have warmed to this approach, even in some cases when they had indicated they didn't have those authorities.
Obama late in his presidency sought to defer deportations of undocumented immigrants, despite having said he couldn't do such things because he was not a "king" or "the emperor." Biden last year sought to cancel student loan debt despite fellow Democrats like then-House Speaker Nancy Pelosi (Calif.) having said he couldn't do that. (The Supreme Court later rejected Biden's move.) And in 2021, Biden extended a pandemic evictions moratorium despite his administration previously saying it couldn't find a legal justification.
Even in moving forward on the evictions moratorium, Biden conceded that "the bulk of the constitutional scholars say it's not likely to pass constitutional muster."
But he added that "at a minimum, by the time it gets litigated, it will probably give some additional time while we're getting that $45 billion out to people who are in fact behind in the rent and don't have the money."
It was a remarkable justification — effectively saying the move was likely unconstitutional but was worth doing for the period before the courts could rule accordingly.
Grisham has maintained more firmly that she has the authority on the gun restriction. But she has also cast the situation as just too serious not to try something. Her order notably comes after the Democratic-controlled New Mexico legislature struggled this year to pass new gun laws post-Bruen.
"Gun violence is an epidemic in America, and I'm done letting it be an epidemic anywhere in my state," she told The Washington Post on Saturday. "Enough is enough."
Jacob Charles, a professor at Pepperdine University's law school who has studied gun laws and the Bruen decision extensively, says the Supreme Court decision undercuts Grisham's proposed justification. That's because it didn't allow courts to take into account the kind of compelling government interests that Grisham cited (reducing gun violence, for example) and instead focused on historical precedents.
"In my view, this is extreme & hard to reconcile with Bruen," Charles said on X. He added that there are historical examples of localities citing violence to ban carrying guns, "but Bruen made it real easy to dismiss laws like these as 'outliers' that don't count."
This post appeared first on The Washington Post