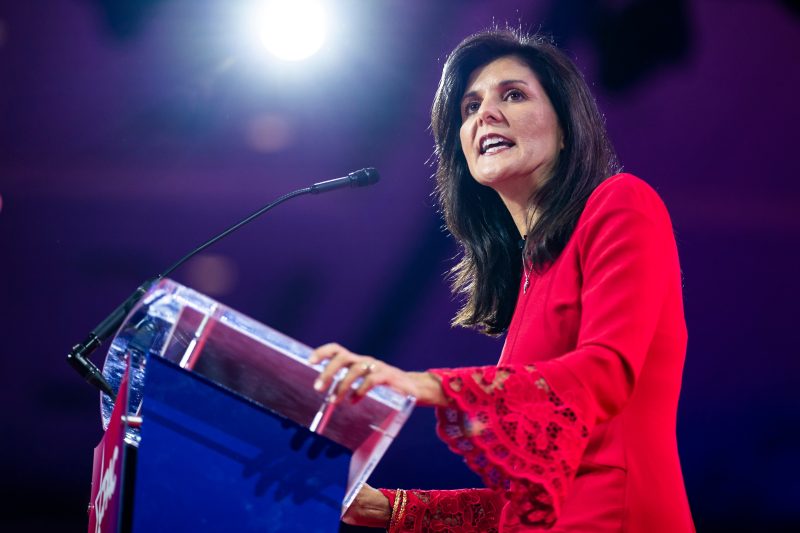 Nikki Haley is betting on an electability message to win in 2024
BOILING SPRINGS, S.C. — Frank Williams brought a homemade sign to Nikki Haley's campaign event this month featuring her and President Biden's results in a hypothetical matchup, scrawled in red marker: "Nikki 49%, Biden 43%."
The sign — based on a CNN poll released the same day that found Haley was the only Republican presidential candidate with a clear lead over Biden — underscored the electability argument that has been central to Haley's campaign and has helped win over independent and unaffiliated voters like Williams, who said he likes Donald Trump's policies but fears he can't win in November 2024.
"Frankly, I want to support him just because of the way they're treating Trump; I want to vote for him just because to me, it's political prosecution, political persecution," said Williams, referencing the 91 state and federal charges the former president faces. "But I think Nikki's a better candidate."
"Because of some of the positions she's taken, she's going to be better accepted in a general election. The primary problem, of course, is, can she win a primary," Williams fretted while waiting at a brewery for the former U.N. ambassador and governor of South Carolina.
That is a glaring question confronting Haley, who has picked up steam since a well-received debate performance last month, drawing big crowds on the trail and making gains in recent polls but still running well behind Trump with the next debate less than two weeks away. At her event here, Haley hit on the themes she has emphasized for months, telling attendees that "Republicans have lost the last seven out of eight popular votes for president; that's nothing to be proud of" and that voters should not "complain about what happens in a general election if you don't play in this primary." She echoed her past argument that Republicans, not just Democrats, are at fault for the national debt.
Haley has found an audience as she leans hard into the general election message and tries to seize on the momentum from her debate performance. She and her allies argue that she is the challenger Democrats fear the most, and that her stance on issues like abortion and Ukraine will help her win over constituencies like disaffected Republicans and suburban women. But in a party dominated by Trump, in which a sizable number of primary voters still believe the false narrative that he won in 2020, the electability argument may go only so far. Though the first debate boosted Haley in polls and in her fundraising, many major GOP donors are still sitting on the sidelines as Trump continues to dominate the Republican field.
Haley's debate performance highlighted the tricky tightrope she's trying to walk. While she said she would back Trump as the nominee, even if he is convicted on felony charges, she also warned that his nomination carries political risk.
"We have to face the fact that Trump is the most disliked politician in America. We can't win a general election that way," Haley said on the debate stage in Milwaukee, emerging as one of the sharpest critics of the former president in a televised showdown he skipped.
Some major donors who were eager to back an alternative to the former president have been hesitant to invest in Haley, questioning whether she has a path to the nomination as she tries to navigate her complex relationship with Trump — as his former ambassador turned sometime-critic — and finesse her establishment-candidate image while vying for support within a heavily populist GOP base.
Though many key donors share Haley's views, some have concerns that her position on issues like support for Ukraine are out of sync with the increasingly isolationist drift of the Republican Party under Trump. And some of the donors who committed early to Florida Gov. Ron DeSantis are skittish about investing once again after watching his campaign falter despite its enormous resources and the high expectations for his candidacy.
Republican strategist Terry Sullivan noted that Haley seems to have adopted the posture of the "responsible conservative" at a moment when that isn't exactly what the Republican primary electorate is yearning for: "If you're looking for someone to say, 'Hey, we really should be eating our vegetables,' Nikki Haley might be your candidate," Sullivan said. "There seems to be a lot of Big Mac, fast food dwellers in the Republican Party right now."
In a Washington Post-Monmouth University poll of South Carolina this month, Haley came in second to Trump at 18 percent, triple her support in national polls following last month's debate. The poll found her support is relatively high among low-turnout and less certain voters, and that she appeals most to potential primary voters who identify as moderate and liberal (26 percent), compared with 18 percent among those who identify as somewhat conservative voters and 10 percent among those who are very conservative.
But on the electability front, a 54 percent majority of Republicans say Trump is definitely or probably the strongest candidate to beat Biden, compared with 42 percent who think another candidate would be stronger. The South Carolina Republican voters polled were roughly split on whether they prefer a candidate who agrees with them on major issues or can beat Biden, but most electability-focused voters see Trump as having the best chance to defeat the president next year.
"He's actually been president of the United States, and to make the argument that he can't win is kind of foolish, especially with everything we've gone through in the last four years," said Iowa-based GOP consultant Craig Robinson.
Rep. Ralph Norman (R-S.C.), a top Haley ally who also worked closely with the former president, said, "I love Trump, but he brings out Democrats to vote against him; a lot of people stay home because they don't, for some reason, don't like him."
.
Preya Samsundar, a spokesperson for a pro-Haley super PAC, similarly argued that Haley is best equipped to galvanize voters who might stay home if Trump is the nominee.
"When you look at the party, our main struggle since Donald Trump became president is that we lost ground in the suburbs and we've lost ground with suburban women in particular, and I think Nikki Haley is our key to gaining that ground again," she said.
Many of Haley's supporters here in her home state described themselves as former Republicans who drifted away from the party because of Trump and who are concerned that more GOP voters do not share their concerns about his electability. Several cited Haley's abortion stance — a call for consensus, not a specific number of weeks of pregnancy at which a ban should be implemented on the procedure — as appealing to their more moderate tendencies.
Deena Giles, a resident of Spartanburg who attended Haley's event, said that she wants anyone but Trump and that Haley impressed her at the debate. Giles said that she appreciated when Haley came out against Trump after the attack on the Capitol on Jan. 6, 2021, but that she feels like Haley has wavered in the years since and wants her to sharpen her criticism of the former president.
"I became a grandmother in 2016 right before the election. And I said, I will — I could never tell a grandchild that I voted for Trump. So in the past two elections, I did not vote for president," said Giles, 64.
Joyce and Ken Stoppelbein, who described themselves as moderate conservatives, also chose not to vote for president in 2016, after being unable to decide between Trump and Hillary Clinton. In 2020, Joyce voted for Trump, and Ken voted for Biden — canceling each other out.
The Greer, S.C., residents said they are concerned that more people don't care about electability.
"I think he did some good things as a Republican when he was in office. I think he is a despicable human being. So I really have trouble thinking about voting for him," said Joyce Stoppelbein. "I don't know what I'd have to do if it were Trump and Biden; I don't know what I would do."
While Haley has made gains with voters in South Carolina, the state won't vote until after Iowa and New Hampshire. She has spent a nearly equal amount of time in both those states, but some Republican strategists say she may have better odds in New Hampshire, where her stance on abortion could appeal more to its moderate Republicans than to the more conservative caucus-goers in Iowa, where she faces a tougher challenge overall.
"Every time the Republicans put forward a moderate, we lose elections," argued Aaron Johnson, a Des Moines resident. He said Haley is "not conservative enough" for his liking and more willing to compromise on abortion than he is.
Grant Woods, 22, said in an interview at the Cy-Hawk rivalry football game in Iowa that while Trump is not the "perfect option," he is not concerned about his appeal to a general electorate because he thinks the indictments are empowering his base and Biden has "low approval" anyway.
Haley has run a leaner campaign than many of her rivals' since early this year, but her modest fundraising hauls have capped her ability to build out an operation that capitalizes on the momentum she has seen since the debate.
Haley donor Bill Strong cited the campaign's and PAC's limited spending and Americans just starting to tune in at the end of the summer as reasons she did not pick up more traction before the debate.
As evidence of Haley's potential to overcome DeSantis as the most viable challenger to Trump, her allies have pointed to key defections like former Illinois governor Bruce Rauner, who gave more than $950,000 to DeSantis's political committee in Florida last year but is now backing Haley in the presidential race. However there has not been a stampede of DeSantis donors rushing to support Haley, even as she gains on him in some polls.
In an interview, Rauner said the breadth of Haley's experience, her warmth and her ability to connect with disaffected GOP voters — particularly women — who left the party during the Trump years would make her the strongest candidate against Biden in the general election.
He predicted that many GOP voters would ultimately conclude that Trump's conduct is disqualifying and that he would probably be defeated by Biden if he becomes the nominee.
"We're just going to keep executing our game plan on all fronts, whether it's donors, meeting more Americans, more policy stuff, getting more media," Strong said. "But we're not changing things; we're happy where we are, and we're making progress."
Alexandra Heal and Emily Guskin contributed to this report.
This post appeared first on The Washington Post