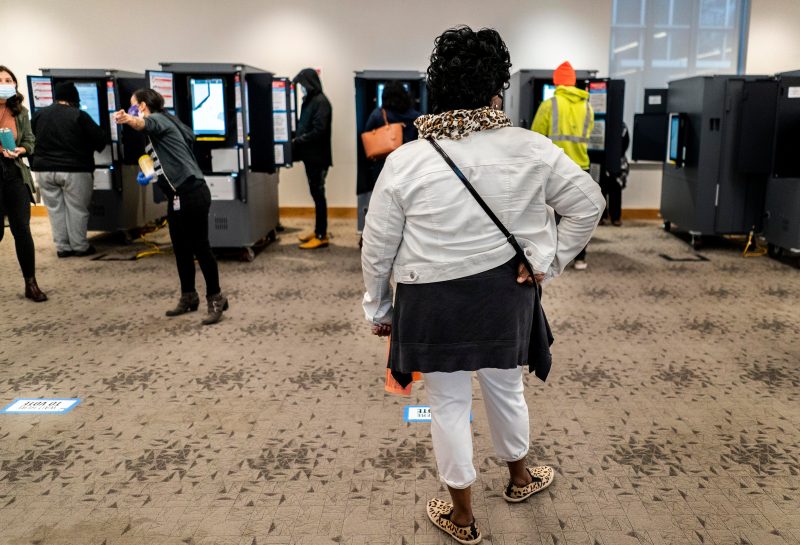 Non-White Americans are much more confident in democracy
During his recent interview with NBC's Kristen Welker, former president Donald Trump offered a bleak assessment of the U.S. political system.
The "Meet the Press" host asked Trump if he still thought democracy was the most effective form of government, a question notably predicated on the questionable idea that he had once embraced that idea. Trump was iffy.
"This democracy is — I don't consider us to have much of a democracy right now," Trump replied. "They indict their political opponents. Free speech is shot because the press is very dishonest, very dishonest." In particular, he criticized Welker for "fighting" him on his responses. The "they" in his response, meanwhile, obviously referred to President Biden and his allies, part of Trump's effort to frame his various indictments as irreducibly political.
But that claim that we don't "have much of a democracy" is stark. It's self-serving, coming from Trump, linked to his effort to sprinkle false assertions about the 2020 presidential election into the interview.
It is also an idea that's particularly common among members of his base.
On Monday, the independent media outlet The 19th published the results of a national poll conducted by SurveyMonkey. The poll is designed to be statistically significant for relatively small populations, allowing for a more robust understanding of the views of minority groups by race, gender and sexual identity.
One question inadvertently spoke directly to Trump's comments. Asked how well America's democracy was working for them, a majority of respondents said it was working "not so well" or "not well at all" — six percentage points more than those who said it was working "very" or "somewhat" well.
Interestingly, the groups that were most likely to say that democracy was working well were Asian Americans and Black Americans. In each case, a majority of respondents said that democracy was working at least "somewhat well," with only a third of Asians and 4 in 10 Black Americans saying it was working "not so well" or worse.
Among Hispanic Americans, views were evenly split. And among Whites? A majority said that democracy wasn't working well.
These differences, though, were reflected in the poll's top-level partisan breakdown. Democrats and independents who tend to vote Democratic (often called "Democratic leaners") were much more likely to say that democracy was working well than were Republicans. If we break out the White responses by party, you can see a wide divide: White Democrats were the group that viewed democracy the most positively. White Republicans were the least likely to do so.
In fact, far fewer White Republicans said democracy is working at least somewhat well than said that democracy is working "not so well at all."
Unquestionably, some of the credit or blame for those numbers lies with Trump. His false insistence that the 2020 election was stolen has contributed to the erosion of confidence in election results, a central — if not the central — component of U.S. democracy.
But part of it probably lies with the question, too. It's not just how democracy is working but how it's working for the respondent. And one of the driving beliefs of the Republican Party at the moment is the idea that America is changing in a way that disadvantages them — that it disadvantages them, in the view of many Trump supporters, specifically because they are White.
There's another point to consider here. Recent polling from Quinnipiac University showed that Democrats were also more likely to say that "preserving democracy" was a central aspect of their 2024 presidential vote, with 4 in 10 offering that as a point of consideration. Half as many Republicans identified the same priority.
This introduces some nuance. To an extent, these questions measure contentment with how power is allocated. But the top-line finding is remarkable: Whites are less confident in democracy than non-Whites, with White Republicans feeling particularly underserved.
Foremost among them, the guy whose most recent encounter with democracy resulted in a majority of voters opting to remove him from public office.
This post appeared first on The Washington Post