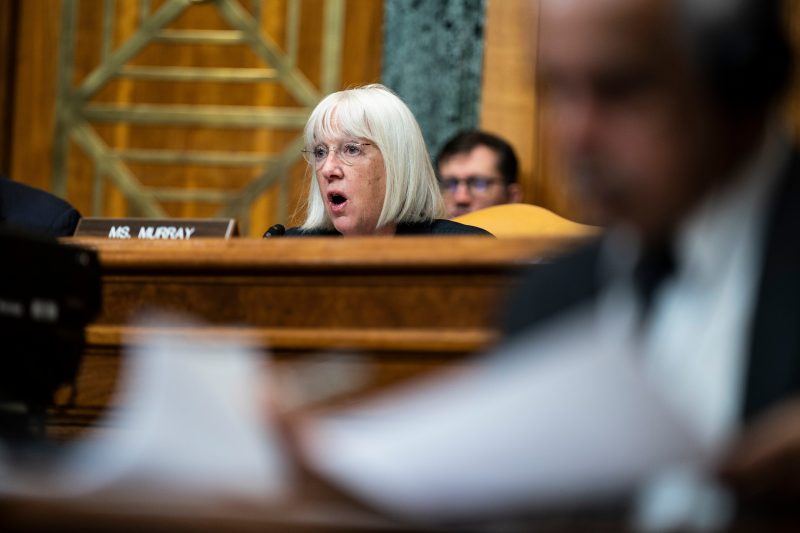 Patty Murray leads Democrats' charge toward funding showdown with House GOP
As the Appropriations Committee neared its final vote during a hearing in late June, Sen. Lindsey O. Graham laughed when colleagues thanked him for being unusually brief so they could vote on the legislation.
"Well," the South Carolina Republican replied, "she told me to shut up."
The hearing room broke into laughter, knowing full well that the new sheriff in town — Sen. Patty Murray (D-Wash.), chair of the powerful panel — runs a very efficient operation.
A few minutes after Graham's joke, the committee voted unanimously to approve two government funding bills for the departments of Agriculture and Veterans Affairs as well as military construction projects.
By close of business Thursday, Murray's committee is expected to approve the last four of the 12 annual bills that fund the federal agencies, almost all by unanimous votes or with just one or two dissenters. In a previous era that would be a normal, run-of-the-mill accomplishment, but over the past decade, things have turned horribly abnormal for the appropriations committees.
Amid heightened partisanship, the Senate committee ground to something of a halt: It has been five years since the panel approved all 12 of the necessary funding bills and, in turn, three partial government shutdowns have occurred. Like clockwork, it seems, a late December deal would emerge, largely from behind closed doors, in which most or all of the bills would appear, giving lawmakers a couple days to review thousands of pages and $1.8 trillion in spending before votes.
Enter Murray, who along with her GOP partner, Sen. Susan Collins (Maine), have formed the first all-woman leadership of the committee. They mapped out a plan to re-energize the panel and, through their pledge of "regular order," to give senators full participation in the must-pass bills through debate and amendments on the Senate floor.
Murray now figures to be a key presence in a fall showdown with House Republicans, who have overseen a highly partisan process with deep cuts that were not part of a spring deal between President Biden and House Speaker Kevin McCarthy (R-Calif.). In addition, House Republicans have loaded their funding bills with provisions meant to appease a couple dozen far-right ideologues even as those Republicans cheer on the looming chances of another federal government shutdown.
"They just want us to do our jobs," Murray said of voters during an interview in her corner office of the Capitol's first floor. "They don't love every decision we make, of course, obviously. But they don't want it to cause chaos in their own lives. So my goal is to make sure that we don't do that."
Slight in physical stature, Murray does not present as a classic Senate committee power broker like those when she arrived here in 1993, the late Sens. Robert C. Byrd (D-W. Va.) or Edward M. Kennedy (D-Mass.). But she has spent the previous decade as the top Democrat on the Senate's budget and health committees, honing negotiating skills while also serving as a lieutenant in the leadership teams of Sen. Harry M. Reid (D-Nev.) and now Senate Majority Leader Charles E. Schumer (D-N.Y.).
Her deals with then-Sen. Lamar Alexander (R-Tenn.) reshaped the search for cures of deadly diseases and reinforced the health-care system's private exchanges. The duo also wrote a 2018 bill meant to address the opioid crisis.
In late 2013, she negotiated with Rep. Paul D. Ryan (R-Wis.), then the House Budget Committee chief, on a framework that provided a nearly five-year run of stability in funding government operations. A fairly staunch Senate liberal negotiating with a staunch fiscal conservative, they brought credibility from both of their caucuses and won wide support.
"She's just an effective negotiator and believes in figuring out where that Venn diagram is and taking yes for an answer," said Sen. Martin Heinrich (D-N.M.), who joined the committee 2½ years ago. "A lot of our colleagues do not know how to negotiate. They know how to make a point, but they do not know how to get something done."
Sen. Deb Fischer (R-Neb.) joined the Appropriations Committee this year in search of more policymaking, only after talking to Murray and Collins about their plan to get many senators involved. She has grown upset year after year when just a few lawmakers and congressional leaders make the big decisions just before the holidays in one of those "omnibus" spending bills.
"I don't like omnibuses; I don't like four people in the room deciding how it goes," Fischer said.
Murray's ascension comes as she formally gave up her No. 3 leadership post under Schumer and took on the constitutional role of president pro tempore of the Senate, putting her in the line of presidential succession and giving her a security detail.
That comes with an office that effectively gives her control of the entire northwest corner of the Capitol's first floor — the first woman to ever hold both offices at the same time.
A key to her career has been having opponents who underestimate her, in both her campaigns and her legislative deals. Republicans poured more than $30 million into trying to defeat her last year, telling reporters repeatedly their candidate had caught Murray asleep politically.
She won by almost 15 percentage points, a blowout that was a larger margin than Schumer won by in his lightly contested New York race.
"How many times have I been told 'You can't do something'? I mean, a million times," she said, rattling off doubts about several deals with Ryan and Alexander. "I've been told that so many times. I guess, to me, it's like: Prove them wrong."
Murray frequently makes note of the woman power dynamic at work, with her and Collins having Reps. Kay Granger (R-Tex.) and Rosa L. DeLauro (D-Conn.) as their counterparts on the House Appropriations Committee. She has on prominent display a photo of the four of them, with White House budget director Shalanda Young in the middle, creating a power quintuple of women in charge of the federal budgets.
Collins and Murray have spent more than 25 years together in the Senate and have a strong bond, working like "a team" so far, according to the Republican, who thinks their work should hit the full Senate in September.
"Appropriations month, if Leader Schumer wants it to be," Collins said Wednesday. "I hope he will start scheduling our bills immediately upon our return."
Murray's standing is so strong among Senate Democrats that Schumer will happily give floor time to her, making House Republicans her biggest obstacle in funding the government.
Granger has been overruled by McCarthy and ordered to write spending bills that could end up being $130 billion under the original president-speaker deal from late May. That came after his far-right flank demanded deeper spending cuts, and, faced with little margin, McCarthy bowed to their wishes.
Murray was already upset about that earlier deal between McCarthy and Biden and the limits it placed on domestic spending programs that are Democratic priorities. "That wasn't in my cards when I started," she said.
Instead, Murray and Collins have, so far, added more than $13 billion in what they labeled emergency funds above the Biden-McCarthy top line.
Growing up about 20 miles northeast of Seattle, her father fell ill and lost his job, so her mother, while raising seven children, went to a vocational tech school on a government program to help get a job. They lived on food stamps. So government appropriations feel personal.
"We lived on tough times," she said.
Murray won't guess how the House will handle their partisan spending process — "I can't predict that place, I'm not stupid" — but instead said her objective is to "focus on the challenge you have at the moment."
And that means getting as many of these spending bills to the Senate floor as possible. If successful, Murray wants the Senate to awake from its somnolence the past few months and years, having a free-flowing debate with lots of amendments considered.
Her approach with Collins, just as it was with Alexander and Ryan, is to focus on the areas where there is wide agreement. Controversial social policy riders have been largely set aside, by both parties, paving the way for huge votes in committee.
"You don't pass something if the only thing you do is argue past each other," she said. "That means that you have to hear what's important to somebody else."
This post appeared first on The Washington Post