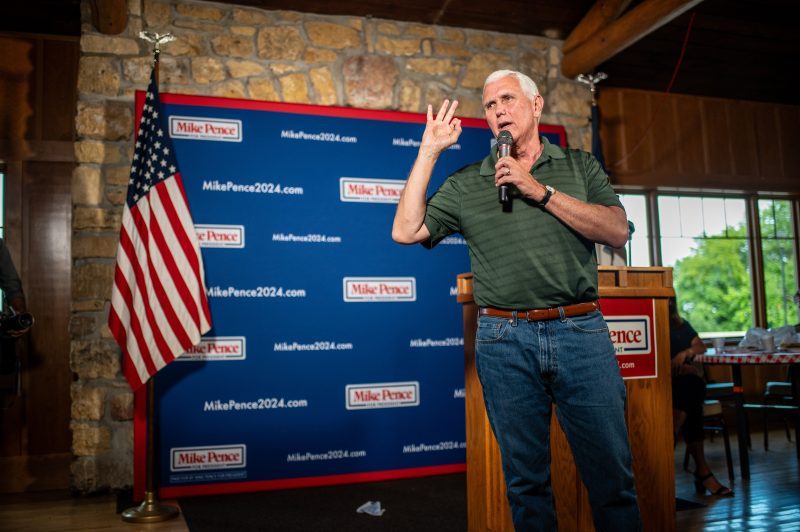 Pence qualifies for GOP presidential debate after hitting donor threshold
Mike Pence has attracted enough donors to qualify for the Republican Party's first presidential debate in Milwaukee this month, his campaign said, ending speculation that the former vice president might not be able to meet the requirement.
The Republican National Committee (RNC) requires candidates to attract 40,000 unique donors, with at least 200 individual donors each from 20 or more states or territories, among several criteria. Pence, who has struggled to gain traction as a presidential candidate, was at risk of not crossing that threshold before the Aug. 23 debate.
Fox News first reported the development. Pence's campaign confirmed its status in a news release Tuesday morning. The campaign said it reached the threshold on Monday and submitted its donor count verification to the RNC.
Pence saw an uptick in donors since the latest indictment against former president Donald Trump last week, according to a person who spoke on the condition of anonymity to share information that hasn't been released publicly. The indictment alleges that Trump sought to overturn the 2020 election, partly by pressuring Pence to interfere with the results.
In a statement, Pence communications adviser Devin O'Malley said Pence is "looking forward to a substantive debate about the issues important to the American people."
"Hopefully, former President Trump has the courage to show up," O'Malley added.
Trump has suggested he might sit out the first debate, saying he doesn't want to share the stage with lesser-polling candidates.
The donor threshold is one of several requirements for participating in the GOP national debate. Candidates must poll at least 1 percent in three polls, including at least two national polls, and they must also promise to "support the eventual party nominee" before the debate.
So far, Pence, Trump, Florida Gov. Ron DeSantis, entrepreneur Vivek Ramaswamy, former South Carolina governor Nikki Haley, Sen. Tim Scott (S.C.) and former New Jersey governor Chris Christie appear to have met the polling requirements, according to Washington Post tracking of public polls. Although the RNC has set rules for what types of polls will count toward debate qualification, it has not specified which polls it will consider.
While front-runners such as Trump and DeSantis appear to have easily qualified for the national debate, less popular candidates have turned to gimmicks to get enough donors.
North Dakota Gov. Doug Burgum has offered $20 gift cards to the first 50,000 people who donate $1 to his campaign. And Miami Mayor Francis Suarez offered a chance to enter a raffle to win tickets to soccer star Lionel Messi's debut with Inter Miami.
Pence so far has run a traditional, low-key conservative campaign, a contrast to his former boss and DeSantis, both of whom are registering far ahead of him, The Post has reported.
John Wagner and Scott Clement contributed to this report.
This post appeared first on The Washington Post