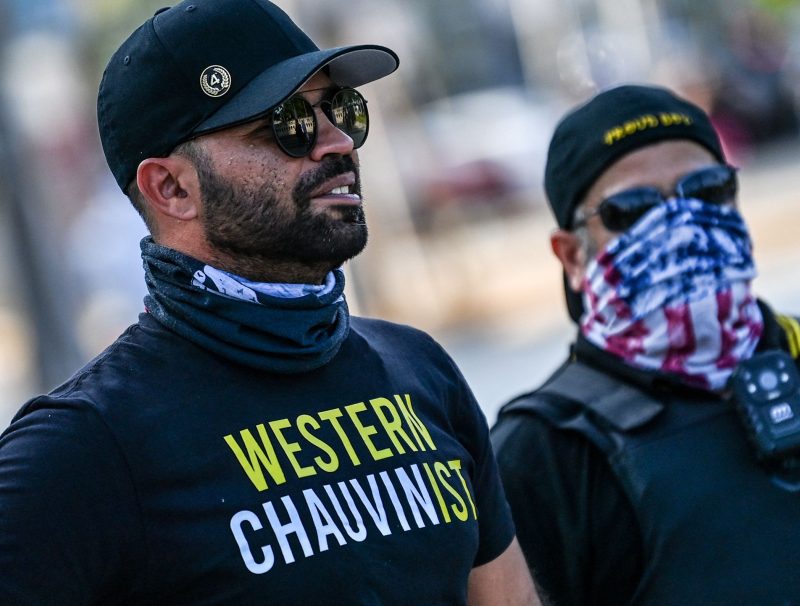 Proud Boys leader Tarrio says prosecutors pushed him to implicate Trump
Before he went to trial on charges of seditious conspiracy and other counts related to the Jan. 6, 2021, Capitol riot, Henry "Enrique" Tarrio was open to cutting a deal with prosecutors. The leader of the far-right Proud Boys had been through the federal criminal system before, for selling stolen medical supplies in Florida, and knew that those who pleaded guilty can get much less prison time than those who go to trial.
"I was looking and seeking what the plea offer would look like, right?" Tarrio said in a phone interview with The Washington Post from the D.C. jail. "They didn't want to give me a number," he said, referring to a possible prison sentence. "I need a number. To me, the most important thing is when I get home to my family."
Instead, Tarrio said, the prosecutors asked him what role President Donald Trump played in getting the Proud Boys to attack the Capitol. He said the prosecutors, accompanied by FBI agents in the Miami jail where Tarrio was being held at the time, showed him messages that he exchanged with a second person, who in turn was connected to a third person who was connected to Trump. Tarrio said he told the investigators that he didn't know the third person. He refused to name the people who prosecutors said allegedly connected him to Trump. Ultimately, the nearly five-month trial did not connect the Proud Boys to Trump, beyond his seeming endorsement of the group in a presidential debate in the fall of 2020 in which he told them to "stand back and stand by." The televised comments caused Proud Boys membership to spike, according to testimony at trial.
"They weren't trying to get the truth," Tarrio said. "They were trying to coerce me into signing something that's not true."
Skip to end of carousel
What to know about the Proud Boys sedition trial
Former Proud Boys chairman Henry "Enrique" Tarrio and three other members were found guilty of seditious conspiracy in the Jan. 6, 2021, riot.Inside the Proud Boys trial: Videos and secret chats revealed how the Jan. 6 plot unfolded.Who are the Proud Boys charged with seditious conspiracy in the Jan. 6 attack? Here's what to know about the trial.
End of carousel
Roughly two months later, Tarrio, 39, and four other members of the Proud Boys went on trial in federal court in Washington, where he and three of his lieutenants were convicted of not only seditious conspiracy, but also obstructing an official proceeding. Tarrio was sentenced to 22 years for his leadership role in the group, the longest sentence yet imposed on anyone involved in the Jan. 6 riot.
Prosecutors meet with defendants before trials all the time in hopes of getting cooperation, new information and one less defendant to face in court. The U.S. attorney's office in Washington declined to comment on any pretrial meetings with Tarrio. Trump has been charged with attempting to subvert the election results, but not specifically with inciting the Jan. 6 riot. He has denied any involvement with the riot.
Tarrio renewed his claim that he should not have been charged with or convicted of leading what one judge called "the tip of the spear" of the Jan. 6 insurrection, in which one of the Proud Boys was filmed using a police shield to smash a Capitol window, enabling one of the first breaches of the building. "I don't think what Dominic Pezzola did was right," Tarrio said of his co-defendant, who received a 10-year sentence in part for breaking the window. "I think it's terrible what happened that day."
Tarrio was arrested Jan. 4, 2021, as he was arriving in D.C., for previously burning a Black Lives Matter banner, and was given a pretrial order to stay out of the city. He said police seized his phone then, and after he was released from jail Jan. 5, he bought a burner phone but was unable to activate it. He spent Jan. 6 at a hotel in Baltimore.
Tarrio said he thought there was simply going to be a rally on Jan. 6, and now that he could no longer speak at various events that day, "I don't know what instructions I would give somebody at that point … I'm not speaking. I have no function. So there was no communication." But he did post on the social media platform Parler during the riot, writing, "Don't f—ing leave" while the Proud Boys were inside the Capitol. U.S. District Judge Timothy J. Kelly reminded him of that more than once during his sentencing hearing last week.
If there was no intent to attack the Capitol, then why did the Proud Boys march away from Trump's "Stop the Steal" rally long before the then president ever spoke? Tarrio said he didn't know. He said that the group would not have entered the Capitol if he were there and that he did not believe the election had been stolen, though he was willing to support his members.
Fellow Proud Boys Joe Biggs and Ethan Nordean, in addition to Tarrio, were members of a Telegram message group called "Ministry of Self-Defense," so named because four Proud Boys had been stabbed as they marched through Washington in December 2020. Tarrio claimed that he did not know the stabbings were in self-defense until he watched a video of the incident at trial. Biggs and Nordean led the group on Jan. 6 in Tarrio's absence.
But the "Ministry of Self-Defense" chat was filled with angry rhetoric and calls for revolution, and Tarrio was an active member there, telling members not to wear the group's typical black and gold colors to the District and invoking the American Revolution of 1776. Trial testimony showed that he helped recruit and select a smaller group of Proud Boys to travel to Washington on Jan. 6. Kelly said the "conspiracy ended up with about 200 men amped up for battle, encircling the Capitol, physically led by his co-defendants and a group of men that were seemingly present and played a role in so many of the important breaches of the day."
Tarrio didn't take the stand in his own defense at trial, so the jury never heard from him. He said he feared prosecutors would be allowed to broadly question him about other matters, such as the previous Proud Boys rallies, "where I was going to be disliked more than I already was by the jury."
Tarrio said prosecutors in Miami last fall did not ask him about Roger Stone, a longtime Trump confidant who was an acquaintance of Tarrio's, or Ali Alexander, a promoter of the "Stop the Steal" rally. He said the federal visitors did not ask him questions about his knowledge of Jan. 6 beyond the theorized connection to Trump. "There was never an open-ended question after that," Tarrio said.
Prosecutors did later offer Tarrio a deal: nine to 11 years in prison if he pleaded guilty to seditious conspiracy, according to court records. Tarrio declined.
Kelly reminded Tarrio that the Capitol saw more than $2 million in damages and about 140 officers were hurt Jan. 6. "They are heroes, and they do deserve a debt of thanks from all of us," Kelly said.
"Mr. Tarrio was the ultimate leader of that conspiracy," the judge said, summarizing the trial evidence. "I don't really think this is super debatable." He called Tarrio "the ultimate leader, the ultimate person who organized, who was motivated by revolutionary zeal."
Meg Kelly contributed to this report.
This post appeared first on The Washington Post