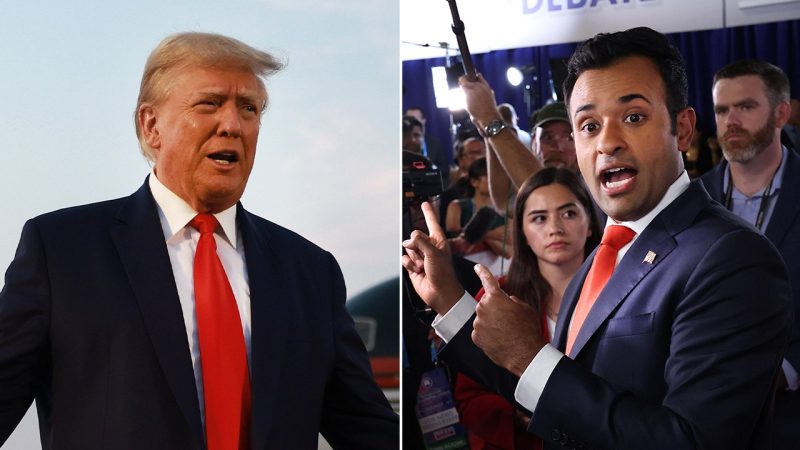 Ramaswamy reveals why he is running against Trump despite praising him as 'best president of the 21st century'
FIRST ON FOX: Republican presidential candidate Vivek Ramaswamy revealed Friday why he is running against former President Donald Trump, despite praising him as the 'best president of the 21st century.'
Fox News asked Ramaswamy during an Iowa campaign event why he was running against Trump considering his strong feelings about the latter's presidency, arguing the former president's policies were something he could take 'to the next level.'
'I think we need to aspire for excellence. We're Americans. We aspire constantly higher. So, yes, George Bush, Barack Obama, Joe Biden. I put Donald Trump by far at the top of that pack. But I want to build on the foundation that he laid to take the America First agenda to the next level,' he said. 
'I think it will take someone of a different generation with fresh legs and an actual positive vision for the country to get us there. I think I can deliver a landslide election in a way that nobody else in this race can. Building that multi-ethnic working class coalition that includes people both young and old to make it happen, black and white, inner city and rural. That's my sense of responsibility that I have to deliver it. And I think that's what we need to reunite this country,' he added.
During the first Republican presidential primary Wednesday night's debate hosted by Fox, Ramaswamy set himself apart from his GOP opponents who openly threw their support behind Mike Pence, the former vice president and another White House hopeful, concerning his refusal on Jan. 6, 2021, to overturn the 2020 Electoral College tally as requested by Trump.
'Let's just speak the truth, OK? President Trump, I believe, was the best president of the 21st century. It's a fact,' Ramaswamy said. 'I am running for President of the United States. We're skating on thin ice. And we cannot set a precedent where the party in power uses police force to indict its political opponents. It is wrong. We have to end the weaponization of justice in this country.' 
Prior to the debate, Ramaswamy had taken a noticeably changed tone toward Trump after claiming in May that Trump's then-suggestion he wouldn't attend the debate — he ultimately did not — would show he was 'not the same Donald Trump as in 2016.'
'He's not somebody who's made a habit of himself to be a coward,' he said at the time.
Ramaswamy later said he had 'no problem' with the GOP front-runner skipping the first few primary debates.
Fox News' Monica Oroz, Danielle Wallace and Jessica Chasmar contributed to this report.
This post appeared first on FOX NEWS