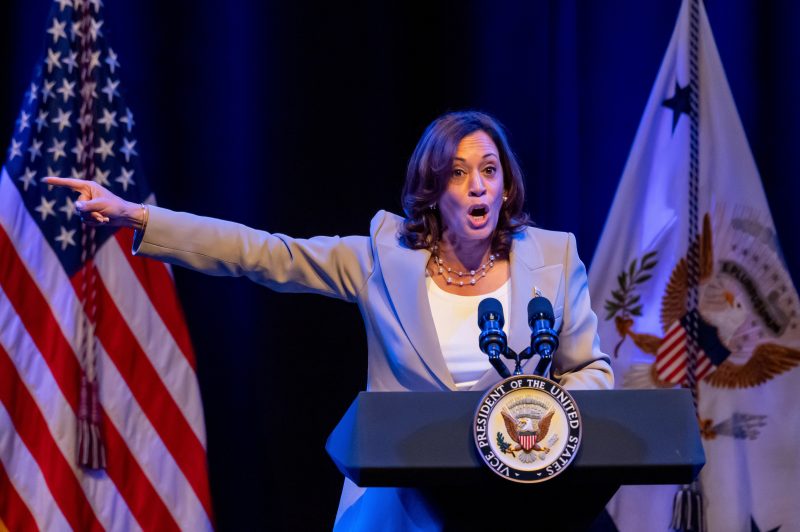 Republicans train their fire on Kamala Harris
The first jab at the vice president during last Friday's Republican fundraiser came from former South Carolina Gov. Nikki Haley, who told people at the Lincoln Dinner in Iowa that "a vote for Joe Biden is a vote for Kamala Harris. That's who we're actually running against. We have to make sure she doesn't win."
The next attack came 20 minutes later from Florida Gov. Ron DeSantis, who is engaged in a public war of words with Harris over his state's approach to teaching about slavery. "I've got Kamala Harris coming down to Florida trying to create phony narratives because she understands Florida has stood up to the left's agenda," he said, mispronouncing Harris's first name. "She thinks she can come down and lie about what we're doing in the state of Florida."
A thousand miles away, Sen. John Barrasso (R-Wyo.) recently held up the supposed nightmare of a Harris presidency as a reason for his fellow Republicans not to impeach President Biden. "I think people don't want Kamala Harris to take over," he warned.
In recent weeks, prominent Republicans, including some running for president, have set their sights on Harris in a more visible way. She's been blasted as an embodiment of the "woke" left, invited to Tallahassee to debate slavery with DeSantis, and been held up as a central reason not to vote for the aging Biden.
For her part, Harris has leaned into the antagonism, hopscotching around the country, including to GOP strongholds, to fire up Democrats with vivid denunciations of Republican attitudes toward racial justice and abortion rights. The dynamic has raised the visibility of Harris, who is widely seen as a future White House aspirant herself but has struggled to find a path that would cement her standing with the Democratic base.
Donna Brazile, a former Democratic Party chairwoman who served as Al Gore's presidential campaign manager, described the Republicans' elevated focus on Harris as an attention-grabbing effort by candidates who have struggled in the polls, especially as former president Donald Trump dominates the news and commands the loyalty of many GOP voters.
"They're looking for new ways to get on Fox News and into the ultra-right-wing echo chamber," Brazile said in an interview. "They're not getting anything from attacking Trump — there are not enough Republican voters who will embrace that. So they're trying to figure out if attacking Kamala Harris would resonate with their base."
Some Democrats say the attacks carry the whiff of racism and sexism, enabling leading Republicans to attack a Black woman and channel their voters' grievances against the growing power of women and people of color. Republicans respond that given Biden's age — he would be 82 at the start of a second term, 86 by its end — it is more than fair to raise questions about his would-be heir.
The most public aspect of the back-and-forth has been the fight over Florida's revamped education standards, which say that some enslaved people personally benefited from slavery and the skills they learned during their subjugation. Harris flew to Jacksonville to criticize the standards, accusing DeSantis and other Republicans of gaslighting minorities, whitewashing atrocities and turning history lessons into propaganda.
DeSantis, who frequently refers to "the Harris-Biden administration," fired back, saying Harris has disingenuously distorted the education standards to score political points. He doubled down on Monday, inviting Harris to debate the curriculum changes with him in Florida.
"In Florida, we are unafraid to have an open and honest dialogue about the issues. And you clearly have no trouble ducking down to Florida on short notice," the acerbic note read. "I am prepared to meet as early as Wednesday of this week, but of course want to be deferential to your busy schedule should you already have a trip to the Southern border planned for that day." The jab echoed longtime Republican efforts to tie Harris to illegal immigration, since Biden tasked her in 2021 with tackling the root causes of migration from Latin America.
"It's past time to set the record straight."@GovRonDeSantis is inviting @VP to Florida to discuss our new African American history standards with him and Dr. Allen.
Read Governor DeSantis' letter below: pic.twitter.com/o2W69iJ5il
— Jeremy Redfern (@JeremyRedfernFL) August 1, 2023
A DeSantis spokesman declined to comment for this article, and instead referred to the governor's recent remarks about Harris.
Harris addressed DeSantis's letter on Tuesday at a convention of the Women's Missionary Society of the African Methodist Episcopal Church, where she mocked Desantis's proposal that, as she framed it, she debate slavery with him. "I will tell you there is no roundtable, no lecture, no invitation we will accept to debate an undeniable fact," she said. "There were no redeeming qualities of slavery."
A Harris spokesperson declined to comment for this article, but those close to the vice president said they believe she is navigating the recent fire deftly. Previously during her tenure, the vice president has often sought issues or strategies that would help her build her political identity, with mixed results.
In Washington, several Republicans have seized on GOP fears of a Harris presidency as a way to dissuade party colleagues from advancing efforts to impeach Biden, a move that many conservative strategists warn privately could hurt the party.
"The only short-term consequence of a successful impeachment is Vice President Harris becoming president," former House Speaker Newt Gingrich told The Washington Post last week. "And Kamala would be such a total disaster for the country that Biden's corruption is probably preferable to her incompetence."
Harris's supporters contend that her response to the attacks, and her beefed-up travel schedule, are signs that she is addressing one of the chief criticisms voiced by both critics and supporters — that she is not visible enough.
Historically, the vice presidency has been a position with few constitutional responsibilities and an even smaller stage. Harris made history the moment she was inaugurated, as a woman and a person of color, but the first year of her tenure was engulfed by a global pandemic, which limited her travel as the administration attempted to stymie the spread of covid-19.
A Senate divided evenly between the parties, which often required Harris to cast a tiebreaking vote, made travel even trickier. And some of Harris's events during her first year were marred by high-profile stumbles, which made her staff members cautious of a spotlight that could bolster her brand but also magnify her mistakes.
As of January, the Democrats have a narrow 51-49 advantage in the Senate, giving Harris more freedom, and those close to her say her recent travels suggest she has found a pattern that works.
"She now has an opportunity to show what I saw in her, and what folks on the ground saw in her, when it comes to her being passionate about these particular issues," said Jalisa Washington-Price, an adviser on Harris's 2020 presidential campaign. "She's been able to resonate with voters, with constituents, in a way that a lot of (politicians) cannot, and I think people are really seeing it be showcased now."
Harris supporters say the Supreme Court opinion rejecting abortion rights was a turning point, elevating an issue that she can speak passionately about and link to other Republican positions that rile up Democrats. She flew to Tennessee after two lawmakers there were expelled by the state's legislature for protesting gun violence. She took Air Force Two to Iowa in advance of last week's Lincoln Dinner to denounce various GOP positions. And she addressed the curriculum changes in Florida on two separate visits.
I really appreciate how much the @VP has been in Florida lately. Many are giving up on our state, but having our top leaders come has really given people hope. https://t.co/SAPrY0yMbh
— Maxwell Alejandro Frost (@MaxwellFrostFL) August 1, 2023
At the AME Zion keynote address, Harris took on issues from voting rights to book bans to LGBTQ+ equality.
"In states across our nation, extremists attack the freedom to vote. They pass laws to ban drop boxes, to limit early voting, to make it illegal to offer food and water to people who are standing in line for hours to simply cast their ballot," she said. "We see extremists attack our friends and neighbors because of who they are and who they love."
Harris and her advisers have seized on political themes and strategies for her in the past, only to drop them as they failed to gain traction. Her aides hope this time is different, in part because Biden's inner circle has taken a more direct involvement in her activities, recognizing that his reelection may depend on persuading Americans that she is qualified to step in.
Harris's team has also tried to make strategic use of the fact that she has a more nimble footprint than the president. Presidential travel is logistically complex, requiring a moving security bubble that can involve hundreds of people and months of planning. While vice-presidential travel is by no means spontaneous, it can be flexible enough to allow Harris to deploy rapidly in places that are at the center of turbulent debates.
The decision to come to Jacksonville had been made just a day earlier, for example, and Harris's staffers had about four days to arrange her recent trip to Iowa, where she appeared shortly before the Republican presidential candidates spoke at their dinner.
The vice president's supporters say that as the most politically prominent Black woman in America, her speeches not only galvanize Democrats and provoke Republicans, but draw attention to areas where people are suffering.
But in the process, they also highlight issues where the liberal agenda has taken a beating.
"For the sake of progress and our democracy, I hope she doesn't have to make more of these trips, but that's just not the reality," one adviser said, speaking on the condition of anonymity to talk about political strategy. "Sadly, we're not in these places singing songs of joy."
This post appeared first on The Washington Post