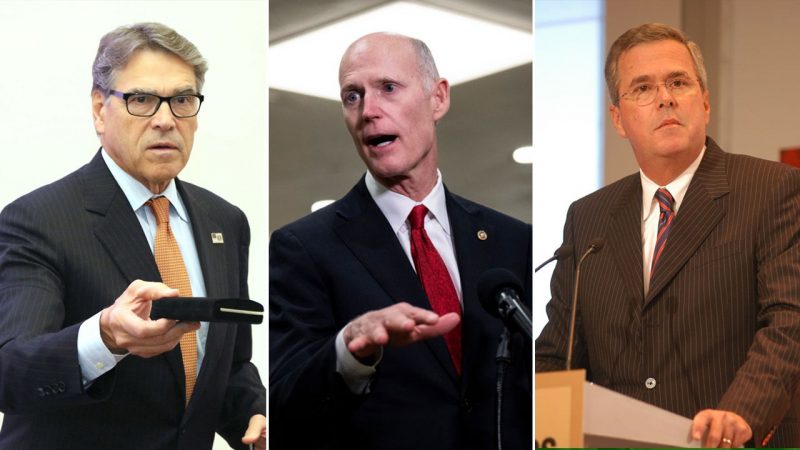 Rick Scott taps 2016 Trump rivals for his Senate campaign finance committee
FIRST ON FOX: Sen. Rick Scott's 2024 re-election campaign is getting support from several national-level Republicans, including former presidential candidates who faced off against former President Donald Trump in 2016.
Scott, R-Fla., plans to unveil members of his Senate campaign's National Finance Committee this week as he faces his first re-election bid for another six-year term. The former Florida governor unseated incumbent former Sen. Bill Nelson, D-Fla., in 2018 by a razor-thin margin of roughly 10,000 votes.
His honorary 2024 campaign finance co-chairs include several 2016 White House hopefuls, including former Florida governor Jeb Bush, the state's senior senator Marco Rubio, former Texas governor Rick Perry and former Louisiana governor Bobby Jindal. Perry went on to serve as Trump's Energy Secretary.
Other honorary chairs are his fellow conservative senators Mike Lee of Utah and Ron Johnson of Wisconsin, and former House Speaker Newt Gingrich – another ex-presidential candidate.
Scott praised his finance committee in a statement given to Fox News Digital where he also said he was Senate Democrats' 'top enemy this cycle.'
'I'm Chuck Schumer and national Democrats' top enemy this cycle and you can bet that they are going to spend millions upon millions to air false attacks and lies against me,' Scott said.
'I've been traveling the state meeting with Floridians on my 67 Counties Sunshine Tour, and I've been working hard to raise money so we have the resources to counter Democrats' phony attacks.  I look forward to continuing to fight for Florida families in the U.S. Senate and appreciate everyone on my finance team who will help ensure we keep the Democrats failed socialist policies out of Florida.'
Scott's alliance with Florida's top mainstream Republicans comes despite forging an identity as a foil to longtime Senate GOP Leader Mitch McConnell, R-Ky., who he tried to push out of leadership in late 2022.
Lesser-known names on Scott's finance committee list include beer heir August Anheuser Busch III and former U.S. Ambassador Mel Sembler, among others.
Florida has traditionally been a battleground state, but it's seen a distinct shift to the right in recent elections. Before winning his Senate seat in 2018 Scott, a Navy veteran, served two terms as governor.
It's also home to the top two 2024 Republican primary candidates – Trump and current Gov. Ron DeSantis.
This post appeared first on FOX NEWS