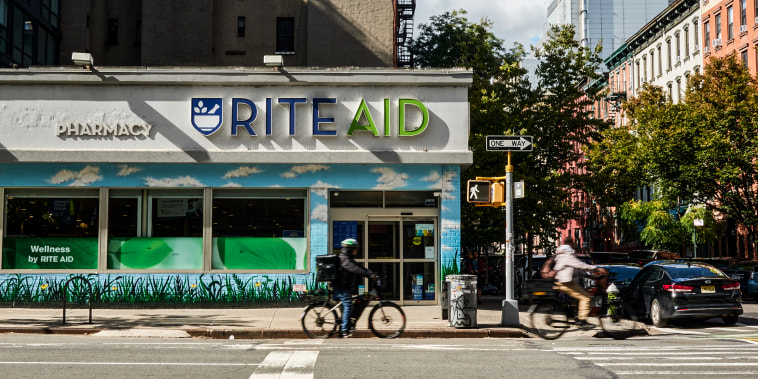 Rite Aid bankruptcy means pharmacies will keep dwindling
Rite Aid, the third-largest U.S. drugstore chain, filed for Chapter 11 bankruptcy protection Sunday, and it's likely the company will close a big chunk of its 2,000 stores.
One result is that people will have fewer options for where they fill their prescriptions. That has been the trend in drugstores lately, and it looks like they'll dwindle further.
The Wall Street Journal reported in September that Rite Aid might close 400 to 500 stores as part of bankruptcy proceedings. (The company hasn't confirmed the report.) CVS is closing 300 stores per year, a process that began last year and is expected to continue into next year, and Walgreens announced in June that it would close about 150 U.S. stores by next summer.
At the same time, big box chains and grocery stores like Walmart and Target are opening pharmacies in their stores, and more people are getting their medications delivered through apps.
The decline of the neighborhood pharmacy
So a consumer reading this news might think, 'So what? Nobody likes going to drugstores.' And that's partly the point.
Drugstores have done the wrong thing over and over again, said Neil Saunders, the managing director at the consulting company GlobalData. The result is that people don't want to shop at them, and that has made lots of openings for competitors.
"You go into the store, usually they're badly lit, they are fairly depressing, there isn't lot of great customer service, the products are locked very often, there aren't enough staff to help, the prices are very expensive relative to other retailers," Saunders told NBC News. 'They've shot themselves in the foot, and now they're reaping the consequences of all those years of poor decisions and underinvestment."
Poor decisions, crushing debt and failed deals
Rite Aid's bankruptcy filing wasn't a surprise, because the 60-year-old chain has been in dire financial shape for a long time. It has lost money in each of its last six fiscal years, it had already been closing stores to cut spending, and it was looking at a $1 billion charge related to its role in the opioid crisis.
CVS and Walgreens have paid similar settlements, but it was much harder for Rite Aid to do so. In recent years, the stock market has valued Rite Aid in the tens of millions of dollars even though it had $24 billion in sales last year.
Rite Aid's downfall arguably dates to its purchase of the Brooks and Eckerd chains in 2007. The company borrowed money to pay for the deal and also assumed some of the debt of Brooks and Eckerd's former parent company, the Canadian drugstore company Jean Coutu Group.
At one point, Rite Aid agreed to be bought by Walgreens, but the deal fell through. Walgreens ultimately sold almost 2,000 stores, and Rite Aid unsuccessfully pursued other deals to stabilize its business.
The company had $3.3 billion in long-term debt as of June 3.
All that debt made it harder for Rite Aid to invest in its stores or to expand and branch out into new businesses the way its rivals did. CVS now has more than 1,000 clinics in its stores, and it bought a pharmacy benefits manager and a health insurer over the years. Walgreens and CVS both expanded into some types of primary care, as well.
But Saunders said all three have neglected their stores as they have prioritized the health care parts of their businesses over the retail parts.
'They are not good retailers. None of them,' he said. 'They just haven't really evolved and changed with the times at all.'
As Rite Aid shrinks even further, it will create opportunities for all of its rivals to boost their sales. Saunders said there will always be a place for physical pharmacies.
'We're still going to have a physical pharmacy retail space, but it's going to be somewhat smaller than it has been traditionally,' he said.
This post appeared first on NBC NEWS