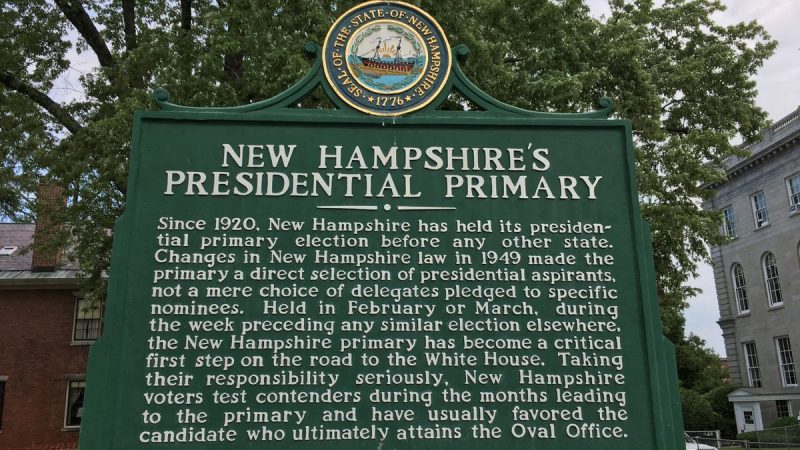 RNC threatens to pull New Hampshire debate if state moves up presidential primary
FIRST ON FOX – The Republican National Committee is warning New Hampshire not to move up the date of their first-in-the-nation presidential primary.
The RNC's debate committee decided — in consultation with RNC chairwoman Ronna McDaniel — during a Thursday conference call to issue a warning that it will pull a planned GOP presidential primary debate in New Hampshire if the state leapfrogs Iowa caucuses and moves to the top of the party's nominating calendar. Sources with knowledge of the call shared the decision with Fox News Digital. 
Republican Gov. Chris Sununu of New Hampshire, in an exclusive statement to Fox News a couple of hours later, responded to the RNC.
'The first presidential primary will be taking place in New Hampshire, regardless of what the political power brokers in Washington, DC think,' Sununu wrote. 'We will not be threatened, we will follow our law, and we WILL go first. End of story.' 
New Hampshire for a century has held the first primary in the race for the White House, and for the past half century has gone second in both the Democratic and Republican nominating calendars, following Iowa's caucuses.
While the Republican National Committee is not making any dramatic changes to their nominating calendar, the rival Democratic National Committee overwhelmingly voted in early February to dramatically alter the top of its schedule for the 2024 election cycle, bumping Iowa and New Hampshire from their longtime leadoff positions.
According to a nominating calendar proposed by President Biden and approved by the DNC, South Carolina will hold the Democrats' first primary, on Feb. 3, followed three days later by New Hampshire and Nevada.
But New Hampshire has a nearly half-century-old law that mandates that it hold the first presidential primary, a week ahead of any similar contest. And it's likely the state will hold its primary on Jan. 23, eight days after Iowa's caucuses, which are scheduled for Jan. 15. While that would put New Hampshire in non-compliance with the Democrats, it wouldn't affect the GOP primary.
But Iowa Democrats — who last week voted to also hold their caucuses along with the Republicans on Jan. 15 — are considering complementing their traditional caucus with a mail-in component, which New Hampshire Secretary of State Dave Scanlan warns may make the Iowa Democratic caucuses too similar to a primary, violating the Granite State's law. The possible move by Iowa Democrats would also violate a new Hawkeye State law that mandates that the caucuses be held in person.
Iowa GOP chair Jeff Kaufmann recently charged in a radio interview that Scanlan was being 'over-rambunctious' in potentially moving up the date of the primary. Scanlan returned fire last week, telling reporters that 'we're going to take a pretty hard line on any effort to make a traditional caucus look more like a presidential primary.'
The RNC is planning on holding debates in all four of its early voting presidential primary and caucus states — Iowa, New Hampshire, Nevada, and South Carolina — ahead of their contests.
But the RNC is now warning New Hampshire that a jump to the top of the calendar ahead of Iowa would result in the state's debate being pulled by the national party committee.
Sununu, who's been very vocal in criticizing the DNC's push to move New Hampshire from the top primary position, on Thursday evening fired back at the RNC over their possible pulling of their debate.
'New Hampshire gives every candidate an even playing field and can catapult candidates to the presidency. Threatening to take a debate away from New Hampshire is a disservice to every campaign and candidate that has worked tirelessly to earn the votes of New Hampshire's Republican electorate,' Sununu worte in his statement to Fox News.
And Scanlan also dismissed the RNC warning, saying it would not enter his decision-making process. Asked by the NH Journal if it would impact the date of the primary, New Hampshire's Secretary of State answered,'In a word, 'no.''
Get the latest updates from the 2024 campaign trail, exclusive interviews and more at our Fox News Digital election hub.
This post appeared first on FOX NEWS