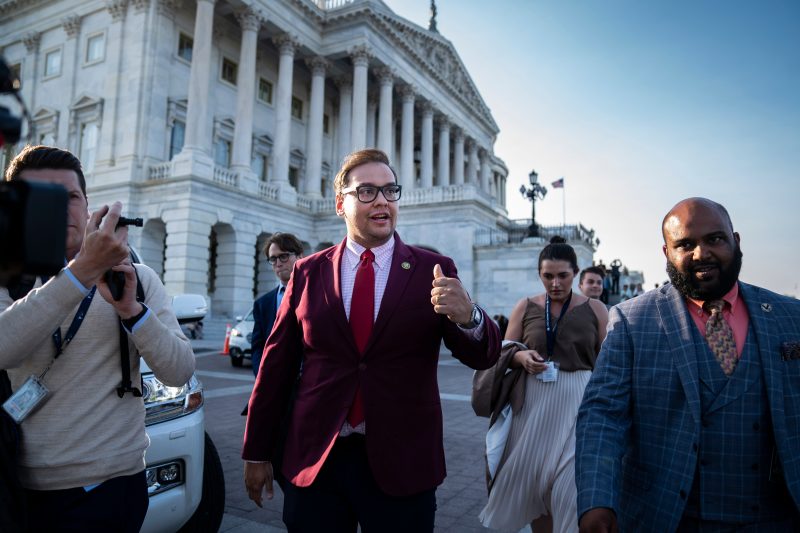 Santos accused of stealing identities, unauthorized credit card use
A superseding indictment made public Tuesday charges Rep. George Santos with stealing the identities of family members and using donors' credit cards to spend thousands of dollars, intensifying the legal peril facing the freshman congressman five months after he was charged with a host of other financial crimes.
Santos, 35, faces 10 additional charges, according to the indictment: one count of conspiracy to commit offenses against the United States, two counts of wire fraud, two counts of making materially false statements to the Federal Election Commission, two counts of falsifying records submitted to obstruct the Federal Election Commission, two counts of aggravated identity theft, and one count of access device fraud.
The new charges were filed just days after Nancy Marks, the treasurer for the Santos campaign, pleaded guilty to fraud conspiracy and implicated Santos in a scheme to embellish his campaign finance reports with a fake loan and fake donors.
Santos, who is expected to appear in federal court on the additional charges on Oct. 27, told reporters at the U.S. Capitol Tuesday evening that he does not intend to resign his seat in Congress. He declined to comment further.
In May, Santos was charged with 13 counts related to allegedly defrauding his donors, using their money for his personal benefit and wrongfully claiming unemployment benefits. Those charges included seven counts of wire fraud, three counts of money laundering, one count of theft of public funds, and two counts of making materially false statements to the United States House of Representatives. He pleaded not guilty.
"As alleged, Santos is charged with stealing people's identities and making charges on his own donors' credit cards without their authorization, lying to the FEC and, by extension, the public about the financial state of his campaign. Santos falsely inflated the campaign's reported receipts with non-existent loans and contributions that were either fabricated or stolen," U.S. Attorney Breon Peace said in a statement Tuesday. "This office will relentlessly pursue criminal charges against anyone who uses the electoral process as an opportunity to defraud the public and our government institutions."
This is a developing story. It will be updated.
Isaac Stanley-Becker and Theodoric Meyer contributed to this report.
This post appeared first on The Washington Post