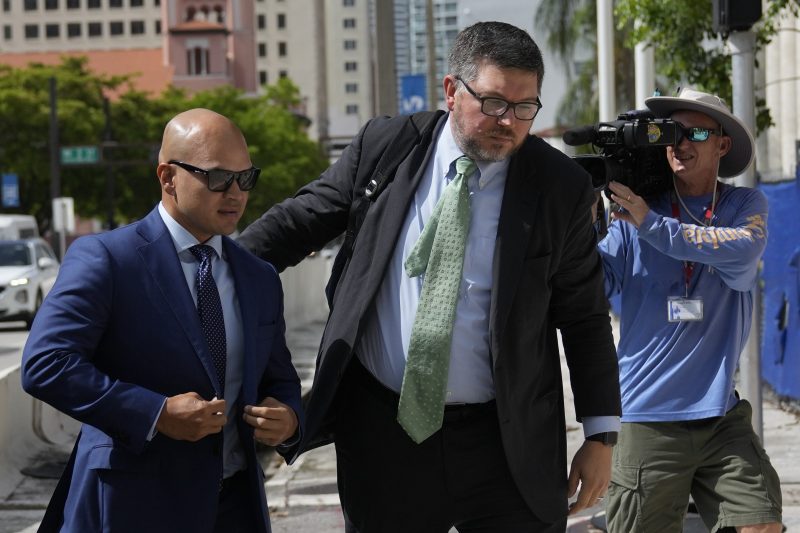 Special counsel asks if Nauta's attorney has too many Mar-a-Lago clients
Special counsel Jack Smith has asked Judge Aileen M. Cannon for a hearing to discuss whether the lawyer who represents one of Donald Trump's co-defendants in the classified documents case has too many conflicts to provide adequate legal advice to his client.
In a court filing Wednesday, prosecutors said Stanley Woodward — the lawyer for Trump valet Waltine "Walt" Nauta — has represented at least seven other clients whom prosecutors have interviewed about Trump's alleged efforts to keep classified documents in defiance of the government's demand they be returned. Two of Woodward's clients could be called as government witnesses in the trial, the filing said.
If that happens, Woodward may need to cross-examine his other clients as part of defending Nauta, said Smith, the prosecutor leading the Justice Department's investigation.
"The conflict may result in the attorney's improper use or disclosure of the client's confidences during the cross-examination," the filing reads. "The conflict may cause the attorney to pull his punches during cross-examination, perhaps to protect the client's confidences or to 'advance the attorney's own personal interests.'"
Trump, Nauta and property manager Carlos De Oliveira are charged in a 42-count indictment that accuses the former president of improperly retaining 32 classified documents at Mar-a-Lago, his Florida residence and private club, and seeking to thwart government attempts to retrieve them. All three men are accused of trying to delete security footage that the government wanted as evidence in the case.
Smith asked Cannon to hold a hearing in which the judge would inform Nauta and the two witnesses, whose names have not been made public, of their legal rights and the potential conflicts their attorney poses. Lawyers are generally required to flag to a judge any potential conflicts of interest they encounter.
If there is a conflict, Nauta would be asked if he still wants Woodward to represent him and if he waives his right to conflict-free representation. Cannon should then determine whether to accept that waiver. Smith suggested that Cannon arrange for an independent lawyer to be at the hearing to advise Nauta and the witnesses if they want.
Woodward declined to comment. But the filing said he has told prosecutors he will respond and does not generally oppose his clients being informed of their legal rights and potential conflicts.
Prosecutors said in the filing that they told Woodward earlier that at least one of his clients had incriminating information against Nauta. That client appears to be a Mar-a-Lago IT worker named Yuscil Taveras. The Washington Post has previously reported that Taveras retained a new lawyer July 5 and eventually offered information implicating Trump, Nauta and De Oliveira in the alleged effort to delete surveillance footage.
Even though he is no longer Taveras's lawyer, the filing said, Woodward is still bound to his legal oath of "confidentiality, loyalty, and conflict-free representation" for the conversations they had while he represented him — and prosecutors said in the filing that Taveras has said he does not intend to waive those rights. Experts said the situation is therefore potentially problematic.
"How is Woodward going to cross-examine the Trump employee when he is not waiving his rights?" said Joseph A. DeMaria, a former federal prosecutor in Miami who now works as a private attorney.
The potential conflict highlights how a relatively small group of lawyers are representing a large share of the people entangled in Trump's legal battles. In addition to the classified documents indictment, the former president was charged Tuesday with conspiracies in connection with the effort to overturn the 2020 election results. He also faces state charges of falsifying business records, and is under investigation in Georgia for trying to block Joe Biden's victory in that state.
Trump himself had struggled to obtain a lawyer who had the proper credentials to represent him in Florida, with multiple lawyers declining to take on the famously challenging client. Nauta also needed time to find a lawyer credentialed in Florida to work alongside Woodward before hiring Sasha Dadan, a local attorney relatively inexperienced in these types of criminal cases.
Trump's political group, Save America, has been footing the legal bills for Nauta and many of the people in the former president's orbit who are being interviewed or have been implicated in the investigations around him. Many of those payments have gone to Woodward's firm.
A person with direct knowledge of Trump's inner circle said Trump and some of his top aides, particularly senior campaign adviser Susie Wiles, view Woodward positively, and Trump advisers consistently recommend him as an attorney. Some of Woodward's clients continue to work for Trump, including Will Russell, a personal aide and former White House special assistant. Woodward has also agreed to charge people affiliated with Trump less money than other lawyers are charging, according to a person familiar with the arrangement. The people spoke on the condition of anonymity to discuss issues that are not public.
Should Nauta and Taveras come into conflict during the court proceedings, Woodward is likely to continue representing Nauta, according to a person who has spoken to Woodward about it, and also spoke on the condition of anonymity to discuss private conversations.
Woodward's large stable of Trump-affiliated clients became a point of controversy in a D.C. federal courthouse last month. Woodward was representing Russell in a grand jury interview as part of the 2020 elections probe, and ended up late to appear in another courthouse proceeding for a different Woodward client in an unrelated Jan. 6 Capitol riot case. That client also used to work for Trump: Federico G. Klein, a State Department appointee and 2016 Trump campaign worker.
The judge, U.S. District Judge Trevor N. McFadden, demanded to know why Woodward was late.
"I felt that I could not leave my client in the grand jury, while he was being asked questions which potentially involved executive privilege," a reluctant Woodward answered.
Spencer S. Hsu contributed to this report.
This post appeared first on The Washington Post