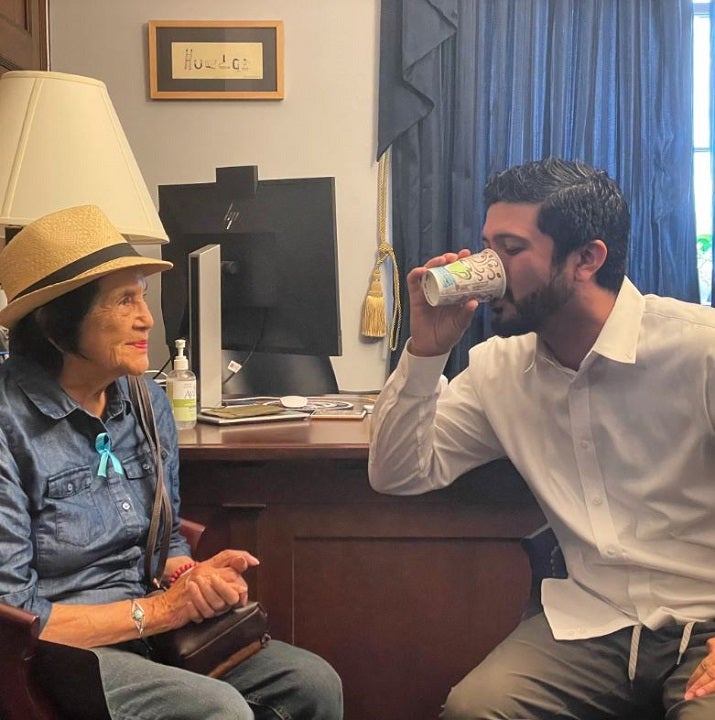 Texas Democrat begins 'thirst strike' to call for federally mandated water breaks
A Democratic congressman began a 'thirst strike' on the steps of the U.S. Capitol on Tuesday to protest a Texas law critics say will override local ordinances such as mandatory water breaks for people working in the heat and to call for federal protections for those who work in hot temperatures. 
Rep. Greg Casar, whose congressional district includes parts of Austin and San Antonio, tweeted a photo of himself Tuesday with civil rights activist Dolores Huerta, while taking his last sip of water before his all-day strike. 
'Just took my last drink of water before my thirst strike with the one and only, Dolores Huerta. #WorkersCantWait,' he captioned the image. 
Casar planned to abstain from liquids to call for a federal heat rule to protect workers as record-setting temperatures continue to break across the country. The forecast in Washington D.C. was expected to reach 90 degrees on Tuesday. 
'Today I'm on a thirst strike on the steps of the U.S. Capitol—not drinking water or taking breaks, through rain or shine, in solidarity with our nation's workers,' Casar said in another tweet. 'Currently there are NO federal protections for workers exposed to heat.'
In a letter signed by more than 110 Democrats, Casar demanded the Biden Administration implement an Occupational Safety and Health Administration (OSHA) workplace heat standard as soon as possible.
The signatories noted a law recently signed by Texas Gov. Greg Abbott they claim would strip power from cities and could eliminate existing heat protections in Dallas and Austin.
'Our nation—and my home state of Texas—is experiencing a historic heatwave—exposing workers to deadly 100°+ temperatures,' Casar tweeted. 'Yet in the middle of this heatwave, @GregAbbott_TX signed a law *eliminating* workers rights to water breaks.'
House Bill 2127 doesn't mention water breaks specifically but prohibits cities across the state from creating rules that go beyond state law. Currently, there are no federal or state rules that require employers to provide paid water breaks. The law is intended to prevent what is described as a 'patchwork of regulations that apply inconsistently across this state' 
During Tuesday's thirst strike, several progressive Democrats were seen showing support for Casar, including Reps. Alexandria Ocasio-Cortez, Silvia Garcia, Hakeem Jeffries, Maxwell Frost and Ilhan Omar.
'In the wealthiest country in the history of the world, workers shouldn't be dying from heat-related illnesses. Proud to join this effort led by @GregCasar,' Omar tweeted. 
Casar said he spoke with Acting Secretary of Labor Julie Su, who said the White House was 'working hard to get a federal heat standard done, and it's up to us to fight corporate greed so they can get it done.'
This post appeared first on FOX NEWS