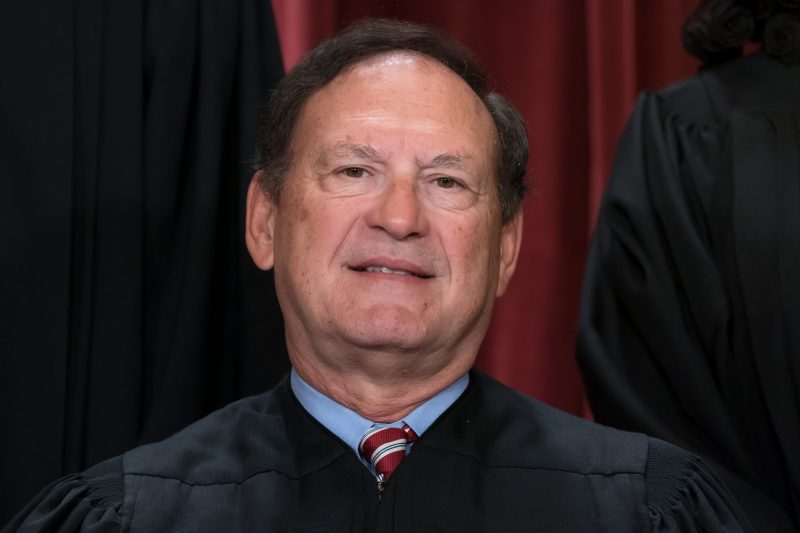 Thank Congress for your seat, Justice Alito
Justice Samuel Alito is not very happy with criticism of the Supreme Court. In part, this is because some of that criticism has been aimed at him and at reporting highlighting past vacations paid for by a prominent conservative with business before the court.
Last week, the Wall Street Journal — to which Alito went to try to get ahead of the aforementioned reporting — published an opinion piece defending Alito's pragmatism and importance. (One of its authors, David Rivkin Jr., represents the plaintiffs in a case the court will hear in its next term.) Included in that essay was an unusual pronouncement from Alito: Despite the well-established mandate that branches of government hold each other to account, he saw no role for Congress in regulating him and his peers.
That comes despite Alito holding a seat created by an act of Congress in 1837.
If you have at any point attended middle school, you are probably familiar with the concept of checks and balances. Congress can pass laws — but the president can veto them. But Congress can override the veto. But the Supreme Court can rule acts of Congress unconstitutional. But Congress can impeach justices. And so on.
Alito, however, doesn't believe Congress can, say, implement ethics rules to which he should be bound.
"Justice Alito says he voluntarily follows disclosure statutes that apply to lower-court judges and executive-branch officials; so do the other justices," wrote Rivkin and his co-author, Journal editor James Taranto. "But he notes that 'Congress did not create the Supreme Court' — the Constitution did. 'I know this is a controversial view, but I'm willing to say it,' he says. 'No provision in the Constitution gives them the authority to regulate the Supreme Court — period.' "
I will defer to Alito on knowledge of the constraints that apply from the Constitution and subsequent legislation. But given the universality of his declaration, it's important to note that Congress has had a very real, very important role in making the Supreme Court what it is. Yes, the court is in the Constitution, but it is Congress that has made it what it is.
In 1837, for example, Congress adjusted for the addition of new states to the union by adding two new circuit courts and two new seats to the Supreme Court. President Andrew Jackson signed it into law.
One of those seats is the one Alito now holds, the 11th person to do so. The other seat created in 1837 was one of two eliminated in 1866 — again by an act of Congress.
Until those seats were eliminated in 1866, there were 10 seats on the court: the chief justice and nine associate justices. That's because another seat (and another circuit court) was added in 1863. That seat is held by Justice Neil M. Gorsuch. (It also has the distinction of having two associate justices elevated to the chief justice position.)
The addition of another seat in 1869 brought the court to its current size. That seat is held by Justice Clarence Thomas.
The laws creating these positions included various other rearrangements. There is no question, however, that Congress played a significant role in the creation of the modern court, including by adding Alito's seat.
Alito may think that Congress cannot impose any behavioral guidelines on him, but he certainly couldn't argue that Congress could address its concerns about judicial ethics in dramatic fashion: by eliminating any seats as it saw fit.
correction
A previous version of this article misspelled the name of the co-author of the Wall Street Journal opinion piece. It is David Rivkin Jr., not David Rifkin Jr. The article has been corrected.
This post appeared first on The Washington Post