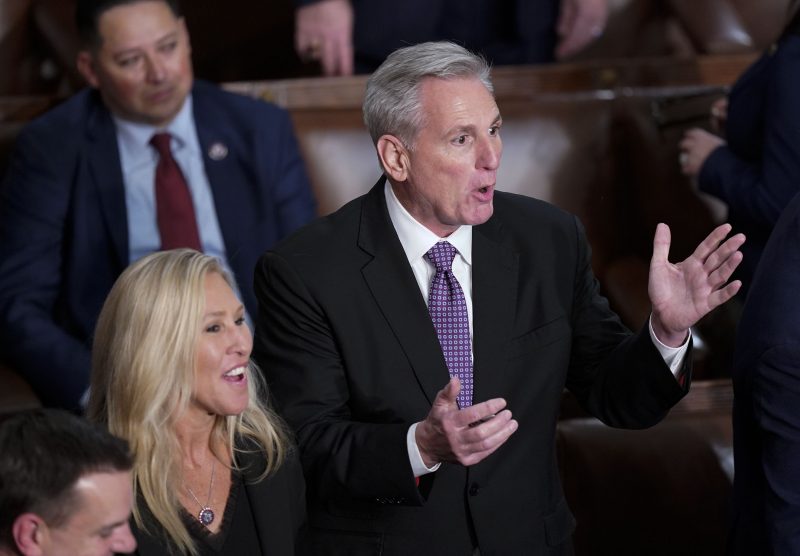 The GOP's lengthy impeachment and censure lists
Five GOP senators who served during Donald Trump's presidency have since been censured by their state party for not toeing the party line.
Republicans have censured so many of their GOP colleagues that they have done it to both Rep. Tony Gonzales (Tex.) and Rep. Anthony Gonzalez (Ohio). They've also now made a Democratic colleague, Rep. Adam B. Schiff (Calif.), the first member in modern history to be censured by the House on a purely party-line vote.
And the party during President Biden's two-plus years in office has invoked impeachment so often that it has cited at least five different justifications for mounting an effort against him, while threatening separate impeachments against a quarter of his Cabinet. House Speaker Kevin McCarthy (R-Calif.) is leaning into the idea more than ever, floating impeachment inquiries for both Biden and Attorney General Merrick Garland in the last month alone.
Welcome to a new era of politics, in which the Republican Party has wielded impeachment, censure and other tools of sanction with a startling degree of regularity. Democrats increased their use during a Trump administration that was besieged by scandals, but Republicans have ratcheted things up even more — and in some historic ways.
So far this year, Republicans have introduced impeachment articles 13 times and censure resolutions — formal reprimands — six times, according to data from Quorum, which tracks legislative action. That combined total of 19 is more than any party has introduced in any year since at least the 1980s, and the year is just half over.
The previous highs for each party came in 2021, when Democrats impeached Trump for the second time and sought to censure eight House Republicans after the Jan. 6, 2021, attack on the U.S. Capitol. Even that year, though, the total numbers for Democrats (14) and Republicans (13) were similar, with Republicans filing 11 attempts to impeach the newly elected Biden and members of his Cabinet.
These numbers are bills filed, rather than efforts that came to votes. Democrats actually did impeach Trump, something we have yet to see from Republicans in the case of Biden.
But the true measure of the GOP's embrace of the impeachment threat is that these measures have been lodged against eight different top administration officials, including Biden. During Trump's presidency, he was the only subject of any official Democratic impeachment efforts.
Nor do they tell the full story of such punitive threats, including censure, which the GOP has used extensively outside the halls of Congress — mostly against fellow Republicans who did not show loyalty to the party in general or Trump in particular. Since 2021, those being censured by state parties or the Republican National Committee have included five current or former GOP senators, a sitting GOP governor, five GOP House members and a smattering of state legislators.
But the thrust of the efforts is largely the same: increasingly using for political leverage tools that are supposed to be reserved for the most serious circumstances.
Last month provided a striking example. Schiff was just the third member of Congress in 40 years to be censured. In addition to the historically partisan nature of the vote, Schiff's alleged offense — overstating the evidence to impeach Trump — placed him alongside members who in all cases since 1921 either allegedly broke the law or promoted the idea of violence against lawmakers. (Arizona GOP Rep. Paul A. Gosar was censured in 2021 for the latter offense; the others were censured for alleged and proven violations of law.)
At the state level, Tennessee Republicans spearheaded the unprecedented expulsions of two Black Democratic state lawmakers for joining a gun-control protest on the state House floor. Montana Republicans banned a transgender lawmaker from the state House floor for saying GOP colleagues had "blood on your hands." And Oklahoma Republicans censured a nonbinary lawmaker after state troopers said the lawmaker temporarily blocked the troopers from questioning a suspect.
McCarthy's move toward impeachment inquiries of Biden and Garland is also a remarkable escalation. Trump was impeached twice — but in each case for conduct that even many Republicans objected to. Trump's second impeachment also drew a historic number of crossover votes, with 10 House Republicans voting to impeach and seven Senate Republicans voting to convict.
With these tactics increasing in regularity, we thought it worth recapping all the times the GOP has censured a lawmaker or threatened impeachment since 2021. The lists are long — and likely to get longer.
Administration officials are listed alongside the alleged reasons for impeachment and, in parenthesis, some of the lawmakers pressing for it.
President Biden: Afghanistan withdrawal (Reps. Marjorie Taylor Greene, Lauren Boebert, others)Biden: border security (Greene, Reps. Bob Gibbs, Bill Posey and Andrew Ogles)Biden: Hunter Biden's business dealings (Greene, Ogles, Reps. Jim Banks, Claudia Tenney, others)Biden: covid-19 eviction moratorium (Greene, Gibbs)Biden: selling oil from strategic reserve to foreign nations (Greene)Vice President Harris: Afghanistan (Boebert, Rep. Ralph Norman)Garland: supposed politicization of the Justice Department (Greene)FBI Director Christopher A. Wray: supposed politicization of the FBI (Greene)Secretary of State Antony Blinken: Afghanistan (Norman and Rep. Andy Harris)Homeland Security Secretary Alejandro Mayorkas: border security (Greene, Reps. Clay Higgins, Andy Biggs and Pat Fallon)Transportation Secretary Pete Buttigieg: train derailment in East Palestine, Ohio (Reps. Warren Davidson and Mike Collins)Defense Secretary Lloyd Austin: Afghanistan (Rep. Cory Mills)
Lawmakers are listed alongside their alleged offenses and, in parenthesis, the body censuring them. Censures by various county parties are not included.
Sen. Jeff Flake (R-Ariz.): Trump criticisms (state party)Sen. Thom Tillis (R-N.C.): gun rights, LGBT rights, immigration (state party)Sen. Richard Burr (R-N.C.): vote to convict Trump at impeachment (state party)Sen. Bill Cassidy (R-La.): vote to convict Trump at impeachment (state party)Sen. Lisa Murkowski (R-Alaska): vote to convict Trump at impeachment, confirmation vote, abortion rights support (state party)Arizona Gov. Doug Ducey (R): pandemic emergency orders (state party)Rep. Liz Cheney (R- Wyo.): Trump criticisms, vote to impeach (RNC, state party)Rep. Adam Kinzinger (R-Ill.): Trump criticisms, vote to impeach (RNC)Gonzales (R-Tex.): guns, same-sex marriage (state party)Gonzalez (R-Ohio): vote to impeach Trump (state party)Rep. Tom Rice (R-S.C.): vote to impeach Trump (state party)Arizona state House Speaker Rusty Bowers (R): Jan. 6 committee testimony (state party)22 Ohio state House members: voting with Democrats to elect an alternative GOP speaker (state party)Arizona state Sen. Wendy Rogers: speaking at a white-nationalist conference, violent language and political threats (state party)Schiff: allegedly overstating evidence to impeach Trump (Congress)Oklahoma state Rep. Mauree Turner (D): temporarily blocking questioning of a suspect in their office (state legislature)
The list above does not include the Tennessee expulsions or the Montana lawmaker who was banned from the state House floor, which technically weren't censures.
At least one Democrat has also been censured by her state party in recent years, with the Arizona Democratic Party censuring then-Sen. Kyrsten Sinema last year for not supporting changes to the Senate filibuster rules. Sinema has since left the party to become an independent.
This post appeared first on The Washington Post