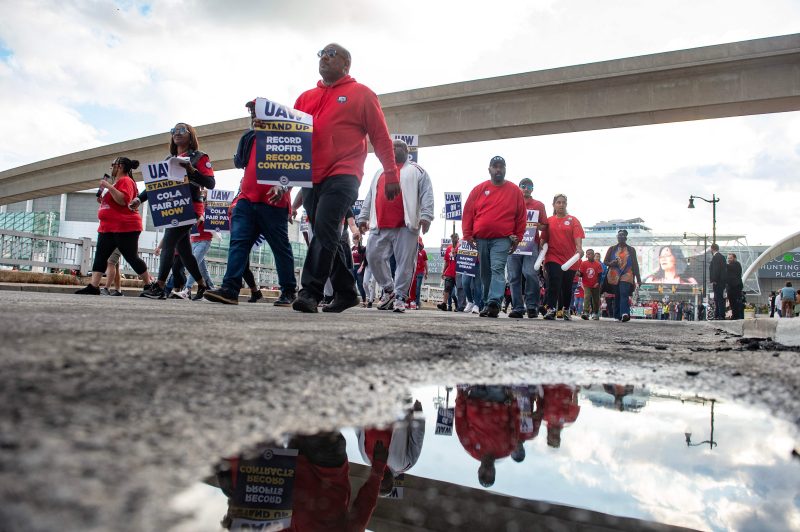 The key difference between the Biden and Trump visits to Michigan
President Biden and former president Donald Trump will travel to Michigan this week to speak to union members. It's an unabashed manifestation of next year's likely presidential general election; Trump is forgoing a Republican primary debate to make the trip.
But the two men's trips have very different political intents. Trump hopes to appeal to working-class voters in the critical swing state. Biden wants to bolster the strength of the unions to which many of those workers belong. The latter is about building power in labor institutions and, by extension, Democratic politicians. The former is about eroding that power — and building power for Trump.
This is not a trivial distinction.
Since he launched his 2016 campaign, Trump has asserted a special affinity for union workers. It makes sense, given what we know about his base: His most fervent supporters have long been Whites without a college degree, a group that overlaps heavily with the labor movement. In 2016, exit polls suggested that he'd done better with union members than any Republican in 30 years.
In 2020, though, that advantage faded. Biden did almost (but not quite) as well against Trump as Barack Obama had done against Mitt Romney in 2012.
Trump's plan for his visit to Michigan centers on a speech to a group of current and former union members — individuals who share the characteristics of the Rust Belt labor movement. It's an appeal to a group of voters whose choices on Election Day might focus less on economic power than cultural issues.
On Monday, the Trump campaign's rapid-response team posted a video snippet from a visit Biden made to an auto plant in March 2020. It depicts a worker wearing a hard hat accusing the then-candidate of wanting to end the Second Amendment. Biden then uses a … colorful term to describe that allegation as inaccurate. But this is the pitch: Biden doesn't get working-class people, all this union stuff aside.
There's been an increasing bifurcation in the political views of White Americans with or without a college degree. It was neatly captured in a Gallup analysis published a few years ago: Over the past two decades, Whites with degrees have shifted to the left and those without a degree have moved right. Importantly, this trend predates 2016 and Trump. He benefited from the gap far more than he created it.
But there's a catch here. To the extent that Trump's pitch is focused on working-class White people (and, particularly, working-class White men), that group makes up less of the labor movement than it used to. In 2000, about 80 percent of union members were White, according to Bureau of Labor Statistics data. Now, three-quarters are.
That's a subtle change but, combined with the decline in the density of men in unions, we see that the percentage of White men among union members has fallen from about 50 percent to about 2 in 5.
The labor movement, in other words, is increasingly made up of women and people of color, groups that are less likely to be swayed by Trump's pitch.
Biden's trip to Michigan will center not on a campaign speech but on a visit to the picket line of the striking United Auto Workers members. It's an unusual action for a president to take but one in keeping with Biden's presentation of himself as labor's greatest White House ally in recent memory.
It also puts the emphasis less on the workers than on the collective power of those workers.
This is an important distinction for the presidential candidates and the unions themselves. The reason unions exist is to serve as a storehouse of power for workers. History has shown that union power has often been leveraged for other, not-always-savory purposes, certainly, but strike actions are a manifestation of what unions were created to provide: a system in which labor could make demands while limiting the cost incurred by individual workers.
Biden seems to genuinely believe in the importance of the institutional power of labor unions, but there's a political benefit his party has enjoyed, too. Unions regularly give far more in campaign contributions to Democratic candidates than to Republicans, for example, a demonstration of the alliance between labor and the Democratic Party.
Unions provide more than money, of course. They endorse candidates (often Democrats) and encourage or incentivize union members to volunteer for campaigns. They turn out votes. This is harder and less effective than it used to be — as shown in that Gallup graph, above — but it is still effective. Labor unions see the Democratic Party as an ally in its efforts to win fights against management; the party sees labor as an ally in winning elections. There's a symbiosis between the two institutional power centers.
Biden will walk a picket line, a demonstration of support for the aggregated power of the autoworkers. Trump will speak to a group of workers from a variety of unions, making his case for them as individual actors. The former approach aims to strengthen the unions and the latter to weaken it — in this case, so that Trump's campaign can be strengthened.
So, yes, both candidates are going to Michigan. But while there they will prioritize very different actions with very different ends.
This post appeared first on The Washington Post