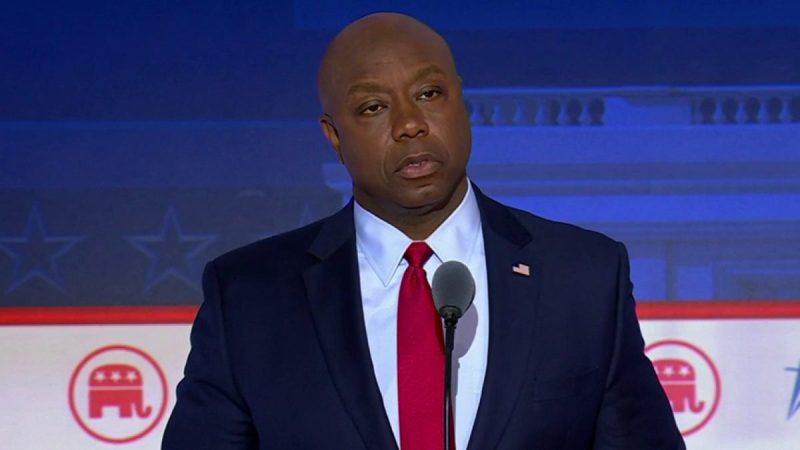 Tim Scott has one-word response to California bill to punish parents who won't 'affirm' trans kids
EXCLUSIVE: Republican presidential candidate Tim Scott gave a one-word response to a California bill that would punish parents in custody battles who don't 'affirm' transgender kids. 
The South Carolina senator called the proposal 'evil' in a statement to Fox News. 
The California State Assembly passed legislation Friday that would require judges in child custody cases to consider whether a parent has affirmed a child's belief that they are transgender. 
AB 957 originally proposed that courts deciding custody cases must consider whether each parent were gender-affirming of the child in question. An amendment in June added to the state's standard of what constitutes parental responsibility for child welfare, requiring that parents must be affirming of a child's gender identity if they are to be judged fit for providing for 'the health, safety, and welfare of the child' in a court of law. 
'The radical Left is on a mission to make parents less important. They think your kids belong to them,' Scott added. 'I will fight back, put parents back in charge, and protect the next generation of children from this absurdity.'
Last month, Scott announced a plan that he said will empower parents and protect school children from the 'classroom to the locker room to the smartphone.' 
The plan — first shared with Fox News Digital — is the latest example of Republicans pushing to elevate the role of parental control of public schools.
The first component of Scott's 'Empower Parents Plan' is defending children with a 'family first culture.'
Scott, a rising star in the GOP and the only Black Republican in the Senate, calls for restoring 'American childhood and let girls and boys be girls and boys, not guinea pigs' and 'Save Title IX and women's sports — if God made you a man, you play sports against other men.'
Scott also vows to empower parents by defending their ability to know what their children are hearing and reading in school.
He also wants to 'empower every family the right to opt out of propaganda that attacks their values and religious liberty,' and pledges to 'break the back of the teachers' unions and enact nationwide school choice,' which are staples of the conservative movement.
The senator also wants to give parents a greater ability to decide whether to send their children to public, private, charter or STEM schools, or to homeschool.
Scott argued that he will 'replace indoctrination with education. ABC, not CRT.'
Fox News' Alexander Hall, Gabriel Hays, Paul Steinhauser and Andrew Murray contributed to this report. 
This post appeared first on FOX NEWS