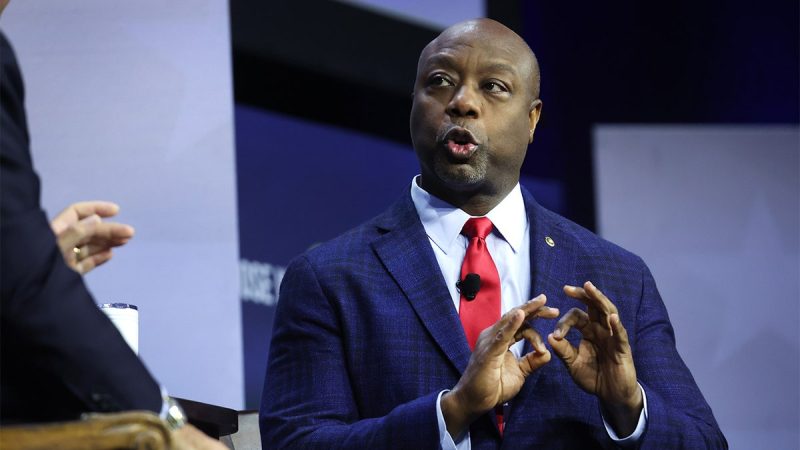 Tim Scott responds to Trump's criticism of Israel PM Netanyahu: 'Terrible and not helpful'
Sen. Tim Scott, R-S.C., on Monday criticized former President Trump's recent comments attacking Israeli Prime Minister Benjamin Netanyahu as 'terrible and not helpful' amid Hamas' terrorist attacks against the Jewish State.
Scott, a presidential candidate seeking the Republican nomination in 2024, made the comments about his GOP primary opponent's remarks during an event hosted by the Georgetown Institute of Politics and Public Service and The Associated Press.
'We should be loyal to our allies while being lethal to our adversaries. Anything less than that jeopardizes life,' the South Carolina Republican said.
More than 4,200 people have been killed in Gaza and Israel since Hamas launched its Oct. 7 attack, leading to retaliatory action from Israeli forces. Thousands more have been wounded, and many others have been taken hostage by Hamas and raped, tortured and murdered.
Trump blasted Netanyahu during a speech on Wednesday, saying the Israeli prime minister 'let us down' shortly before the U.S. military assassinated top Iranian general Qassem Soleimani in early 2020. The Republican front-runner also suggested that Netanyahu's conversations with the Biden administration helped Hezbollah, a terror group Israel fears may launch an attack from the country's north.
The former president also said Israel's intelligence agencies needed to 'step up their game' for not detecting Hamas' attack, and he referred to Hezbollah as 'very smart.'
On Friday, Trump changed his tune regarding the Israeli prime minister after backlash from fellow Republicans. In a post on his social media platform Truth Social, Trump said he stands with Israel and Netanyahu.
Scott, meanwhile, offered high praise to Netanyahu for displaying 'passion' and 'humanity' when responding to Hamas' largest attack against Israel in decades.
'One of the first things that Israel's done is they waited,' Scott said. 'Now how Prime Minister Netanyahu had the kind of restraint to refrain from immediate action, it just talks about the morality and the humanity that we see coming from Netanyahu into Gaza.'
The senator also spoke on whether the U.S. should accept Palestinian refugees. Scott said he does not believe it is the right move to take in the refugees because the Biden administration will not be able to determine 'who is safe to bring in, who's not safe to bring in.'
Scott's comments about Palestinian refugees mirror statements from other Republicans, including presidential candidate and Florida Gov. Ron DeSantis and Arizona Rep. Andy Biggs.
'I don't know what Biden's gonna do, but we cannot accept people from Gaza into this country as refugees,' DeSantis said during a campaign stop in Iowa. 'I am not going to do that. If you look at how they behave, not all of them are Hamas, but they are all antisemitic. None of them believe in Israel's right to exist.'
Additionally, Sen. Marco Rubio, R-Fla., said the Biden administration should rescind visas of foreign nationals who defend or support Hamas and Sen. Tom Cotton, R. Ark., urged the Department of Homeland Security to deport foreign nationals, including those on student visas, who have expressed support for Hamas in the wake of the terror attack on Israel.
'The appalling explosion of anti-Semitism in the United States over the past few weeks should disturb anyone who shares American values,' Cotton said. 'While American citizens may have a First Amendment right to speak disgusting vitriol if they so choose, no foreign national has a right to advocate for terrorism in the United States.'
This post appeared first on FOX NEWS