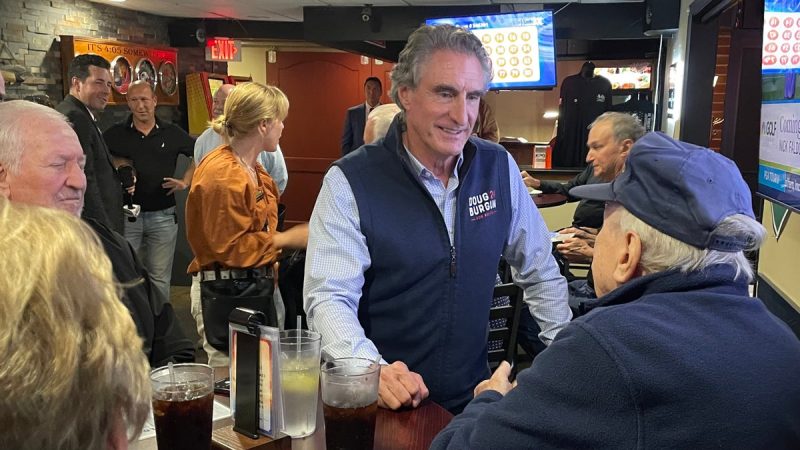 Time's running out for these GOP presidential candidates scrambling to qualify for the 2nd nomination debate
The clock's ticking for the Republican White House candidates still trying to make the stage for Wednesday's second GOP presidential nomination debate.
The candidates have until 9 p.m. ET Monday — 48 hours before the FOX Business- and Univision-hosted showdown at the Ronald Reagan Presidential Library in Simi Valley, California — to reach polling and donor thresholds required by the Republican National Committee to qualify for the debate.
According to a Fox News count, North Dakota Gov. Doug Burgum on Saturday became the seventh candidate to meet the RNC's criteria.
Burgum's campaign and an allied super PAC made investments over the past week to try to boost the national ID of a politician who is far from a household name outside his native North Dakota in an attempt to make the stage. And it appears to have paid off.
Still aiming to qualify is former Arkansas Gov. Asa Hutchinson, who, along with Burgum, took the stage last month at the first GOP presidential nominating debate.
'We made the last debate. It surprised everybody. People had counted us out. So, don't count us out in this next debate,' Hutchinson emphasized in a recent Fox News Digital interview.
FIRST ON FOX: RNC THREATENS TO PULL NEW HAMPSHIRE DEBATE IF STATE LEAPFROGS IOWA IN THE PRESIDENTIAL NOMINATING CALENDAR
The RNC, which is organizing the GOP presidential primary debates, raised the thresholds the candidates need to reach to make the stage at the second showdown.
To participate in the second debate, each candidate must have a minimum of 50,000 unique donors to their campaigns or exploratory committees, including 200 donors in 20 or more states. The candidates must also reach 3% support in two national polls or reach 3% in one national poll and 3% in two polls conducted in Iowa, New Hampshire, Nevada or South Carolina, the four states that lead off the Republican presidential nominating calendar.
Additionally, candidates are required to sign a pledge to support the eventual Republican presidential nominee. They must agree not to participate in any non-RNC-sanctioned debates for the rest of the 2024 election cycle and agree to data-sharing with the national party committee.
So far, according to a Fox News count, seven of the eight candidates who took part in last month's first GOP presidential nomination debate have already met the RNC's criteria.
They are, in alphabetical order, Burgum, former New Jersey Gov. Chris Christie, Florida Gov. Ron DeSantis, former ambassador and former South Carolina Gov. Nikki Haley, former Vice President Mike Pence, biotech entrepreneur and political commentator Vivek Ramaswamy and Sen. Tim Scott of South Carolina.
Former President Donald Trump, who has reached the donor and polling thresholds, did not sign the RNC's pledge. Pointing to his large lead over his rivals for the nomination, he did not attend the first debate and has already made alternative plans for Wednesday night.
Burgum's campaign last week launched a new national voter contact program that aimed to boost his support in the polls.
'The direct text video-to-voter program hyper-targets highly persuadable Republicans and conservative-leaning independents likely to vote in the Republican presidential primary with a tested video message most likely to move numbers,' the Burgum campaign said in a release.
The move by the North Dakota governor's presidential campaign came as the Burgum-aligned Best of America super PAC shelled out another $2 million to an existing $6 million national ad buy to try and boost the candidate's poll numbers. 
It appears the investments paid off.
But Burgum told Fox News Digital last week that he would be on the ballot in Iowa and New Hampshire – the first two states to vote in the GOP presidential primary calendar – regardless of whether he made the second debate stage. 
'We're going to be here because the voters of these two states decide who goes forward,' he emphasized.
Looking toward the second debate, Hutchinson emphasized it is 'very important because a lot's happened since the last debate.'
Hutchinson, who has yet to reach the polling and donor thresholds, told Fox News during a recent interview in Newton, Iowa, 'We're looking forward to being on the debate stage. We look to increasing those numbers.'
Among those still trying to qualify for the second debate — who did not make the stage for the first debate — are 2022 Michigan gubernatorial candidate, businessman and quality control expert Perry Johnson; former CIA agent and former Rep. Will Hurd of Texas; and Larry Elder, a former nationally syndicated radio host who was a candidate in California's 2021 gubernatorial recall election.
Hurd, who has said he will not sign the RNC's pledge due to his vocal criticism and opposition to Trump, told Fox News earlier this month, 'We're working hard to meet those requirements.'
When asked if he would drop out of the race if he does not qualify for next week's debate, Hurd said, 'My focus right now is to hit those requirements to be on that second debate stage, and then we'll go from there.'
Fox News' Remy Numa contributed to this report.
Get the latest updates from the 2024 campaign trail, exclusive interviews and more at our Fox News Digital election hub.
This post appeared first on FOX NEWS