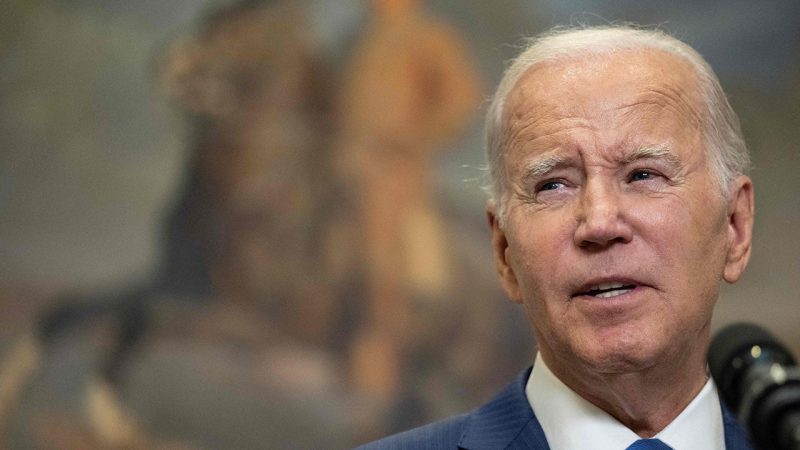 Trump: Biden 'doesn't understand what he's doing' during 'most dangerous time in the history of our country'
Former President Donald Trump said in a new interview clip aired Sunday that President Biden is not up to the task during a precarious time for the U.S. amid growing tensions around the globe.
'Look, this is the most dangerous time in the history of our country because of weaponry. The nuclear power is so enormous. This isn't two Army tanks going and shooting each other in World War I, World War II, soldiers standing behind a bunker and shooting people,' Trump said during a sit-down interview with Fox News host Maria Bartiromo.
'This is obliteration,' Trump added in the interview, the second half of which aired Sunday on Fox News' 'Sunday Morning Futures.'
'And we have a man that doesn't understand what he's doing. We have a man that … stood up and told the whole world that we have no ammunition,' Trump said of Biden. 'Do you know I had every ammunition building full to the brim three years ago. We've given it all away. But if you gave it all away – terrible. The only thing worse than that is to tell the world. … He has told China and these other places that are hostile that we have no ammunition.'
'You talk about classified documents. That's worse than any document that you could give,' Trump continued, apparently in reference to the federal indictment against him with regard to classified documents found during an FBI search of his Mar-a-Lago estate last year. 'So, now these people are sitting back in China and other places that hate us, including North Korea, where I had a very good relationship with Kim Jong Un and kept our country safe. They're talking about the United States of America has no ammunition. Think of it. How stupid can somebody be to say that?' 
During an interview on CNN this month, Biden let slip while explaining the controversial decision to send cluster bombs to Ukraine that the United States is low on 155 mm artillery ammunition rounds, sparking outrage on social media as critics called the commander in chief's competency into question.
'It was a very difficult decision on my part. And by the way, I discussed this with our allies, discussed this with our friends up on the Hill,' Biden told CNN's Fareed Zakaria on July 9, ahead of the president's travel to Europe to attend the NATO conference in Lithuania. 'And we're in a situation where Ukraine continues to be brutally attacked across the board by munitions, by these cluster munitions that are – have DOD rates that are very, very low, very high, that are dangerous to civilians, No. 1.'
'No. 2, the Ukrainians are running out of ammunition. The ammunition that they to call them, 155 millimeter weapons,' Biden said. 'This is a war relating to munitions and the running out of those that ammunition. And we're low on. And so what I finally did and took the recommendation of the Defense Department to not permanently but to allow for in this transition period where we have more 155 weapons, these shells, for the Ukrainians.'
A White House official walked back Biden's comment that the United States is running out of ammunition when asked to comment on criticism in response to Biden's live CNN interview.
'The military has specific requirements for the numbers of weapons systems and ammunition we maintain in our reserves in case of contingencies or military conflict,' a White House official previously said in an email to Fox News Digital. 'Everything we send to Ukraine is in excess of that. So, the U.S. is not running out of ammunition ourselves.'
Fox News' Matteo Cina contributed to this report.
This post appeared first on FOX NEWS