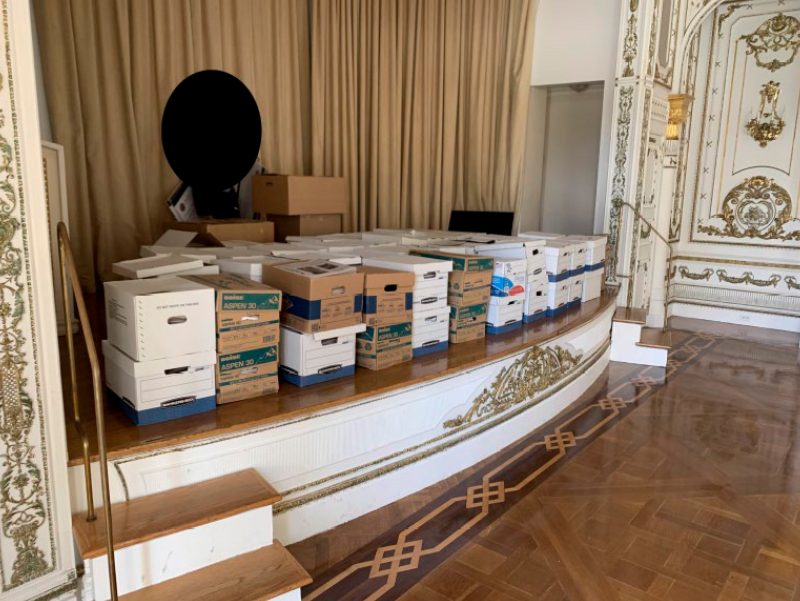 Trump charged with seeking to delete security footage in documents case
Prosecutors announced additional charges against Donald Trump on Thursday in his alleged hoarding and hiding of classified documents at Mar-a-Lago, accusing the former president and a newly-indicted aide of trying to keep security camera footage from being reviewed by investigators and bringing the number of total federal charges against Trump to 40.
Trump already faced 31 counts of illegally retaining national defense information, but prosecutors have added a 32nd to the list. That count centers around a now-infamous conversation Trump allegedly had at his golf club and summer residence in Bedminster, N.J., in July 2021, focused on what has been described by others as a secret military document concerning Iran.
In that conversation, which was recorded, Trump allegedly said: "As president I could have declassified it … Now I can't, you know, but this is still secret."
The new indictment also levels accusations of a broader effort by Trump and some of those around him to cover their tracks as the FBI sought to retrieve highly classified documents kept at Mar-a-Lago, Trump's home and private club, long after his presidency ended. The indictment charges that Trump and two aides, Waltine "Walt" Nauta and Carlos De Oliveira, requested that another Trump employee 'delete security camera footage at the Mar-a-Lago Club to prevent the footage from being provided to a federal grand jury."
De Oliveira is the second Trump aide to be charged in the documents case. Nauta, Trump's longtime valet, was indicted alongside the former president in June, accused of helping him mislead investigators as they sought to retrieve all of the classified documents in Trump's possession.
Both Trump and Nauta have pleaded not guilty to the charges in the initial indictment. The federal judge overseeing the case in Fort Piece, Fla., last week scheduled a trial to begin in May.
People familiar with the investigation have told The Washington Post that investigators for special counsel Jack Smith repeatedly pressed De Oliveira to explain his actions from June and and July 2022, when he helped Nauta move boxes around Mar-a-Lago and allegedly had conversations with others about security camera footage. The people, who spoke on the condition of anonymity to discuss secret grand jury proceedings, have said investigators grew increasingly skeptical of De Oliveira's answers as the investigation proceeded.
De Oliveira's attorney John Irving declined to comment Thursday evening. De Oliveira has worked for Trump for nearly 20 years, beginning as a car valet and becoming property manager in January 2022. As the investigation progressed, he has told colleagues, his phone was seized. He has continued to work at Mar-a-Lago since the initial charges against Trump and Nauta were filed.
Trump spokesman Steven Cheung called the charges unveiled Thursday "a continued desperate and flailing attempt" to harass the former president, who is again seeking the GOP nomination for the White House, and those around him.
The initial indictment charged Trump with 37 separate counts. Each of the 31 counts of alleged willful retention of national defense information represents a different classified document that Trump allegedly withheld — 21 that were discovered when the FBI searched Mar-a-Lago last August, and 10 that were turned over to the FBI in a sealed envelope two months earlier.
Nauta originally faced six charges, including conspiracy to obstruct justice, withholding a document, concealing a document and scheming to conceal.
All three defendants are now charged with altering, destroying, mutilating or concealing an object, as well as a similar crime of corruptly altering destroying, mutilating or concealing a document or object.
De Oliveira was also charged with lying to the FBI in a January interview in which he allegedly denied seeing boxes being moved or helping move boxes.
The new version of the indictment recounts an alleged exchange between De Oliveira and another Trump employee on June 27 2022, in which De Oliveira allegedly asked to have a private discussion in an "audio closet" at Mar-a-Lago.
De Oliveira allegedly asked the other employee how long the footage from the security cameras were stored on their computer server. When the employee replied 45 days, De Oliveira told the employee "that 'the boss' wanted the server deleted," the indictment alleges. The other employee is referred to only as "Employee 4" in the indictment, but a person close to the investigation, speaking on the condition of anonymity to discuss it, has said that person is an IT worker named Yuscil Taveras.
The employee replied "that he would not know how to do that, and that he did not believe that he would have the rights to do that," according to the indictment. "De Oliveira then insisted to Trump Employee 4 that 'the boss' wanted the server deleted and asked, 'what are we going to do?'."
The indictment does not allege that the footage was actually deleted, and authorities have already said in court papers that the security camera footage they received provided critical evidence in their case.
After the FBI conducted a court-authorized search of Trump's home last August to retrieve the documents with classified markings that he hadn't returned, at least one Trump employee apparently wanted to make sure that De Oliveria wouldn't tell officials about attempts to hide the materials, according to the indictment.
"Someone just wants to make sure Carlos is good," Nauta allegedly asked in a call with another Trump employee. That employee assured Nauta that De Oliveria was "loyal" and "would not do anything to affect his relationship with Trump." The indictment notes that on the same day, Trump called De Oliveira "and told De Oliveira that Trump would get De Oliveira an attorney."
That exchange could explain why, during the course of their investigation, prosecutors have asked witnesses so many questions about how and why Trump entities have paid for some witnesses to get lawyers. They have also asked whether that legal representation was designed in any way to shield Trump from more legal exposure, people familiar with those exchanges have said.
Because the Mar-a-Lago case involves highly classified documents, the process of reviewing evidence will be complicated and could bring considerable delays. The May trial date would put the trial in the middle of the 2024 presidential election, after many of the nominating contests are complete and potentially after the GOP nomination is essentially wrapped up.
Separate from the documents investigation, Smith and his team have been examining efforts by Trump and his allies to block Joe Biden's 2020 election victory, including the events that led up to the Jan. 6, 2021, riot at the U.S. Capitol. Trump announced last week that his lawyers had been informed by the Justice Department that he could face charges in that case as well. On Thursday, his lawyers met with prosecutors about the investigation, according to a message Trump posted on Truth Social.
Investigators have looked at ads and email messages that sought to fundraise off false claims of election fraud, as well as the decision by Republican electors in some states won by Biden to send signed statements purporting to affirm Trump as the victor.
Trump is also criminally charged in New York state for allegedly falsifying business records in connection with hush-money payments during the 2016 election. The New York case is scheduled for for trial in March; Trump has pleaded not guilty.
Jacqueline Alemany contributed to this report.
This post appeared first on The Washington Post