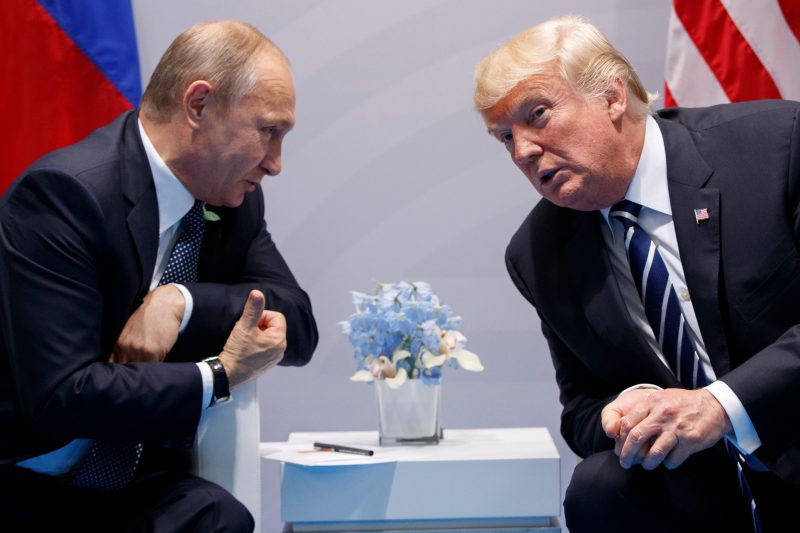 Trump embraces Putin's sympathetic comments to claim political persecution
Former president Donald Trump pointed to sympathetic comments from Russian President Vladimir Putin early Wednesday to try to bolster his case that he is being treated unfairly by prosecutors in the United States.
Trump, who is facing 91 charges in four separate criminal cases and who has accused prosecutors of targeting him to hamper his political future, posted on his social media platform just after midnight that Putin essentially agrees with him. Trump leads a large field of candidates for the 2024 Republican presidential nomination.
Putin, who has a history of persecuting his political opponents, claimed Tuesday that the criminal cases against Trump were part of "the persecution of a political rival for political reasons." He predicted that the proceedings against Trump would diminish America's global standing, to Russia's benefit.
"As for the prosecution of Trump, for us what is happening in today's conditions, in my opinion, is good because it shows the rottenness of the American political system, which cannot pretend to teach others democracy," Putin said at an economic forum in eastern Russia.
The comments reflected the largely warm relationship between the two leaders during Trump's presidency, which included a 2018 summit at which Trump refused to support the collective conclusion of U.S. intelligence agencies that Russia had interfered in the 2016 U.S. presidential election.
Trump has continued to maintain that he and Putin are on good terms, despite the isolation of Putin by the West for his invasion of Ukraine — which Trump once described as "genius" and "savvy."
Trump's Republican primary rivals quickly seized on Putin's latest remarks. In a statement, former vice president Mike Pence said Putin's opinion has no value in the United States.
"America's founding principles will always stand the test of time," Pence said. "Putin should be more concerned about how quickly his military went from being the second most powerful in the world to the second most powerful in Ukraine."
Former New Jersey governor Chris Christie, one of the most vocal Trump critics in the GOP field, called Putin a "brutal, mass-murdering, KGB hitman" and said that Trump needs new role models.
"Get it straight. Trump is under indictment because of his conduct. He played with fire and is getting burned. And now his best buddy is coming to his defense," Christie wrote in a social media post. "If you are on the same side as Putin, you might want to rethink your position."
Former Arkansas governor Asa Hutchinson, also a longtime critic of Trump, noted Trump and Putin are using the same talking points and said Trump's actions are "giving comfort to our enemies." Former Wyoming congresswoman Liz Cheney (R), who has not ruled out a presidential run if it would keep Trump from serving a second term, also blasted both Putin and pro-Trump Republicans.
"Putin has now officially endorsed the Putin-wing of the Republican Party," Cheney wrote. "Putin Republicans & their enablers will end up on the ash heap of history. Patriotic Americans in both parties who believe in the values of liberal democracy will make sure of it."
In Russia, Putin and his allies have cracked down on dissent, most recently against many who have protested the country's invasion of Ukraine.
Russian opposition leader Alexei Navalny was convicted last month on "extremism" charges and sentenced to 19 years in a special regime prison colony, on top of an existing 11-year sentence. The special regime prison colony, the harshest in Russia's penal system, keeps prisoners in cells with the lights constantly on, barred from speaking, and Navalny will be prohibited from receiving family visits or letters for 10 years.
Russian British human rights activist Vladimir Kara-Murza, a contributor to The Washington Post, was sentenced to 25 years in prison in April on treason and other charges for criticizing Russia's war on Ukraine.
"Such is the price for speaking up in Russia today," Kara-Murza said in his last court statement.
In the United States, the Russian invasion of Ukraine has divided GOP lawmakers over whether Washington should continue to support Ukraine's efforts to defend itself. Trump and some congressional Republicans have called for ending or slowing aid to Ukraine, while others, notably Senate Minority Leader Mitch McConnell (R-Ky.), have steadfastly supported Ukraine.
Soon after making his comments in eastern Russia, Putin met with North Korean leader Kim Jong Un, another autocrat widely shunned by the global community. Trump praised the North Korean dictator during his presidency, noting that Kim wrote him "beautiful letters."
Putin and Kim toured a Russian spaceport, the Vostochny Cosmodrome, and affirmed their commitment to strengthening their ties. Kim also expressed his total support for Russia as it faces sanctions and isolation over its invasion of Ukraine.
"I hope that we will always stand together in the fight against imperialism," Kim said.
Robyn Dixon and Marianne LeVine contributed to this report.
This post appeared first on The Washington Post