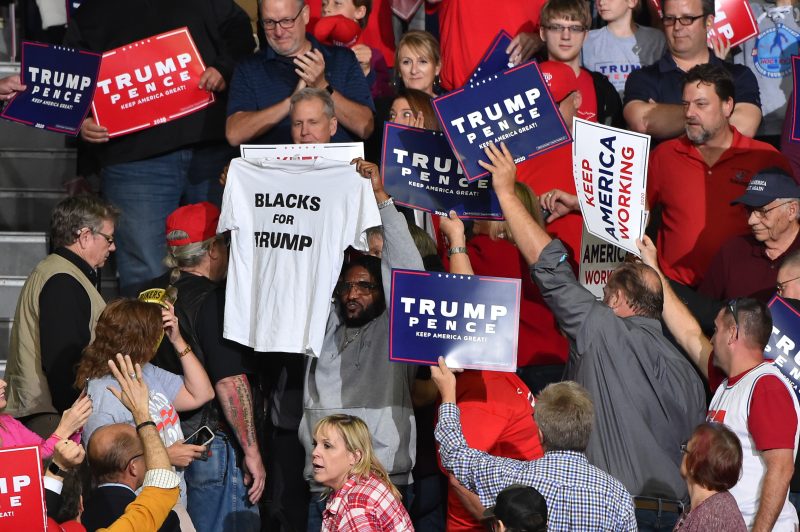 Trump hits new poll highs with Black, Hispanic voters. What to make of it?
Either former president Donald Trump's standing in early 2024 polls is inflated, or we are headed for a sizable realignment in how non-White voters cast their ballots.
Multiple polls in recent weeks have shown Trump performing historically well among Black and Hispanic voters in head-to-head matchups with President Biden, helping put him neck-and-neck with Biden in a way he rarely was during their 2020 matchup.
Across five high-quality polls that have broken out non-White voters in the past month, Trump is averaging 20 percent of Black voters and 42 percent of Hispanic voters.
Both numbers — and especially that for Black voters — could set modern-day records for a Republican in a presidential election. Trump in 2020 took just 8 percent of Black voters and 36 percent of Hispanic voters, according to the Pew Research Center's validated voter survey. Exit polls pegged those figures at 12 percent of Black voters and 32 percent of Hispanic voters.
(The validated voter surveys involve conducting a huge poll of American adults and then getting a more accurate picture than the exit polls by verifying whether respondents actually voted, using official records.)
No Republican presidential candidate in the past 50 years has approached receiving 20 percent of the Black vote. Since Republicans took 18 percent in 1972 and 16 percent in 1976, according to exit polls, they haven't taken more than 12 percent of Black voters. Their average share over the past 50 years is 9 percent — about half of where Trump currently sits in the polls.
Hispanic voters have trended toward the GOP in recent elections, but the party's current high-water marks over the past half-century are 37 percent in 1984 and a disputed 44 percent in 2004. (Other estimates placed President George W. Bush's actual share of the Hispanic vote that year at about 40 percent, which would be shy of where Trump currently is in the polls.)
So how plausible is this?
The first thing to note is that individual polls tend to feature small sample sizes of Black and Hispanic voters, which is why we have combined multiple surveys. Trump actually takes as much as 25 percent of Black voters in a recent Quinnipiac University poll and 47 percent of Hispanic voters in a recent CBS News poll — numbers that would appear implausible even if those voters have trended toward him significantly.
Another point is that despite the GOP's claims about Trump's ability to appeal to Black voters and especially Black men, this wouldn't appear to be strictly about Trump. Fox News's pollsters last week tested seven 2024 Republicans against Biden, and just about every GOP candidate was near 20 percent.
(Interestingly, the worst-performing GOP member among Black voters: Sen. Tim Scott of South Carolina, the leading Black Republican in the race, who took 15 percent.)
There is also recent precedent for polls overstating how much these groups, particularly Black voters, ultimately cast ballots for Republicans.
Just before the 2022 election, quality polls — including from many of the same pollsters detailed here — showed Republicans taking an average of 40 percent of the Hispanic vote and 16 percent of the Black vote (as much as 21 percent in one late poll). That share of Hispanic voters ultimately more or less matched the results, but exit polls showed Republicans getting 12 percent of Black voters. And the later, more in-depth data from Pew pegged the GOP's share of the Black vote much lower, at just 5 percent.
But Democrats clearly suffered with non-White voters in 2022, for one main reason: lower turnout. And that's certainly a prospect that looms large for Biden.
The New York Times's Nate Cohn recently assembled data across multiple Times-Siena College polls, which also reflected the tightening of the non-White vote — albeit not as much as the more recent polls. Enthusiasm was the culprit:
The dissatisfaction of younger and lower-turnout voters raises the possibility that Mr. Biden's weakness in the polls may show up primarily as low turnout among Black and Hispanic voters, rather than as a titanic shift toward Mr. Trump. Something similar might have happened in the last midterm election, when Democrats appeared to maintain usual shares of support among Black voters, but the racial turnout gap increased to multi-decade highs.
Indeed, Mr. Biden's lead among nonwhite voters expands to 57-27 among those who voted in 2020 or 2022, compared with 53-28 among all registered nonwhite voters. And his lead among those recent voters could grow further, to 63-29, if undecided and dissenting voters are assigned to the candidate whom they said they backed in the last presidential election.
A 63-29 lead would be much closer to Mr. Biden's standing among nonwhite voters in the last presidential election, as would his 84-11 lead among Black voters and his 55-37 lead among Hispanic voters in that same scenario.
Yet even after allocating the remaining undecided voters, these tallies might still be the worst for a Democratic leader among Black and Hispanic voters since Walter Mondale in 1984.
The recent polling also reinforces this concern for Democrats. While late in the 2020 election, polls showed Black voters came up just shy of White voters in terms of their motivation to vote, a recent CNN poll of the 2024 election showed a chasm.
While 89 percent of White voters said they were at least "very" motivated to vote, just 67 percent of Black voters said the same. And while 72 percent of White voters were "extremely" motivated, just 44 percent of Black voters were.
All the caveats that come with early polls apply here. These are snapshots in time that rely on small subsamples, and things can and will change over the next 14 months. But this is certainly looking like one of the most significant subplots of the early stages of the 2024 election.
This post appeared first on The Washington Post