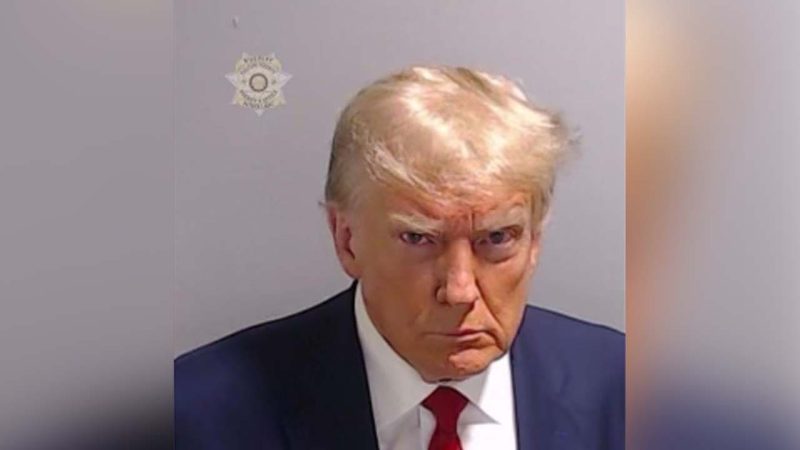 Trump says taking a mugshot was 'not a comfortable feeling, especially when you've done nothing wrong'
EXCLUSIVE: Former President Trump said Georgia officials 'insisted' he have a mugshot taken Thursday night during processing at the Fulton County Jail, telling Fox News Digital in an exclusive interview that doing so was 'not a comfortable feeling—especially when you've done nothing wrong.' 
The former president and current 2024 Republican front-runner turned himself in Thursday night at the Fulton County Jail in Atlanta, Ga. after being charged out of District Attorney Fani Willis' investigation into his alleged efforts to overturn the 2020 presidential election in the state.
Trump, in an exclusive interview with Fox News Digital Thursday night, said officials in Georgia 'insisted' on a mugshot. 
'They insisted on a mugshot and I agreed to do that,' he said. 'This is the only time I've ever taken a mugshot.'
He added: 'It is not a comfortable feeling—especially when you've done nothing wrong.'
'This is all about election interference,' Trump said. 'It all comes through Washington and the DOJ and Crooked Joe Biden—nothing like this has ever happened in our country before.'
Trump said the United States is 'doing horribly, but now, it is doing worse because we have become a Third World country.' 
The court had set Trump's bail at $200,000. He was quickly processed and released Thursday evening.
The jail records stated that Trump stands at 6 feet, 3 inches and 215 pounds. The records state he has 'Blond or Strawberry' hair and blue eyes. 
Fox News Digital has learned his formal arraignment, where he is expected to plead not guilty, will take place sometime early next month. 
Trump was charged with one count of violation of the Georgia RICO Act, three counts of criminal solicitation, six counts of criminal conspiracy, one count of filing false documents and two counts of making false statements.
Trump and more than a dozen others were charged out of the Fulton County probe, including his former White House chief of staff Mark Meadows, his former attorneys Rudy Giuliani, Sidney Powell, Jenna Ellis, Kenneth Chesebro, Jeff Clark, John Eastman, among others.
'It is election interference,' he said. 'We did nothing wrong at all. And we have every right every single right to challenge an election that we think is dishonest that we think is very dishonest.' 
Willis, on Thursday, asked the Fulton County court to set a trial date for Trump and all 18 co-defendants in the case for October 23. The move was in response to a motion for a speedy trial from defendant Kenneth Chesebro. 
The judge approved the October 23 trial date, but only for Chesebro, as he was the only defendant to request a speedy trial. 
Meanwhile, Trump retained Steven Sadow, an Atlanta-based white collar defense attorney, to represent him in the Fulton County case. Sadow will replace Drew Findling, who had been representing him in the matter. Findling is no longer representing Trump, a source familiar told Fox News Digital. 
'I have been retained to represent President Trump in the Fulton County, Georgia case,' Sadow said in a statement. 'The President should never have been indicted. He is innocent of all the charges brought against him.' 
Sadow added: 'We look forward to the case being dismissed or, if necessary, an unbiased, open minded jury finding the President not guilty. Prosecutions intended to advance or serve the ambitions and careers of political opponents of the President have no place in our justice system.' 
The indictment out of Georgia was the fourth for Trump, who is the first former president in United States history to face criminal charges. 
Trump was first charged in March out of Manhattan District Attorney Alvin Bragg's years-long investigation related to hush-money payments made during the 2016 presidential campaign.
Bragg alleged that Trump 'repeatedly and fraudulently falsified New York business records to conceal criminal conduct that hid damaging information from the voting public during the 2016 presidential election.'
Trump pleaded not guilty to all 34 felony counts of falsifying business records in the first degree in New York.
Those charges from Bragg came amid Special Counsel Jack Smith's investigation into Trump's alleged improper retention of classified records from his presidency at his Mar-a-Lago home in Palm Beach, Fla.
Trump pleaded not guilty to all 37 felony charges out of that probe. The charges include willful retention of national defense information, conspiracy to obstruct justice and false statements.
Last month, on July 27, Trump was charged with an additional three counts as part of a superseding indictment out of Smith's investigation — an additional count of willful retention of national defense information and two additional obstruction counts.
Smith was also investigating whether Trump was involved in the Capitol riot on Jan. 6, 2021, and any alleged interference in the 2020 election result.
On Aug. 1, Trump was indicted on four federal charges out of Smith's Jan. 6 probe.
Trump pleaded not guilty to all charges, which included conspiracy to defraud the United States; conspiracy to obstruct an official proceeding; obstruction of and attempt to obstruct an official proceeding; and conspiracy against rights.
This post appeared first on FOX NEWS