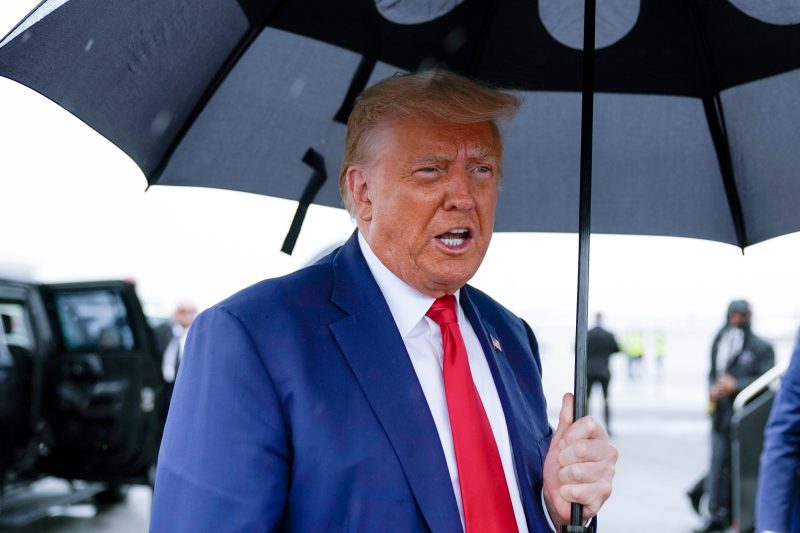 Trump seeks to discuss classified information at or near Mar-a-Lago
Donald Trump's defense attorneys Wednesday asked the federal judge handling the government's classified documents case to allow the former president and his legal team to discuss sensitive information at a protected facility at or near his Mar-a-Lago residence in Florida.
Trump's lawyers said that he used the facility while he was president and that they would not transport any classified material to that location — only discuss it there.
The request is the latest in a back and forth that is playing out in court filings between Trump's attorneys and the government as they try to determine the conditions that he must agree to before federal prosecutors give him classified materials as part of the discovery process. During discovery, prosecutors hand over the evidence they have collected to a defendant's legal team so the attorneys have the opportunity to make a strong case in defense of their client.
Before the evidence is handed over, the two sides often try to agree on certain rules known as a "protective order" — a process that is more complicated when classified government documents are part of the evidence because there are more rules that dictate how those materials can be handled.
Prosecutors have charged Trump with 32 counts of illegally retaining national defense information at the Florida property and then deceiving investigators as they demanded the materials be returned. In all, he faces 40 charges in this case.
In their filings, prosecutors have argued that Trump should be treated like any other defendant and only be allowed to discuss classified information in a government-accredited sensitive compartmented information facility, known as a SCIF. Under federal law, highly sensitive government information is typically only allowed to be viewed in these SCIFs.
"Defendant Trump's personal residences and offices are not lawful locations for the discussion of classified information, any more than they would be for any private citizen," the government wrote in a filing last month.
In response, Trump's lawyers said in a filing that this is a "complex and exceptional case" with a huge amount of discovery material. They said that it would be impractical for Trump and his attorneys to regularly travel to a SCIF as they build their defense case. Instead, they suggested that Trump be allowed to discuss classified information in a "previously approved facility at or near his residence."
The attorneys noted that there is also Secret Service protection at Mar-a-Lago.
"This request is based on the immense practical and logistical hurdles and costs that make it virtually impossible for President Trump to make regular trips to a public facility to discuss classified discovery material with counsel as necessary to conduct a defense consistent with the rights afforded by the Constitution," Trump's attorneys wrote.
U.S. District Judge Aileen M. Cannon, who is presiding over the case, will decide the matter.
Trump and his attorneys are currently debating a protective order agreement in a separate federal case in which the government has charged him with crimes related to his alleged efforts to overturn the 2020 election. The government has said it wants Trump to agree not to discuss parts of the case publicly before it hands over the evidence.
But Trump's defense team complained the government's proposed limits were overbroad and would limit the First Amendment rights of President Biden's main political opponent.
This post appeared first on The Washington Post