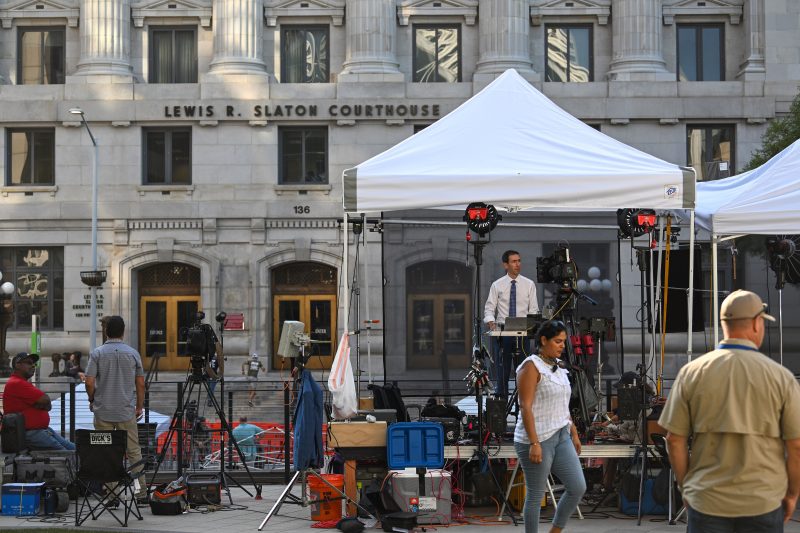 Trump's Georgia trial is readied for TV, while others are hard to see
Thus far, Donald Trump's metastasizing legal troubles have largely been visible only from the outside.
Barred from arraignments and other preliminary courtroom activities, television news has resorted to showing the former president's motorcades arriving and departing. Sometimes the only thing on the screen was a static shot of the building he had entered.
It appears that's about to change — thanks to the relatively open-door media policies of the Georgia court system, the site of Trump's most recent criminal indictment.
On Thursday, the Atlanta-area judge overseeing the racketeering case gave the go-ahead for live TV and streaming video coverage of his trial, probably the only occasion the general public could have opportunity to watch him sit through courtroom proceedings amid the heat of a 2024 campaign.
The ruling by Fulton County Superior Court Judge Scott F. McAfee carries several big question marks. First, it's unclear when exactly Trump will stand trial; the judge hasn't set a date. Second, Trump's attorneys could still ask to move the case to federal court; co-defendant Mark Meadows, Trump's former chief of staff, argued for such a change of venue this week. If that happens, it would render McAfee's ruling about televising moot.
If the trial remains with Fulton County, however, daily video coverage could turn it into an enormous media event — a veritable trial of the century.
"It's frankly hard to imagine a case of higher public interest than the trial of a former president who is accused of trying to overturn an election," said Sonja R. West, a professor at the University of Georgia's law school who specializes in First Amendment law. With TV and streaming, she said, "there will literally be far more eyes on this trial than on the others."
McAfee's ruling was not entirely unexpected. Other moments in the early timeline of the case — from the live television cameras following court officials walking the soon-to-be-released indictment papers through the building last month to the unprecedented release of a former president's mug shot last week — have previewed the extent to which Georgia courts are committed to a great level of public access.
Nearly every state in the country permits cameras and microphones in state-run courtrooms. Georgia has permitted cameras since the early 1980s — part of a policy that the state Supreme Court said in 2018 is meant "to promote access to and understanding of court proceedings" for both the media and the public. The upcoming trial of the rapper Young Thug for allegedly participating in criminal gang activity, for example, will be televised in the Atlanta area.
In contrast, most federal courts have resisted TV cameras and photography for decades. This has forced media outlets to find other ways to show what happened in high-profile federal trials, such as hiring sketch artists to depict courtroom scenes.
Two of Trump's indictments are in federal court — in Miami for allegedly hoarding classified documents and refusing government demands to return them, and in Washington for charges related to his efforts to overturn the results of the 2020 election. He has pleaded not guilty to those charges and those in Georgia, too.
He is also under indictment in New York state for alleged business and campaign fraud related to payoffs to an adult-film actress before the 2016 election. But like his federal counterparts, that state judge, Juan M. Merchan, has been reluctant to allow TV coverage.
Merchan banned TV cameras during Trump's arraignment in March. He did permit five still photographers to take pictures of Trump at the defendant's table beforehand — the only images of the former president in court — before ordering the photographers to leave. He also prohibited reporters from bringing phones or electronic recording devices into the courtroom — meaning they could not transmit the news of what was happening to the outside world in real time.
The long debate over TV access to courtrooms boils down to the public's right to see how its criminal justice system is operating versus a defendant's right to a fair trial.
Advocates for defendants say the broad public exposure provided by live coverage can intimidate witnesses, influence juries and generally create a circuslike atmosphere, such as the one that surrounded O.J. Simpson's murder trial beginning in 1994. Trump's attorneys made similar arguments in petitioning Merchan to keep TV cameras away from his arraignment.
But West, for one, is a proponent of TV coverage — especially given the historic magnitude of Trump's legal jeopardy.
"The American people have a right to judge the evidence and the arguments for themselves," she said. "Cameras are essentially a technology that lets us make the courtroom big enough for anyone who is interested to have a front-row seat."
West said live TV or streaming creates more public interest and "greater emotional impact" by enabling viewers "to see things like facial expression, gestures, and body language."
It may also show the public what didn't happen — a factor in combating misinformation and conspiracy theories.
In his ruling, McAfee essentially agreed. In addition to a streaming camera, he agreed that news organizations could have a shared TV camera, known as a "pool" camera, in court during the trial. He also said reporters could bring smartphones and laptops into his courtroom, ensuring minute-by-minute updates on social media.
McAfee said in his order that the use of laptops and cellphones "will not disrupt the administration of justice" as long as they're not use to make or receive phone calls or to record the proceedings.
The order also includes some protection for jurors; cameras will not be permitted to show them, a measure designed for their safety and to ensure that outsiders won't seek to influence them.
The access requests were made by a group of Atlanta TV stations and a coalition of news organizations that included The Washington Post, CNN and the New York Times.
This post appeared first on The Washington Post