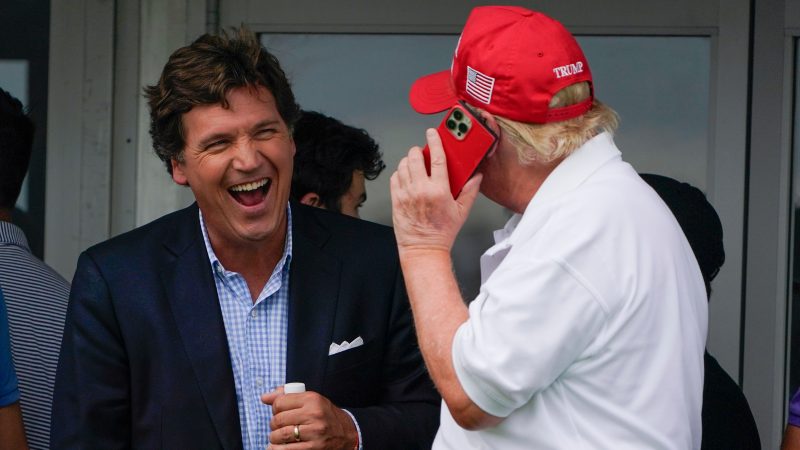 Tucker Carlson and Donald Trump reunite to try to upstage Fox News
Last Wednesday, Donald Trump welcomed Tucker Carlson and his small team into a private room at Trump's Bedminster, N.J., club for an interview.
Before the cameras rolled, the former president told the former Fox News host that he had the room built by Amish workers years ago, according to two people familiar with the conversation. The surroundings lacked the gilded appearance of many of Trump's properties, and their wooden decor matched Carlson's preferred rustic aesthetic.
That the two men were talking at all seemed extraordinary given what had transpired between them. Trump and Carlson are both giant figures on America's political right, their interests and ambitions long intertwined. But in March, a trove of text messages released as part of a lawsuit against Fox revealed Carlson had once confided that he hated Trump "passionately" and that he couldn't wait until he could "ignore Trump most nights."
Now, with Trump seeking a third straight Republican nomination for president and Carlson attempting to remake his career off cable television, the two had put aside any lingering animosity to take on Fox News.
The result will post on X — formerly known as Twitter — on Wednesday night. It will run directly opposite a marquee event for Fox — the first Republican presidential debate of the 2024 campaign, which Trump, the GOP front-runner, is conspicuously skipping.
This account of how the sit-down between Trump and Carlson came to be is based on interviews with half a dozen current and former Fox News employees and Trump advisers, who spoke on the condition of anonymity to discuss the relationship between the two men.
For Trump, the interview allows him the chance to steal the spotlight away from lower-polling rivals even as he stays off the stage of the RNC-sponsored debate. It also is a not-so-subtle jab at Fox, the network that helped build his political career but has lately been shopping for another Republican candidate to unofficially back in the presidential primary.
For Carlson, the session with Trump offers a possible boost to efforts to rebuild his audience on X and beyond. Carlson was Fox's highest-rated star before his show was abruptly canceled following the network's $787.5 million settlement with Dominion Voting Systems in April.
Steven Cheung, a spokesman for Trump, did not respond to an email seeking comment.
A Fox News spokesperson said the network "looks forward to hosting the first debate of the Republican presidential primary season offering viewers an unmatched opportunity to learn more about the candidates' positions on a variety of issues which is essential to the electoral process."
The interview between Carlson and Trump almost didn't happen, according to two people familiar with its planning. The men had been talking informally for two months about possibly setting up an event to draw attention away from the Fox-hosted debate.
But Carlson was scheduled to be out of the country this week for interviews with Hungary's autocratic Prime Minister Viktor Orban and with Aleksandar Vucic, the president of Serbia, making it difficult to schedule the interview.
Trump had been going back and forth about whether he would show up onstage for the Wednesday RNC debate, or any other. He had dined with Fox News CEO Suzanne Scott and the network's president, Jay Wallace, at his Bedminster Club earlier this summer and left them with the impression that he may participate in the event, according to three people familiar with the dinner.
But Trump has long complained that the network appears to have turned on him, with Fox giving at-times favorable coverage to rivals such as Florida Gov. Ron DeSantis and tech entrepreneur Vivek Ramaswamy. Fox co-founder Rupert Murdoch has encouraged Virginia Gov. Glenn Youngkin to enter the primary.
Two weeks ago, Trump and Carlson fixed a date for the interview and Carlson's team made the last-minute decision to "bang it out" right before heading to Europe, according to someone familiar with the discussions who spoke on the condition of anonymity to discuss private deliberations.
Carlson began posting his shows to his account on Twitter in June. Elon Musk, X's owner, has been personally involved in developing features that Carlson's team believes will make their videos more accessible, including making it possible to play X videos on television sets using Apple's Airplay feature, according to a person close to Carlson. Carlson's team also pushed X to develop a "picture in picture" feature that allows users to continue watching an X video while using other features on their phone, according to two people familiar with the discussions.
X did not respond to a request for comment.
Trump did not want it to become public that he had taped the interview and instructed his team to keep it a secret, advisers said. Trump's team tried to keep signaling he might still attend the Fox debate, with aides refusing to confirm he was considering sitting for a Carlson interview that he had already recorded. Even then, he kept polling people on whether he should attend the debate.
For its part, Carlson's team did not see the Bedminster sit-down as a guarantee that Trump wouldn't also decide to attend the debate this week.
Trump did not officially tell RNC Chair Ronna McDaniel of his decision to not appear onstage until Sunday, even after word of the Carlson interview had become public. Trump told McDaniel that the decision was not meant to spite her, according to people familiar with his calls.
Trump told advisers he didn't want Carlson's interview to appear on X because it is a competitor to Truth Social, Trump's social media network. But Carlson and his team have been building a relationship with Musk for months and told Trump that they did not think Trump's own platform had the necessary reach.
Carlson has echoed and amplified Trump's "America First" rhetoric, while also advancing a theory that the "Democratic Party is trying to replace the current electorate of the voters now casting ballots with new people, more obedient voters from the Third World."
But Trump has long accepted a level of criticism from Carlson that he didn't from most of the other Fox hosts, according to people familiar with the dynamic between the two men.
While at Fox, Carlson interviewed Trump multiple times but maintained a more independent posture than some of his fellow hosts, such as Sean Hannity or Jeanine Pirro.
After Carlson's texts excoriating Trump were released as part of Dominion's litigation against Fox, Carlson attempted to assure the former president that he had been blowing off steam after having been misled by Trump aides.
In one such incident, Carlson had to correct an error in a segment about dead people supposedly voting in the 2020 election in Georgia. The information had come to one of Carlson's producers from a Trump aide purporting to have proof of voting irregularities in the state, and has been widely debunked. Carlson railed privately against the unreliability of the information peddled by Trump's team.
But Carlson's show has always carried enough Trump-friendly commentary to remain in the former president's good graces.
Even after Carlson's texts became public in March, Trump signaled that he was happy with Carlson's special that was running on the network's digital streaming service. The program argued that the Jan. 6 attack was not a "deadly insurrection" and that the violence of the day had been overblown. Multiple people have been convicted in federal court of seditious conspiracy in connection with the attack. Four people in the crowd died, a Capitol Police officer died after being beaten by rioters and four Capitol Police officers who served on Jan. 6 died by suicide in the days and months after.
Trump shared an article about Carlson's special and wrote, "he doesn't hate me, or at least, not anymore!"
Soon after, Carlson invited Trump to come on his Fox show and Trump agreed. Carlson and his production team traveled to Trump's Mar-a-Lago Club in Florida to conduct the interview. "For a man who is caricatured as an extremist," Carlson said of Trump, in his introduction to the interview, "we think you'll find what he has to say moderate, sensible and wise."
After Fox canceled Carlson's show, the network's ratings took a hit. In the four weeks before Carlson's exit, Fox averaged 2.6 million viewers in prime time; in the four weeks after, Fox averaged just 1.6 million — still at the top in cable news but down 39 percent. The network has recovered some of those viewers with a new prime-time lineup, which has boosted its average total viewers in prime time to 2.2 million.
Trump has complained to his aides that Carlson was not friendly enough to him at times during his presidency. But he also maintained a respect for Carlson's high ratings, later telling advisers he couldn't believe Fox fired Carlson.
Fox has not yet released Carlson from his contract, which expires in December 2024. The company has informed Carlson he is in breach of his contract by releasing videos on X. Carlson's attorney, Bryan Freedman, has in turn accused Fox of violating Carlson's right to freely express his views on current events.
The two men don't have additional events planned together. While Carlson is at work trying to stand up a new company, rebuilding studios in Maine and Florida, he wants to maintain some distance from Trump, whose false denial of the results of the 2020 election frustrated Carlson and helped make Fox the target of costly legal battles.
But Carlson continues to enjoy Trump's company, to a point. "Do I like Trump? I love him. But there are many levels to Trump," Carlson told his authorized biographer Chadwick Moore. "He was a completely ineffectual president. He couldn't manage my household. He's not a manager, and that's very frustrating to watch."
"But Trump on the level of guy? To have dinner with Trump is one of the great joys in the world. If you were to assemble a list of people to have dinner with, Trump would be in the top spot," Carlson said.
"In the end, Trump is just the maitre'd, a wonderful host. Funny, outrageous, absolutely on his own planet."
Jeremy Barr contributed to this report.
This post appeared first on The Washington Post