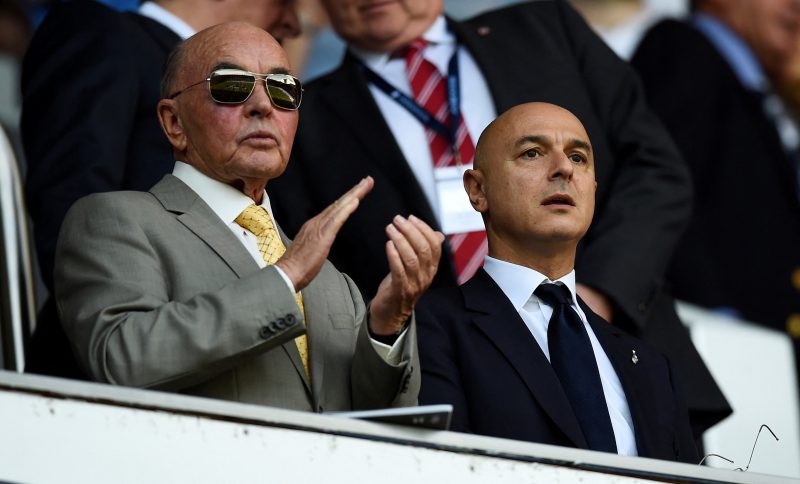 U.S. charges billionaire owner of Tottenham soccer club with insider trading
Joe Lewis, the 86-year-old British billionaire and owner of the English soccer team Tottenham Hotspur, has been indicted in New York on charges of "orchestrating a brazen insider trading scheme," U.S. officials said late Tuesday.
Lewis abused access to corporate board rooms by providing inside information to romantic partners, his personal assistants, his private pilots and friends, Damian Williams, the U.S. attorney for the Southern District of New York, said in a video statement posted Tuesday on X, the social media platform previously known as Twitter.
"Those folks then traded on that inside information and made millions of dollars on the stock market," Williams said. "Because thanks to Lewis, those bets were a sure thing."
Lewis faces 19 counts, including securities fraud, with each count carrying maximum prison terms of between five and 25 years, according to Nicholas Biase, a spokesman for the U.S. attorney's office for the Southern District of New York.
David M. Zornow, an attorney for Lewis, said in a short statement that the U.S. government had "made an egregious error in judgment in charging Mr. Lewis" and that Lewis has come to the United States voluntarily "to answer these ill-conceived charges."
The Tavistock Group, an investment organization principally owned by Lewis, could not be reached for comment late Tuesday. In an emailed response to questions about the case, Tottenham Hotspur, the London team owned by Lewis, described the allegations against Lewis as "a legal matter unconnected with the Club."
Prosecutors say Lewis sought to profit by sharing nonpublic information about the Australian Agricultural Company, Mirati Therapeutics and Solid Biosciences. Representatives for those companies could not immediately be reached early Wednesday.
In early 2019, according to the indictment, Lewis provided nonpublic information to his personal pilots, advising them to sell all their stock in the Australian Agricultural Company, a beef producer whose board Lewis's associates sat on. Lewis knew that the heavy rain that hit Queensland in January and February had probably caused financial damage to the company, the indictment said.
Lewis's pilots, though, were unable to sell before the information was made public. "Just wish the Boss would have given us a little earlier heads up," one pilot said in an email, according to the indictment.
Later that year, Lewis gained confidential information that Mirati, a health-care company, was expected to release favorable clinical data about a drug for cancer patients. Lewis, who owned a stake in the company, then instructed his assistant, friends, girlfriend and his two pilots to buy stocks of Mirati, lending each of his pilots $500,000, prosecutors alleged.
One of the pilots told a friend in a text to buy Mirati stocks, as well, saying: "Boss is helping us out and told us to get ASAP." He added: "All conversations on app is encrypted so all good. No one can ever see."
When Mirati publicized the favorable clinical trials in October 2019, Mirati's shares rose by 16.7 percent from the previous day's close, according to the indictment, and Lewis's girlfriend, pilots, assistant and friends all sold their shares of Mirati for a profit.
This post appeared first on The Washington Post