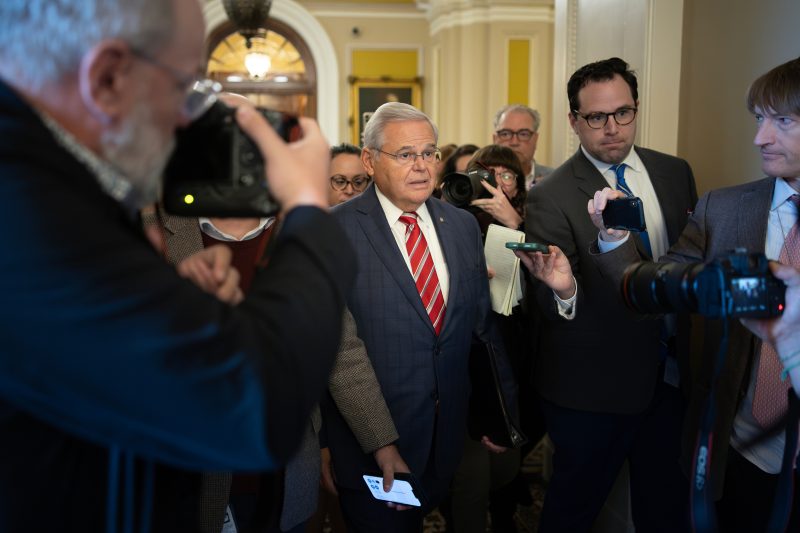 Under indictment, Sen. Menendez won't attend classified briefing on Israel
Sen. Bob Menendez (D-N.J.) will not be attending an all-senators classified briefing on Israel on Wednesday, after some of his colleagues aired concerns that his presence would risk national security.
The former chair of the Senate Foreign Relations Committee faces federal charges of bribery and conspiring to act as a foreign agent for the Egyptian government.
He has defied his colleagues' calls for him to resign in the wake of the charges, which he denies, leading to an embarrassing situation for Democrats. Sen. John Fetterman (D-Pa.) has called for a vote to expel him from the body altogether, leading Menendez to charge on Monday that Fetterman is "obsessed" with him.
"Hey, I have a question for a friend," Fetterman asked reporters Tuesday. "If someone has been accused of being a foreign agent for Egypt, should they be allowed to attend a classified briefing on Israel tomorrow?"
The answer, apparently, is no. Senate Majority Leader Charles E. Schumer (D-N.Y.) said on Tuesday that Menendez will not attend the briefing that will include Secretary of Defense Lloyd Austin and other top administration officials. Schumer's office would not say whether the leader had asked Menendez not to attend or whether Menendez is barred from all such gatherings in the future.
Schumer announced last month that Menendez would step down as chair of the Foreign Relations Committee "temporarily" while his court case plays out. He still sits on the committee.
"I think these are really serious charges that he's facing, and as a number of my colleagues have said, I'm hoping that Senator Menendez will reconsider his earlier decision to continue forward," said Sen. Mike Rounds, a Republican from South Dakota who sits on the Intelligence Committee.
Fetterman told reporters he would not let the issue go.
"I'm just going to continue bringing it up again and again and again," he said, joking that maybe he is "obsessed" with the senator. "Maybe I am, I don't know."
Menendez denied the allegations on Monday.
"I've been loyal to only one country in the world for 50 years — it's called the United States of America," he said. "Senator Fetterman can do whatever he wants; he just got here. It's interesting that he's so obsessed with me."
He also did not rule out running for reelection.
"When it's time, I'll tell the people of New Jersey what I intend to do," Menendez said. "For all intents and purposes, I'm on the path to doing that."
Paul Kane and Abigail Hauslohner contributed to this report.
This post appeared first on The Washington Post