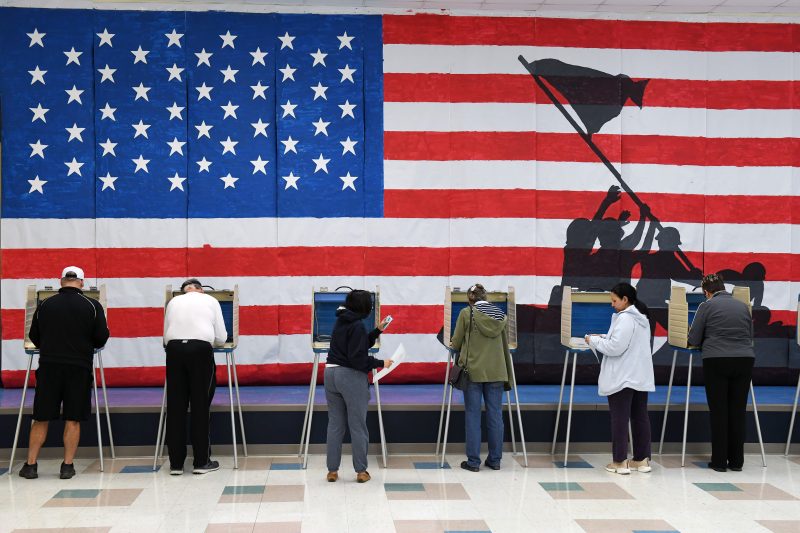 What divides political parties? More than ever, it's race and ethnicity.
In a polarized United States, what divides Democrats and Republicans the most isn't gender or education or income or religion. It is the issue of race, whether in regard to the backgrounds of the voters who make up the two parties' coalitions, or the conflicting agendas and priorities each side advocates in the pursuit of power.
That reality is brought home in a report produced by the American Political Science Association (APSA) in partnership with the organization Protect Democracy. The findings on race are not necessarily new, but sometimes the obvious isn't always obvious.
The overall report, the first such from APSA in 70 years, is an effort to contribute to an ongoing discussion about how to repair the country's broken politics. But a chapter that looks specifically at the demographic sources of division brings home the degree to which the political parties, as they have sorted themselves over recent decades, now have as the most fundamental cleavage race and ethnicity.
"Religion, economic concerns, and factors like education, age, and gender also divide us politically, but the reality is that as America becomes more diverse, it is also becoming more racially divided in the electoral arena," Zoltan Hajnal of the University of California at San Diego writes in one chapter in the report.
Lilliana Mason of Johns Hopkins University writes in another chapter of the report, "The process of social sorting allowed the Republican Party to represent the interests of 'traditional' white, Christian America while the Democratic Party was increasingly representing those who were still struggling to overturn centuries of social inequality. This type of divide is not easily corrected — Democrats and Republicans have opposing visions of who should hold power in American society and how much progress has already been made."
Some examples from recent elections illustrate the racial division between the parties. In 2016, for instance, then-candidate Donald Trump won 58 percent of White voters but just 8 percent of Black voters — a 50-point gap. There also were wide gulfs in his support between White and Hispanic voters (39 percentage points) and between White and Asian American voters (also 39 percentage points). No other demographic differentiators — whether age, income, religion — come close to those.
Another way to look at this is in the composition of the Republican and Democratic vote in presidential elections. In 2008, 2012 and 2016, about 90 percent of the votes received by the Republican presidential nominees John McCain, Mitt Romney and Trump, respectively, came from White people. That shifted a bit in 2020, as 82 percent of Trump's votes came from Whites, according to Hajnal's chapter. Meanwhile, almost half of the votes for Democratic nominees come from people of color.
As the 2020 results indicate, things have changed at the margins. Trump and other Republicans have been able to attract some more votes from Hispanic and to a lesser extent Black people in recent elections. But, overall, the gap between the parties is huge — what Hajnal calls a "racial chasm." He writes, "Race and ethnicity stand out as the most important force in American electoral democracy."
If that is the case, why did so much attention in the 2016 and 2020 elections go to class divisions — the focus on working-class White voters or voters with college degrees and those without? One answer is that those were among the voters who shifted between 2012 and 2016 and gave Trump his surprise victory.
But Hajnal writes that only about 5 percent of voters who backed President Barack Obama in 2012 shifted to Trump in 2016, and scholars later found "that racial attitudes much more than economic concerns predicted who would switch."
Another factor that has contributed to the current gap between the parties is the role of women, as voters and as candidates, something that is linked in the report to the racial division.
"The stronger clout and visibility of female and minority politicians on the left has also intensified the racial politics of the political right," Katherine Tate of Brown University writes in a chapter specifically focused on the role of women and people of color in party politics.
White women continue to back Republicans over Democrats, but issues of gender and women's roles today have a distinct left-right division. The continuing political fallout over the Supreme Court's decision to end the constitutional right to abortion is the most real-time example, as are differences over transgender issues and what Republicans such as Florida Gov. Ron DeSantis more broadly attack as "wokeism" on the left.
"Feelings about women's place in society have become more polarized by party," Mason said in a telephone interview, "just the same way as feelings about racial equality or feelings about gender identity."
The overall report, titled "More Than Red and Blue: Political Parties and American Democracy," comes seven decades after the political science association issued another report about the parties. That 1950 report, prescriptive in nature, lamented a lack of party discipline and advocated for parties that were more ideologically homogenous, resistant to pressure from outside groups and whose members were more loyal than they were perceived to be at the time. In essence, that report argued for more polarization.
Some of what the authors of that report hoped to see has come about, with the negative effects so visible today. Today's Republican and Democratic parties are far more ideologically homogeneous, and party loyalty is strong in the voting patterns of recent years.
Few of those who identify with the Democrats or with the Republicans vote for candidates of the opposing party. Partisan identification is perhaps the clearest indicator of vote choice. But with a more partisan media environment, the power of social media and campaign finance laws that have moved money away from parties to outside groups and political action committees, the institutional parties themselves have become weaker.
The impetus for the new report is the perception that American democracy is in a fragile condition and evidence that the political parties have contributed to that. The report is not specifically an analysis of how Trump has changed the landscape or the specific threats he poses. It is not designed as a partisan document about partisanship. But it does not flinch from the assertion that the Republican Party has become much more open to authoritarian and anti-democratic impulses than the Democratic Party has.
At the same time, the report notes that both parties contribute to division and discord. "It is widely believed that today's Republican and Democratic Parties have evolved to a place where they emphasize difference, stoke fear and animosity, and incite conflict," Mark D. Brewer of the University of Maine writes in the report's preface. "Indeed, if there is one thing on which deeply divided Americans agree, it is that parties have gotten us to the highly undesirable and dangerous place in which we currently reside."
The team that produced the report has a more modest goal than the authors of APSA's 1950 report. One is simply to provide in one place a baseline of what current scholarship has concluded about the state of the parties and, therefore, of current politics.
"There's a lot of money that's flowing toward attempts to protect American democracy," said Mason, who with David Lublin of American University chaired the task force. "One thing that we want to make sure of is that all of those attempts are not, you know, reinventing the wheel. There's a lot that we already know."
While not offering recommendations, the report does talk about possibilities for changes within the parties and forces within the electorate that could bring about some shift in party coalitions in directions that would promote democracy and resist moves in the opposite direction.
Overall, the report highlights ways in which the parties contribute to current problems and could contribute to solutions, concluding that these institutions remain essential to a healthy democracy. "These are the ways that our parties can actually harm our democracy and these are the ways that potentially our parties could help undergird a functioning democracy," Mason said. "And ideally, that would prevent a turn toward authoritarianism."
This post appeared first on The Washington Post