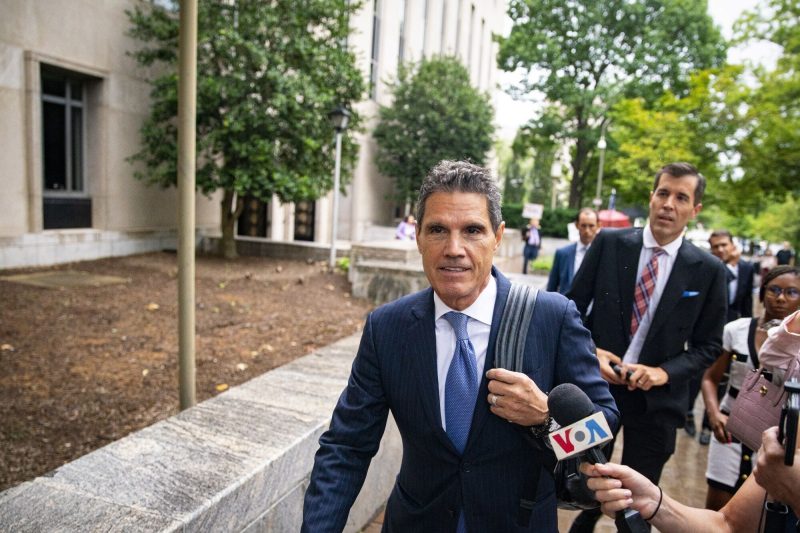 What Trump's call for his judge to recuse is really about
Donald Trump's effort to get Judge Tanya S. Chutkan to recuse herself from his case over alleged bias appears to be more of a messaging exercise than anything else. The motion from the former president's lawyers on Monday comes rather late in the game, given that the statements they cite from Chutkan's previous Jan. 6-related cases resurfaced a month ago.
The move fits neatly with Trump's public-relations strategy of claiming a vast government conspiracy against him — and seemingly preparing to cast any adverse result as a consequence of the "witch hunt."
As for the actual substance of the claims? It glosses over plenty of context. And Chutkan's past comments are not so remarkable next to other judges.
The crux of the argument is that Chutkan, who as a federal judge at the D.C. Circuit has presided over other Jan. 6 cases, demonstrated bias toward Trump in two of those cases.
In one case, she said the rioters showed "a blind loyalty to one person who, by the way, remains free to this day."
In another, she cited how "the people who may be the people who planned this and funded it and encouraged it haven't been charged." She also said: "The issue of who has or has not been charged is not before me. I don't have any influence on that. I have my opinions, but they are not relevant."
The reference in the first case is obviously to Trump; in the other case, not so obviously. But Trump's motion nonetheless wagers that's who Chutkan was talking about and argues that she was effectively saying, "President Trump should be charged."
The first thing to note is that Chutkan wasn't freelancing here. In both cases, she was responding to the arguments of people who, like many of their fellow Jan. 6 defendants, pointed the finger at Trump for influencing their actions that day.
Chutkan's comments that Trump was "free to this day" came after defendant Christine Priola's sentencing memorandum had noted how Trump claimed the election was "stolen."
Chutkan's comments in the second case came after, as the Trump team's filing acknowledges, defendant Robert Palmer's sentencing memo more directly implicated Trump. It complained that "the architects of that horrific event will likely never be charged with any criminal offense."
If Chutkan's comments are problematic, it would seem to be because she acknowledged she had "my opinions" about that matter, but she didn't share them and was effectively summarizing the defendant's argument.
It's also worth emphasizing that Chutkan was hardly the only judge to allude to the role that Trump and others played that day. As many as nine judges overseeing such cases have made similar points, according to a compilation by a watchdog group.
Indeed, her comments could be construed as mild in comparison. Judge Amit P. Mehta cited how "those who created the conditions" that led to a defendant's actions hadn't been "held to account." Judge Amy Berman Jackson said it was "not patriotism … to stand up for one man — who knows full well that he lost — instead of the Constitution he was trying to subvert."
While those two judges were appointed by Democratic presidents, the list also includes Republican-appointed judges. Judge Reggie B. Walton at one Jan. 6 sentencing criticized "charlatans like our former president, who doesn't in my view really care about democracy, but only about power." Judge John D. Bates said that, while Trump was facially merely urging his supporters to march to the Capitol on Jan. 6, "one might conclude that the context implies that he was urging protestors to do something more — perhaps to enter the Capitol building and stop the certification."
The fact that this many judges were willing to venture comments about Trump's conduct would seem to reflect how they were relevant to the proceedings. And it's something the U.S. Supreme Court has addressed rather directly.
The legal standard for recusal is when a judge's "impartiality might reasonably be questioned." But the Supreme Court has effectively said that the bar for recusal is higher when the judges' applicable statements have come in the context of previous court proceedings.
"Also not subject to deprecatory characterization as 'bias' or 'prejudice' are opinions held by judges as a result of what they learned in earlier proceedings," the court ruled in Liteky v. United States in 1994.
The court added in Liteky that "opinions formed by the judge on the basis of facts introduced or events occurring in the course of the current proceedings, or of prior proceedings, do not constitute a basis for a bias or partiality motion unless they display a deep-seated favoritism or antagonism that would make fair judgment impossible." (Emphasis added.)
The Trump team's motion does refer to Liteky, but it effectively argues that the above sections don't apply. That's because, it says, "Trump's supposed culpability was not an issue for Judge Chutkan to decide" in these cases. So, it contends, Chutkan's "views on President Trump derive from extrajudicial sources."
But as noted, the defendants cited Trump's actions in their quests for lesser sentences and, especially in the latter case, directly urged Chutkan to consider Trump's lack of accountability. Also, the fact that Chutkan was hardly the only judge to allude to Trump's role plays into the idea that it was relevant.
It would seem a steep hill to make this argument.
And in case the political motive here wasn't apparent, a Trump-aligned super PAC on Tuesday morning followed up the motion by citing yet more of Chutkan's comments — comments the motion notably made no mention of.
In a news release, the Make America Great Again PAC accused Chutkan of having "defended the violent 2020 Black Lives Matter riots."
Chutkan did no such thing; instead, she merely cast it as a "false equivalency" to equate Jan. 6 with the 2020 BLM protests.
And indeed, Chutkan at the time actually mentioned the violence at the BLM protests. But the news release, as Politico's Kyle Cheney spotlighted, conveniently excised that portion of her comments.
This post appeared first on The Washington Post