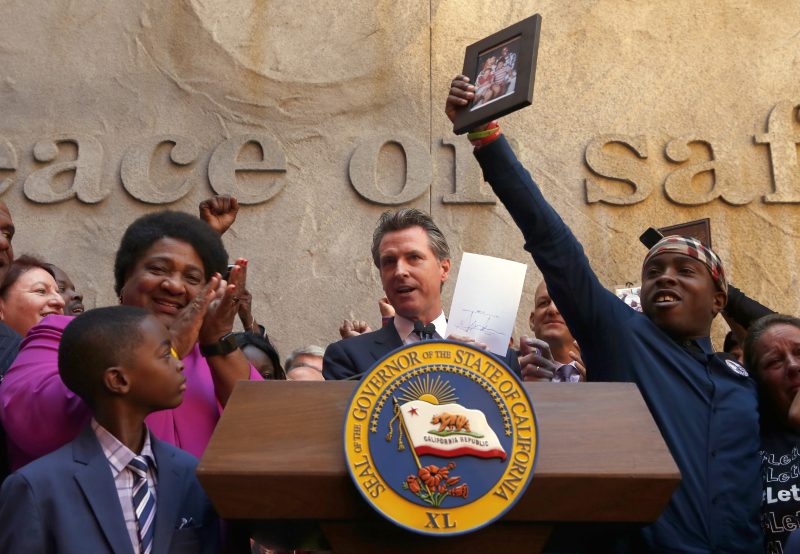 Who could replace Dianne Feinstein in the Senate?
For the second time in three years, California Gov. Gavin Newsom (D) will make an appointment to the U.S. Senate, following the death of Dianne Feinstein (D), a senator who represented California for three decades.
While the number of potential candidates for the appointment in the nation's most-populous state is vast, it is somewhat limited by a pair of pledges Newsom has made.
First is that he will appoint a Black woman. Newsom drew criticism in 2020 when he appointed Alex Padilla (D) to fill the seat of Vice President Harris, the Senate's lone Black woman.
Second is that the person will be a caretaker — so not one of the candidates already seeking Feinstein's seat in the 2024 election. That would exclude Rep. Barbara Lee (D-Calif.), the most prominent Black female candidate in a race that also features Democratic Reps. Adam B. Schiff and Katie Porter.
"It would be completely unfair to the Democrats that have worked their tail off," Newsom said earlier this month about appointing a candidate. "That primary is just a matter of months away. I don't want to tip the balance of that."
Some have bristled at that second pledge, making an appointment again politically fraught for Newsom, who is considered a potential future presidential candidate for the party.
With those parameters in mind, who could it be? Below are some possible candidates.
Newsom already appointed Weber to statewide office, making her secretary of state in 2021. And Newsom plucked his previous Senate appointment, Padilla, from the same post.
Weber was in the state assembly when Newsom selected her to succeed Padilla. Weber went on to win a full term in the 2022 election by 20 points. While in the state legislature, she served as chairwoman of the California Legislative Black Caucus.
A major question would be whether Weber wants to give up her statewide office, where she's set to serve through the 2026 election, for a temporary Senate appointment.
Breed has long been talked about as a future statewide officeholder and rising star in the party. And there would be some symbolism here, with Newsom picking a San Francisco mayor to succeed Feinstein, a famous former mayor of the same city.
Breed has faced a number of crises as mayor, and polls show as many as two-thirds of voters disapprove of her despite her being a Democrat running a blue city. As of this week, she also faces a new, well-heeled primary challenge in the 2024 mayoral election, making an exit strategy potentially appealing.
She criticized Newsom in 2020 for not appointing a Black woman to succeed Harris.
Cohen is, next to Weber, California's other highest-ranking Black woman among statewide officeholders. A former San Francisco County supervisor, she has worked with Newsom dating back to his campaigns for mayor there 20 years ago.
But her 2022 victory in the controller's race was somewhat closer than Democrats would have liked. She defeated a spirited campaign from Republican Lanhee Chen, a former adviser to Mitt Romney, by about 10 points — about half Weber's margin.
Blackwell is a civil rights advocate and the longtime head of PolicyLink, a nonprofit focused on racial and economic equity. She has earned appointments to advisory groups from both Newsom and former president Barack Obama.
While Blackwell has never run for office, that would not be entirely uncommon for a caretaker appointment, because it means the selection wouldn't be giving up a seat.
Mitchell's office has said she's not interested in the seat, but her name has still surfaced as a possibility.
She previously served in the state Senate and joined the board of supervisors as part of a 2020 wave of female candidates winning every seat on the board.
Before winning that office, she spearheaded the nation's first major legislation prohibiting discrimination against Black and Hispanic people for wearing natural hairstyles.
Once touted as a possible vice-presidential pick for President Biden, Bass left Congress in 2021 to run for and win office as mayor of Los Angeles in 2022. And she has been a popular mayor.
But her office has also said she's not interested in a temporary Senate appointment, and she assumed her current office only recently.
Bass supports Lee in the Senate race and has urged Newsom to appoint Lee instead of a caretaker.
No, Lee does not meet Newsom's criteria because she's running for the job. But as noted above, Newsom has been getting plenty of pressure to appoint her anyway.
And Lee has joined in pressuring him to seemingly cast a wider net — one that includes her.
"The idea that a Black woman should be appointed only as a caretaker to simply check a box is insulting to countless Black women across this country who have carried the Democratic Party to victory election after election," she said recently.
There is no indication that Lee would accept a temporary appointment and possibly end her campaign to meet Newsom's condition (or that he would drop his condition). She is the oldest major candidate in the race at 77 years old.
This post has been updated.
This post appeared first on The Washington Post