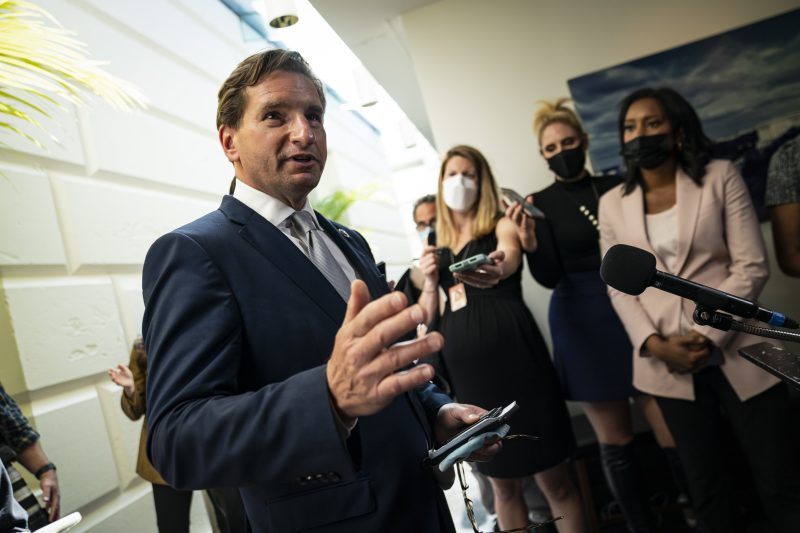 Why Democrat Dean Phillips says Biden shouldn't run
Rep. Dean Phillips has nothing but good things to say about President Biden's time in office, supporting his policies, praising his record and calling the legislative achievements during his first two years in office "historic in nature."
But the Minnesota Democrat has also launched a public campaign to encourage Biden not to run for reelection.
"I want him to preserve his legacy, not to compromise it," Phillips said in an interview. "And this is exactly why I'm asking — pass the torch, open the stage."
Phillips said his motivation to get Biden out of the race is based in his belief that the president is a weak candidate who wouldn't beat former president Donald Trump, the front-runner in the Republican primary, in a general election.
"We're at grave risk of another Trump presidency," Phillips said. "I'm doing this to prevent a return of Donald Trump to the White House."
Phillips has emerged as the most vocal Democrat in Congress to challenge Biden's electability, citing poll numbers and the president's age, 80, as key factors as to why he should pass the baton to someone else in the party.
His concerns are sometimes expressed privately by other Democrats, but most disagree with Phillips's decision to express his misgivings publicly. His criticism is a distraction, said several Democrats who like others spoke on the condition of anonymity to share their thoughts about intraparty tensions. They worry his focus on Biden's age could be used by Republicans in attack ads during the campaign.
Phillips, 54, is unmoved.
"I just felt compelled to raise my voice in the face of what I consider to be an unwillingness to confront the truth right now," Phillips said.
The Biden campaign declined to comment.
The third-term congressman, small-business owner and self-described "data guy" points to polling that shows a close head-to-head potential rematch between Biden and Trump.
And at a time when the White House is trying to portray Biden as vibrant, Phillips is raising concerns about potential health problems.
"God forbid the president has a health episode or something happens in the middle of a primary," Phillips said.
Trump at 77 is no youngster. Phillips said the former president should also step aside, but he noted that a dozen Republicans are challenging him for the nomination.
Phillips also expressed concern about Vice President Harris stepping in for Biden if he steps aside late in the election.
"We would be best served by selecting the person most likely to win, which may or not be the person 'next in line,'" Phillips said.
Phillips is serving his third term in Congress, a relative newbie, after beating a Republican incumbent in 2018 in a wave year for House Democrats during Trump's presidency. He has situated himself as a moderate, no-nonsense member of Congress who has risen to a leadership position tasked with formulating House Democrats' messaging.
But Phillips has had a rebellious streak during his time in Congress. While he votes along party lines, he is opinionated and sometimes speaks out against fellow Democrats.
Some Democratic House members who are irritated with his calls for Biden to step aside said they wonder how he can continue to co-lead Democratic messaging. One member said he is "undermining our unity through his divisive rhetoric."
House Democratic Leader Hakeem Jeffries (D-N.Y.) plans to meet with Phillips this week about his comments regarding Biden, Jeffries spokesperson Christie Stephenson said.
"Joe Biden has been a transformational president. Leader Jeffries strongly supports his candidacy and intends to do everything in his power to make sure that President Biden is re-elected to a second term," Stephenson said in a statement. "Dean Phillips was independently elected to a leadership position in the House Democratic Caucus. He is ultimately accountable to his House colleagues, who have not been bashful in sharing their views."
Outside the halls of Congress, Phillips is hardly a household name. But his profile has risen in the past month as he calls for Biden to retire. He has appeared on Sunday morning political shows for two weeks in a row.
And while Phillips says he would prefer a moderate governor from a swing state to run, he hasn't ruled out running for president himself.
"If, and only if, the president doesn't pass the torch, if his numbers continue to look like they do right now, and nobody is willing to be an alternative, then I will be making a really important decision, and I have not made that yet," Phillips said.
Phillips wouldn't name the individuals he wants to run but hints at the viability of moderate battleground state governors such as Josh Shapiro in Pennsylvania, Tony Evers of Wisconsin and Gretchen Whitmer of Michigan.
He said he also would like to a see a woman who has adeptly navigated the issue of abortion in a post-Roe v. Wade era.
Whitmer, who won reelection in 2022 as the state also reversed a pre-Roe law that would have banned all abortions, checks those boxes.
Asked by reporters this week, Whitmer, who is on Biden's reelection advisory board, said that she has not been approached to run for president by anyone and that she fully supports Biden.
"I think he's good to go," she said. "The president is running for reelection and delivered on so many incredible things."
After a stronger-than-expected performance in the 2022 election and a slew of legislative accomplishments on infrastructure, health care, climate change, veteran care and high-tech manufacturing, Democrats are lining up behind Biden as their best chance to keep the White House.
Phillips's colleagues in Minnesota's ideologically diverse Democratic delegation haven't backed his effort and have questioned his decision to call on Biden to step aside.
"We need to be unified behind President Biden and Vice President Harris and celebrate our accomplishments as Democrats," Rep. Ilhan Omar, Phillips's liberal Minnesota colleague, said in a statement.
State party officials are also critical of his comments.
"I deeply respect Dean Phillips. He is certainly a man of principle, but I have deep disagreements with him on this, and I find it really disappointing on a number of levels that he has continued to repeat baseless Republican talking points," said Ken Martin, the chair of Minnesota Democratic-Farmer-Labor Party.
Polling shows Biden is likely to face a difficult reelection contest.
Five of the six national polls released in the past several weeks show that Trump and Biden are within one point of each other in a head-to-head matchup, well within the margin of error. Phillips also notes that Biden's approval ratings, hovering around 40 percent, are lower than what Trump's were four years ago.
The group No Labels has launched an effort to run a "unity" candidate, and Green Party candidate Cornel West could siphon off enough Black and young voters to hurt Biden against the eventual Republican nominee.
But Phillips said he is adamantly against supporting a third-party candidate, arguing that it would only help the Republican nominee.
Matt Bennett, co-founder of the centrist Third Way group that supports Biden, said Phillips should stay in Congress, "where he can do the most good."
"Attacking the president is not helpful," Bennett said. "As we have seen in past cycles, presidents who do not face challenges from within their own party tend to win. We are hoping Congressman Philips let's this go relatively soon."
If Phillips decides to run, Bennett said, his chances of succeeding are "zero point zero," but he conceded that Phillips's continued criticisms of Biden could be damaging.
"It is never helpful when you're facing a very close election to have any kind of dissension in the ranks, particularly from someone who is credible like Dean Phillips," he said.
Phillips insists that if a top-tier, moderate governor doesn't run and he does, that he will receive support from donors and voters.
He has already been making calls. He traveled to New York City earlier this month to gauge donors' interest.
One donor, John Morgan, a trial lawyer in Florida who is a big supporter of Biden, has not spoken with Phillips and said he hasn't heard other donors talk about him. He was highly critical of Phillips's effort.
"What I would tell that congressman is: either put up or shut up," Morgan said. "Go to Iowa and New Hampshire. That's what the primaries are all about."
Marianna Sotomayor, Michael Scherer, Scott Clement and Emily Guskin contributed to this report.
This post appeared first on The Washington Post