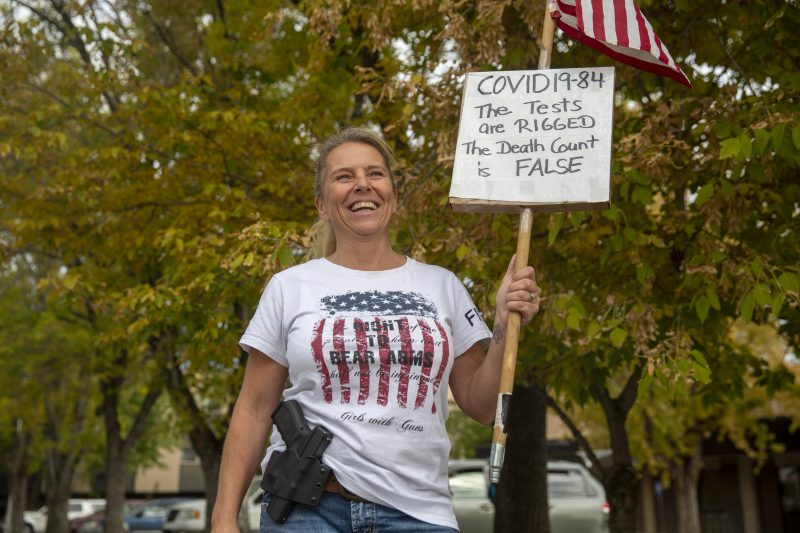 Why do Republicans disproportionately believe health misinformation?
Rep. Marjorie Taylor Greene (R-Ga.) had only one comment to add when sharing a wildly conspiratorial article alleging that the recent surge in covid cases could be a way to force compliance with vaccination efforts: three "thinking face" emoji, the social media indicator of "Hey, I'm just asking questions."
Greene, of course, has a well-earned reputation as a purveyor of conspiracy theories and misinformation. But this particular bit of performed skepticism was not an area in which she was freelancing. In recent days there has been a resurgence in the idea that the government is attempting to manipulate the citizenry through covid, with "I WILL NOT COMPLY" trending — yes, in all caps — on X, the social media platform formerly known as Twitter, on Tuesday morning. That refusal to comply centers on nonexistent or theoretical mandates, which doesn't seem to have dissipated the energy.
It also comes as new research shows the extent to which Republicans are disproportionately credulous about health-related misinformation. It's not just that there is an uprising against an imaginary imposition, it's also that Republicans are consistently more likely to express belief in false claims related to covid and other things. Greene is by no means alone.
The research also points to some (predictable) reasons.
Respondents to new polling from KFF were presented with a number of statements and asked to evaluate whether they thought the claims were definitely or probably true. Asked about false claims that have been made about covid and other vaccines, Republicans were on average 20 percent more likely to state that they believed the false claims were accurate. Foremost among them: the regularly debunked idea that the coronavirus vaccine has caused thousands of deaths in otherwise healthy people. Nearly half of Republicans think that's true.
About half also think that ivermectin is an effective treatment for covid, which it is not. This has long been a leading example of how partisanship infiltrated the discussion about coronavirus treatments, with other research showing that in places that voted for Donald Trump, people were more likely to seek information about the drug and more prescriptions for it were written.
Views of the coronavirus vaccine have also long been linked to partisanship, of course. Research made public last year found that after vaccines became widely available, Republicans made up more of the covid-19-related deaths in Ohio and Florida.
Overall, KFF found that about two-thirds of Democrats didn't believe any of the false claims about covid or vaccines. Only about a quarter of Republicans — and not many more independents — fell into the same category.
KFF also asked about other health-related subjects, including gun violence. Again, Republicans were more likely than Democrats to believe false claims about gun violence. In this case, independents landed closer to the middle.
That difference among independents may be rooted in the response to those false claims. The claims centered on covid-19 and vaccines are largely ones that have been debunked by health professionals or government actors, groups that are viewed more skeptically by independents.
KFF's research shows that while most Americans trust their personal doctors' health recommendations, that trust drops off when respondents were asked about the Centers for Disease Control and Prevention or state and local health officials. Independents were less trusting of state and local health officials' recommendations than were Republicans.
You can also see how partisanship obviously overlaps with the bottom two sources of information. Democrats are far more trusting of recommendations from the Biden administration than Trump; for Republicans, it's the opposite. Independents are trusting of neither — despite "the Biden administration" including an array of health professionals who might be expected to have insights into health issues. But Republicans see Trump's recommendations as far more reliable (in keeping with other recent polling) and independents view each equally.
There are also gaps in where partisans obtain information, including about health. Most respondents say they consume local television news, but Democrats are less likely to rely on outlets such as Fox News or MSNBC and more likely to consume national broadcast news.
That Republicans often cite Fox News as a source for information — and are about as likely to say they consume Newsmax as they are to view CNN — comports with the higher acceptance of false claims about guns. These are not generally questions adjudicated in the context of public health (despite the obvious overlap with health concerns). Things like Fox News's frequent presentations about gun crime or school shootings, generally framed through a right-wing lens, probably contribute to the imbalance.
Some of this is rooted in the impulse that could have driven Greene to share that story about covid-19 conspiracies. Objection to the government's presentation of the pandemic is now ingrained in right-wing politics, and demonstrating one's rejection of those presentations is a partisan signifier. In some cases, it's probably less that the respondents believe the false claims than they are willing to express some acceptance of them, given how their politics establishes that as a standard response.
In Ohio and Florida, at least, this seems to have been proved — at times — deadly.
This post appeared first on The Washington Post